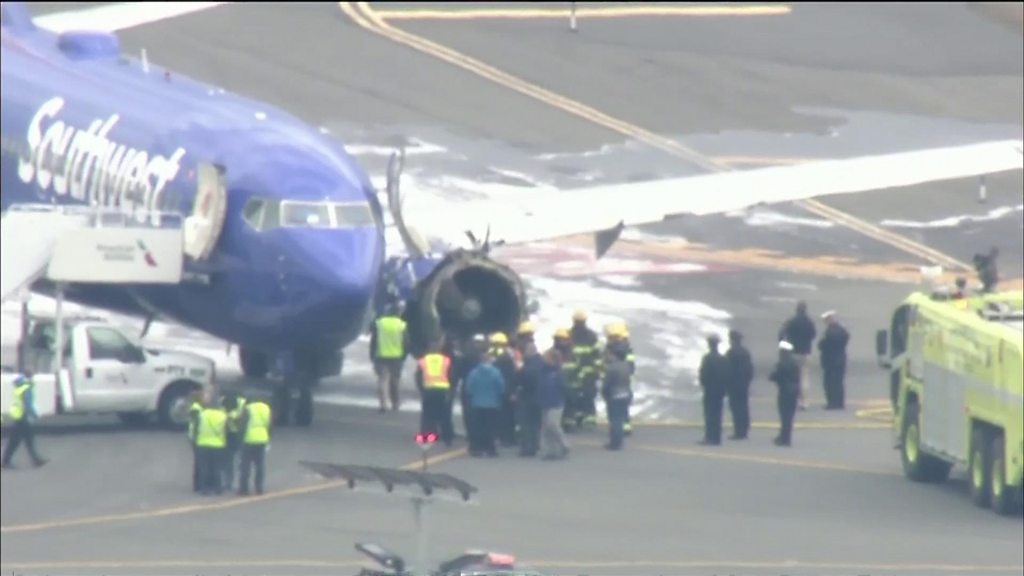 Panic on US jet after engine
One person has been critically injured and seven others received medical treatment after a US passenger jet's engine ripped off midair.
Southwest Airlines Flight 1380 made an emergency landing in Philadelphia after a window, wings and the fuselage were damaged in the incident, officials say.
The flight was en route from New York's La Guardia airport to Dallas, Texas, with 143 passengers and five crew.
The Boeing Co 737-700 made a safe landing, said fire officials.
The US Federal Aviation Administration has opened an investigation into the unexplained incident.
The father of one passenger aboard the plane told NBC Philadelphia that a woman was "partially sucked out" of a window after it was pierced by debris from the engine.
She was pulled back inside by other passengers, Todd Bauer added.
Philadelphia Fire Commissioner Adam Thiel told a news conference that one person was critically injured and taken to hospital, though he did not specify if it was a passenger or crew member.
He said seven others were treated at the scene for minor injuries, but they were not taken to hospital.
The passengers and crew "did some pretty amazing things under very difficult circumstances", Commissioner Thiel added.
In a statement, Southwest Airlines said they were "aware " the flight had been diverted to Philadelphia.
"We are in the process of gathering more information," they said, adding: "Safety is always our top priority."
"We are working diligently to support our customers and crews at this time.
Fearing the worst
"All of a sudden, we heard this loud bang, rattling…" said one passenger.
"It just shredded the left-side engine completely… it was scary," Kristopher Johnson told CNN.
Photos have been shared on social media showing passengers sitting in oxygen masks as the plane shudders around them.
Timothy Bourman, a pastor from New York City, told The Inquirer and Daily News he had been sitting in the rear of the plane when he heard a loud boom.
"All the sudden, it felt like we dropped 100 feet," he said.
"We were kind of out of control for a while. It seemed like the pilot was having a hard time controlling the plane. Honestly I think we just all thought we were going down."
When flight attendants told passengers to brace for impact, Mr Bourman said he and his wife worried for the worst.
"We're just all really thankful to be alive right now," he said. "Thankful to God, thankful to that pilot."
Passenger Marty Martinez posted a brief Facebook live with the caption: "Something is wrong with our plane! It appears we are going down! Emergency landing!! Southwest flight from NYC to Dallas!!"
After landing, he told CBS News that it felt like the plane was "free-falling".
"First there was an explosion and then almost immediately the oxygen masks came down and probably within a matter of 10 seconds the engine hit a window and busted it wide open."
You Like this ! Download our Mobile News app from Play Stores(Download Now) (All the News Posts have been published directly from Syndicate Feeds; they have not been edited by the Press 24 News team; For more information, go to source link.)

Source link