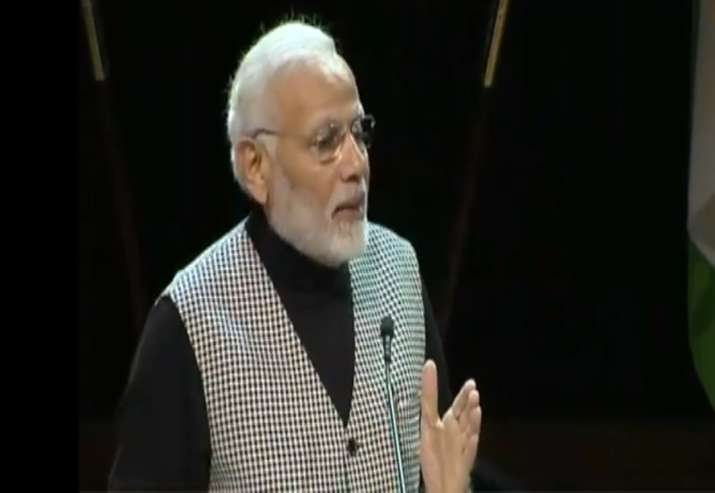 Narendra Modi in Sweden LIVE Updates: PM thanks Swedish counterpart Stefan Lofven for
Prime Minister Narendra Modi is addressing the Indian Diaspora in Sweden's Stockholm University. After the interaction, he will travel to London for the Commonwealth Heads of Government meeting tomorrow. 
PM Modi is on the first leg of the three-nation tour to Sweden and United Kingdom and Germany. 
"This is my first visit to Sweden. India and Sweden share warm and friendly ties. Our partnership is based on democratic values and commitment to an open, inclusive and rule-based global order," PM Modi had said before embarking on the tour. 
Also read | India, Sweden agree on innovation partnership, joint action plan
Here are the live updates on PM Modi's address at Stockholm University
Watch PM Modi's full speech at Stockholm University, Sweden:
12:12 am: Removal of ghost beneficiaries of social welfare schemes has helped save over 12 billion rupees: PM
12:10 am: 
It is our commitment to alleviate poverty. https://t.co/9xe9GYBqoU pic.twitter.com/3YYCHdrQgw

— PMO India (@PMOIndia) April 17, 2018
12:05 am: In last four years, we have taken steps which have increased the world's faith in India: PM
12:03 am: The world today looks at India as a dependable friend and ally: PM Modi
11:58 pm: I am touched by the gestures of Swedish Prime Minister Stefan Lofven who himself received me at airport, says PM Modi
11:57 pm: PM Modi thanks Sweden PM for great hospitality during his visit
11:56 pm: PM Modi begins addressing the Indian Diaspora at Stockholm University
11:55 pm: The Indian community in Sweden is vibrant and it contributes to our culture and economy. Today is a special day for India-Sweden relations: Swedish PM Stefan Löfven at the Community Programme
11:50 pm: PM Modi reaches Stockholm University, to address the diaspora shortly
11:00 pm: Earlier in the day, the prime minister met with the leaders of the five Nordic countries at the First India-Nordic Summit here and discussed ways to enhance ties with them.
10:30 pm: PM Modi had met with Indian Diaspora in Stockholm after his arrival yesterday. 
PM @narendramodi reached Stockholm a short while ago, where he was welcomed by @SwedishPM Mr. Stefan Löfven.

Here are some pictures from the warm welcome for PM Modi by the Indian community in Stockholm. pic.twitter.com/C992DsaXd0

— PMO India (@PMOIndia) April 16, 2018
10:00 pm: "Bonding together with a region representing quality and innovation and potential to be our partners in development. PM @narendramodi with Nordic leaders from Sweden, Denmark, Iceland, Norway and Finland at the First India-Nordic Summit," External Affairs Ministry Spokesperson Raveesh Kumar tweeted. The Nordic countries comprise Denmark, Finland, Iceland, Norway and Sweden. 
Also read | Sweden supports India's bid for NSG membership
09:30 pm:  Danish Prime Minister Lars Lokke Rasmussen, Finnish Premier Juha Sipila, Iceland Premier Katrin Jakobsdottir, Norwegian Premier Erna Solberg and Swedish Prime Minister Stefan Lofven were present in the Summit meeting. 
09:00 pm: "Sweden is a valuable partner in our development initiatives. PM Lofven and I will also have the opportunity to interact with top business leaders of both the countries and chart out a future roadmap of cooperation with focus on trade and investment, innovation, S&T, skill development, smart cities, clean energy, digitization and health. I would also call on His Majesty King Carl XVI Gustaf, King of Sweden," PM Modi had said on April 15.
Also read | PM Modi to visit UK on second leg of 3-nation tour, will attend Commonwealth Heads of Government Meeting


You Like this ! Download our Mobile News app from Play Stores(Download Now) (All the News Posts have been published directly from Syndicate Feeds; they have not been edited by the Press 24 News team; For more information, go to source link.)

Source link