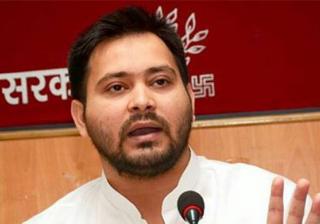 Congress MLAs in Goa, RJD MLAs in Bihar to stake claim for govt formation saying they represent
As part of pressure-building tactic in the ongoing battle over government formation in Karnataka, Congress MLAs in Goa and RJD MLAs in Bihar will meet governors of their respective states on Friday and stake claim for forming the government in these two states.
All 16 Congress MLAs of Goa will meet Governor Mridula Sinha on Friday and stake claim for forming the government in the state.
The Congress MLAs will tell Goa Governor that, following the development in Karnataka,  they too should be allowed to form the government in  the state as they represent the single largest party in the Assembly.
Similarly, former Bihar deputy chief minister and RJD leader Tejashwi Yadav today said that he and his party legislators will hold a one-day sit-in in Patna on Friday againt the "murder of democracy" in Karnataka.
Demanding the formation of an RJD government in Bihar on the lines of Karnataka, Tejashwi said that he will meet Bihar Governor along with his party MLAs and stake claim for government formation as the RJD is the single largest party in the Assembly.
The Congress and its allies  are unhappy over the formation of Yeddyurappa-led BJP government in Karnataka on the basis of the saffron party emerging as the single largest party though the saffron party fell short of a simple majority in the Assembly. 
The Congress-JD(S) combine, on the other hand, claim a clear majority in the Karnataka Assembly.
Karnataka Governor has asked Yeddyurappa, who took oath as state CM on Thursday, to prove his majority within 15 days on the floor of the House. 
The Supreme Court, in a late night hearing yesterday, refused to stay the swearing-in of Yeddyurappa. Posting the matter for hearing on Friday, the apex court bench has asked for the letter of support on the basis of which the Governor invited Yeddyurappa to take oath as the next chief minister of the state.
Watch video: Congress MLAs in Goa, RJD MLAs in Bihar to stake claim for govt formation


You Like this ! Download our Mobile News app from Play Stores(Download Now) (All the News Posts have been published directly from Syndicate Feeds; they have not been edited by the Press 24 News team; For more information, go to source link.)

Source link