DeSantis officially begins presidential campaign, election filing shows
Florida governor Ron DeSantis has formally filed paperwork to start his presidential campaign, the Associated Press reports, pitting him against Donald Trump and a host of other Republicans in the competition for the party's presidential nomination in 2024.
Polls indicate DeSantis is in second place among Republican voters, but with a wide gulf between him and the former president. DeSantis is expected to publicly launch the campaign in an appearance later today on Twitter with its billionaire owner Elon Musk.
Key events
Earlier this week, the National Association for the Advancement of Colored People civil rights organization issued a travel advisory over Ron DeSantis's policies in Florida, but as the Guardian's Richard Luscombe reports, it's not stopping there:
Leaders of the National Association for the Advancement of Colored People (NAACP) say its travel advisory highlighting Florida's "active hostility" to minorities is only the beginning of a campaign to engage voters in the state and nationally, as the state's Republican governor, Ron DeSantis, prepares to launch his presidential run on Wednesday.
Leon Russell, chair of the NAACP, also told the Guardian that the group rejected calling for an economic boycott of the state similar to one that ended with South Carolina lowering the confederate flag in 2015.
"Very simply put, we questioned the effectiveness of a boycott," Russell said. "In Florida, this is about the politics of the situation and so people need to buckle in and organize, and get themselves arranged to deal with elections and the consequences of the elections.
For four lonely years, Nikki Fried was the sole Democrat elected to a statewide position in Florida as its agricultural commissioner.
That gave Fried, now the state Democratic party chair, a unique view into DeSantis's governorship, and she apparently did not think much of what she saw.
Here's what she said after news broke of his presidential run:
But just who is Ron DeSantis? Many Americans will be asking themselves that question in the months to come, as the Florida governor embarks on what's reported to be an aggressive campaign of outreach to voters, particularly in the states that vote first in the GOP's nominating process. Here's the Guardian's David Smith with a look at what we know about DeSantis, and what he might do as president of the United States:
The official Florida governor's website invites visitors to "Meet Governor DeSantis". But anyone who clicks on that option is greeted with the message "Governor Ron DeSantis Biography – coming soon", along with his photo and a big white space.
DeSantis's admirers project on to that blank page the ideal of a strong chief executive, "anti-woke" warrior and consistent election winner. His detractors fill the vacuum with warnings that the Florida governor represents "Trump 2.0", "Trump with a brain" and "Trump without the circus".
Six months ago DeSantis was being hailed as the future of a Republican party grown tired of former US president Donald Trump's losing streak. He had offered blueprints for beating Democrats in elections and for exporting a rightwing agenda nationwide: "Make America Florida."
But after filing papers with the Federal Election Commission on Wednesday to seek the 2024 Republican presidential nomination, DeSantis still has everything to prove about his readiness for the ultimate stage.
Florida political insiders suggest that he is undercooked and will fail the "likability test" – which candidate would you rather have a beer with?
"I have been saying DeSantis was an overpriced political stock for a year and a half," said Rick Wilson, a Republican strategist who has been involved in more than 30 political campaigns in the state. "This guy is all hat and no cattle. He doesn't have that natural verbal and political grace that you need to pull off a win against Trump, who is a powerful performer on stage.
Here's more from the Guardian's Martin Pengelly about the rollout of Ron DeSantis's presidential campaign, and what we can expect in the days to come:
The governor of Florida, Ron DeSantis, has officially declared his candidacy for the Republican nomination for president.
DeSantis filed paperwork on Wednesday with the Federal Election Commission, ahead of a planned Twitter event with the owner of the social media site, Elon Musk, and an interview with Fox News.
The announcement was long expected. DeSantis won re-election in a landslide last November, published a campaign-oriented memoir in February and was widely reported to be staffing up while visiting states that will vote early in the primary next year.
He retains support from powerful donors, has amassed significant campaign funds and is consistently a clear second to Donald Trump in polling of the Republican field.
Donald Trump has for months been hurling insults, accusations and invective at Ron DeSantis, and today is no different.
Much of the vitriol can be found on the former president's Truth social account, where over the past hour he's been sharing polls showing him beating DeSantis in support.
Here's a typical Trump attack on DeSantis, from earlier today:
Ron DeSanctus can't win the General Election (or get the Nomination) because he VOTED TO OBLITERATE SOCIAL SECURITY, EVEN WANTING TO RAISE THE MINIMUM AGE TO 70 (or more!), VOTED TO BADLY WOUND MEDICARE, AND FOUGHT HARD AND VOTED FOR A 23% "TAX ON EVERYTHING" SALES TAX. He was, and is, a disciple of horrible RINO Paul Ryan, and others too many to mention. Also, he desperately needs a personality transplant and, to the best of my knowledge, they are not medically available yet. A disloyal person!
We'll hear more from Ron DeSantis later today when he officially announces his campaign on Twitter alongside Elon Musk.
Democrats, meanwhile, are reacting with dismay to DeSantis's entrance into the race, though it's far from a surprise. In a statement, Democratic National Committee chair Jaime Harrison said the governor "has pushed an extreme MAGA agenda focused on ripping Floridians' freedoms away and now he wants to take that agenda nationwide".
Here's more from Harrison:
DeSantis got his start as a co-founder of the ultra-right wing House Freedom Caucus where he supported Paul Ryan's plan to end Medicare and Social Security as we know it, voted for national abortion bans, worked to repeal the Affordable Care Act, and supported Donald Trump's tax giveaways to the biggest corporations. Now, as Floridians suffer under some of the highest housing and health care costs in the nation, DeSantis has tripled down on a MAGA agenda – including banning abortion, making it easier for criminals to carry guns, signing laws that allowed book bans, parroting Putin's talking points, and bailing out huge corporations while Florida families foot the bill.
If there was any doubt – DeSantis's announcement turns up the volume on an already messy Republican primary. One thing is guaranteed – whoever makes it out will only have done so by catering to the most MAGA, right-wing Republicans in the primary.
DeSantis officially begins presidential campaign, election filing shows
Florida governor Ron DeSantis has formally filed paperwork to start his presidential campaign, the Associated Press reports, pitting him against Donald Trump and a host of other Republicans in the competition for the party's presidential nomination in 2024.
Polls indicate DeSantis is in second place among Republican voters, but with a wide gulf between him and the former president. DeSantis is expected to publicly launch the campaign in an appearance later today on Twitter with its billionaire owner Elon Musk.
Nikki Haley will soon get a big opportunity to promote her candidacy to Republican voters and the American public at large: a CNN town hall.
The network announced today that it will hold an event with Haley, a former South Carolina governor and ambassador to the United Nations under Donald Trump, on 4 June in Iowa.
The big question here is whether the town hall will go any better than the event CNN hosted earlier this month with Trump, which ended with the network criticized even by its own employees for allowing the former president to make personal attacks and repeat a variety of debunked lies and accusations.
While DeSantis is still gearing up to announce his candidacy later today, his rival Nikki Haley is out and about in Manchester, New Hampshire, talking about her plans for a federal abortion ban.
The Republican pledged to sign a federal ban but suggested passing one would be highly unlikely without significantly more Republicans in Congress.
The former US ambassador to the United Nations said "no one has been honest" about how difficult a ban could be to achieve, according to AP.
The comments come amid a continuing debate over abortion among Republicans seeking their party's presidential nomination.
As South Carolina governor, Haley signed a ban on abortions after about 20 weeks. On Tuesday, South Carolina's Senate passed a ban on the procedure after about six weeks.
My colleague Joan E Greve has the latest on the debt ceiling talks – and it's not looking like an agreement is imminent.
She writes:
Debt ceiling talks between Joe Biden and the House speaker, Kevin McCarthy, dragged on Wednesday, as negotiators met again to hash out the details of a potential deal.

"There's a number of places that we're still far apart," McCarthy told reporters on Capitol Hill. "I think we can make progress today. I'm hoping that we can."
The pressure group Accountability.US is out with a stinging statement directed at John Roberts, over the chief justice's contention in remarks in Washington last night that the supreme court is capable of regulating its own behaviour, even after a torrent of reports about Clarence Thomas and his friendship with, and acceptance of gifts from, the rightwing megadonor Harlan Crow.
Kyle Herrig, president of Accountable.US, says:
"Chief Justice Roberts sat back and watched while the supreme court corruption crisis reached a fever pitch, causing public trust in his court to plummet. Now, he's admitting more can be done – but keeps pretending he isn't responsible for cleaning up his own court. Americans deserve more than a few noncommittal comments behind closed doors.

Chief Justice Roberts himself has the power to change the ethics standards of our nation's highest court, but so far, he hasn't shown the courage. Instead of preaching to a private crowd, he should take action.
The full story is here.
Here, meanwhile, is what the Rhode Island Democratic senator Sheldon Whitehouse had to say about the argument that Congress cannot investigate the supreme court, as Senate judiciary Democrats would like to do in the case of Thomas, because of the separation of powers in the US constitution – a concept cited both by Roberts and lawyers for Crow:
In a series of tweets, Whitehouse, a champion of the fight against dark money in politics, linked to Crow's lawyers' letter to Dick Durbin, the Senate judiciary chair, and said: "There's a ritualistic quality to these 'separation of powers' claims that are being made to protect Justice Thomas's ethics reporting problem from scrutiny.
"For instance, the reporting violations at issue violate a reporting statute passed by Congress, which the court has obeyed without complaint until now (see 2011 Thomas review by Judicial Conference to enforce that statute).
"More: review by the Judicial Conference is by a body created by statute by Congress. The notion that Congress has no business in the Thomas/billionaire reporting mischief is belied both by the law in question and the body in question.
"In all these pages of legal verbiage, the lawyers manage never to note either fact. Seriously?"
An "anti-fascist" group in Miami has been looking into the woman reportedly behind the banning of Amanda Gorman's presidential inauguration poem from a Florida elementary school, and doesn't like what it found.
The Miami Herald identified the woman who complained about The Hill We Climb as Daily Salinas, the parent of two students at the Bob Graham education center Miami Lakes, and, according to a Twitter thread posted by a group calling itself Miami Against Fascism, a supporter of white supremacist and far-right groups including the Proud Boys.
It posted screenshots allegedly of social media posts made by Salinas promoting antisemitism, a photograph of her at a Proud Boys rally in Miami last year, and video of her with members of the extremist Moms for Liberty group disrupting a meeting of the Miami-Dade school board last summer.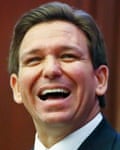 Moms for Liberty has been aggressively campaigning in several Florida school districts for certain books and materials it considers inappropriate for children to be censored, emboldened by Republican governor and upcoming presidential hopeful Ron DeSantis's efforts to reshape education in the state.
Salinas, it said, has also shared QAnon propaganda on her own Twitter page.
Gorman, who delivered a much-applauded recital of The Hill We Climb at Joe Biden's January 2021 inauguration, has also condemned the banning of her book of the same name containing the poem on Twitter:
So they ban my book from young readers, confuse me with @oprah [Winfrey], fail to specify what parts of my poetry they object to, refuse to read any reviews, and offer no alternatives," she wrote on Twitter.

Unnecessary #bookbans like these are on the rise, and we must fight back.
Read more:
Democrats are calling on Congress – and specifically Republicans – to tighten firearm access one year after a gunman killed 19 students and two teachers at an elementary school in Uvalde, Texas. Joe Biden will speak about the tragedy at 3.30pm this afternoon and also call on the GOP to support stricter gun regulations. Meanwhile, in the Capitol, negotiations continue over raising the debt ceiling, with no breakthrough yet apparent.
Here's what else has happened today so far:
Donald Trump's lawyers have requested a meeting with attorney general Merrick Garland and aired a litany of grievances about special counsel Jack Smith and other prosecutors.

Ron DeSantis will later today announce the start of his presidential campaign, and spend big on door-knocking in early voting states.

Texas's Republican-dominated legislature appears to be moving to curb political power in its most-populous county, which is run by Democrats.
Uvalde, Texas is today peppered with memorials as the town marks the one-year anniversary of the elementary school shooting that killed 21 people: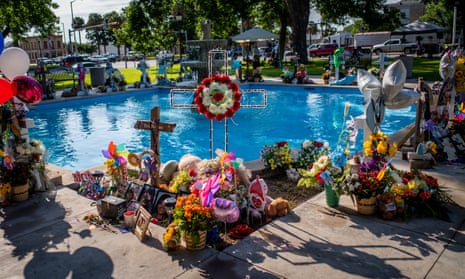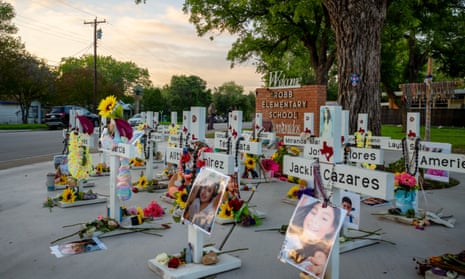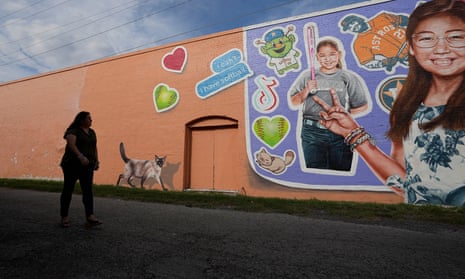 Biden to call on GOP to 'help stop the epidemic of gun violence'
In his speech this afternoon marking one year since a gunman killed 19 students and two teachers at an elementary school in Uvalde, Texas, Joe Biden will call on Republicans to support measures to address gun violence, a White House official said.
"The president will remember those lost in Uvalde and reiterate his call for Republicans in Congress to act and help stop the epidemic of gun violence that has become the number one killer of kids in America," the official said of Biden's address, which is scheduled for 3.30pm today.
The official noted that since the shooting in Uvalde and another shortly before it in Buffalo, New York, the president has signed a modest gun control measure passed by Congress, and "continued to implement two dozen executive actions to help reduce gun violence and keep weapons of war out of dangerous hands – and he has consistently called on Republicans in Congress to take action."
"From universal background checks, to requiring safe storage of guns, to ending immunity from liability for gun manufacturers, to banning assault weapons and high-capacity magazines, the President has called for Congress to enact commonsense policies that Americans support," the official continued.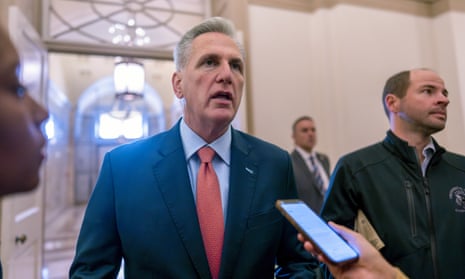 Kevin McCarthy is speaking to reporters at the Capitol about the ongoing debt ceiling negotiations, but the gist remains basically the same as it has for the past few days: no deal has been reached between the two sides.
"I think we can make progress today," the Republican House speaker said, noting that talks were continuing. The deadline to reach a deal or face a potential US debt default remains 1 June.



Disclaimer: This post has been auto-published from an agency/news feed without any modifications to the text and has not been reviewed by an editor.

Source link