Iain Sinnott appointed as Head of International Carrier Sales, Enreach for Service Providers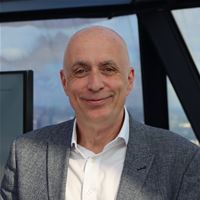 Sophia Antipolis, France, 23 June 2022 – Enreach for Service Providers, part of Enreach — the fast-growing European contact leader backed by the independent investment group, Waterland Private Equity ("Waterland") — has today announced the appointment of Iain Sinnott as Head of International Carrier Sales, Enreach for Service Providers. Sinnott joins this part of Enreach to lead the growth and continued collaboration with the international carrier community, both fixed and mobile, including partners expanding beyond pure telephony into other contact services, such as integration with collaboration and other ICT tools.
Sinnot brings over thirty years of senior-level experience in the telecom industry and has also been a board member of the Cloud Communications Alliance since 2020. Sinnott's focus will be to help legacy players and new market entrants guide their customers through digital transformation, including better customer experiences, improved productivity, support for hybrid working, and intuitive mobile business operations.
Sinnott explained why he chose to join the organisation: "What sets Enreach apart is its clear strategy around its vision of integrating multiple forms of contact, supported by a powerful portfolio of solutions already being rolled out across the region. The group's modern product approach reflects users' real-world needs today, with access to so many forms of contact: voice, chat, video, and more."
Sinnott continued, "Enreach also has the right attitude towards working with carriers. We are not just selling technologies: we are sharing a strategy and need to work closely with each other to deliver products that end users will actually want to use. We also want to work more closely with the channel from pre-sale to point-of-sale and post-sale support."
Bertrand Pourcelot, Managing Director of Enreach for Service Providers, added, "We are delighted to welcome Iain to our team of senior sales directors. He is an excellent fit with his enthusiasm, entrepreneurial energy, passion for products and people, as well as extensive insider knowledge of service providers globally. Enreach is on course to make a difference in this market."
As well as seven years as Sales Director at Vanilla IP and VP, Sales at UBOSS, Sinnott was previously, Head of Indirect Sales at Timico Ltd, and Head of Indirect Sales at Martin Dawes. In addition, Sinnott has provided extensive consultancy services to various telecom industry organizations over the years.
NOTE TO THE EDITORS
About Enreach
Enreach is a European UCaaS and CCaaS leader with a strong presence in the United Kingdom, the Netherlands, Germany, Spain, Denmark, Finland and the Baltic States. Enreach provides collaboration technology and telecom services through its resellers, service provider partners and direct channels. All operations contribute to intelligent, integrated IT and communication solutions that ensure optimal communication and workflow between organizations. Enreach's mission is to give companies access to the best communication and collaboration tools with a simple, user-centric interface built around their specific needs and systems. The group's products place powerful features within reach of all companies, regardless of industry or size, so their employees can focus on getting great things done. Enreach operates in over 25 countries and has over 1,100 employees working in 25 different European offices.
For more information about Enreach, please visit: www.enreach.com
Press contact
Ambrose Communications
Maxine Ambrose
E mail: maxineambrose@ambrosecomms.com
Tel: +44 7785 280930
Enreach for Service Providers
Karine Merouze
International Marks Manager
E-Mail: karine.merouze@enreach.com
Tel: +33 49 723 1265

Disclaimer: This post has been auto-published from an agency/news feed without any modifications to the text and has not been reviewed by an editor.

Source link
Ahead of iPhone 14 launch, Patna High Court issues tender to buy iPhone 13 Pro for all judges | Technology News
New Delhi: The Patna High Court, on Tuesday (June 21), issued a tender to procure iPhone 13 Pro for all judges. The court is inviting interested suppliers or authorized dealers to submit a price, inclusive of Goods and Service Tax and service charges, for the 256GB variant of the iPhone 13 Pro smartphone. The firms submitting their quotations are asked to submit their GST number, PAN, AADHAR, email and a registered mobile number while submitting the quotations.
"Sealed quotations are invited from the reputed firms/ authorized dealers / suppliers / service providers for supply of Apple iPhone 13 Pro (256 GB) for the Hon'ble Judges of this Court," the tender notice read. (ALSO READ: Amul MD hospitalised after road accident in Gujarat, sustains minor injuries)
"Headquarters/ office of the firm/ shop must be located in Patna," the tender notice pointed out. (ALSO READ: Samsung Australia fined $9.7 million over false water-resistance claims)
The officer-on-special-duty released the notice on behalf of the Patna High Court for the purchase of the iPhone 13 Pro smartphones. According to the notice, the final decision to accept or reject any or all quotations will be taken by the court.
Courts will make no payment in advance. Also, the bids will have to be submitted within a week. Additionally, after submitting a duplicate bill, funds will be transferred via bank (CFMS method), according to the letter.
Currently, Patna High Court has a sanctioned strength of 53 judges. However, as of June 1, 2022, the total number of working judges stand at 27. The strength is all set to increase to 36 with the Central government recently notifying the appointments of nine more judges to the bench.
The court has also noted that the supplier will also have to remain available for maintenance of the smartphones as and when required. It also pointed out in the notice that the firms or suppliers will have to replace the defective materials immediately within the warranty period, free of cost.

Disclaimer: This post has been auto-published from an agency/news feed without any modifications to the text and has not been reviewed by an editor.

Source link
Apple CEO Tim Cook Hints At 'Something Exciting' Coming In AR: Mixed Reality Headset Coming?
Tim Cook has expressed his excitement around AR in the past.
Apple's Mixed Reality headset has been a part of the rumor mill since a long time. It will be an AR/VR headset from the Cupertino-based giant, reports have suggested.
Apple CEO Tim Cook has, for the first time, openly spoken about the company's AR plans, in an interview with Chinese publication China Daily.
Cook, in his interview, told AR fans to "stay tuned and you will see what we have to offer." This is probably the most direct hint that we have gotten on Apple's work on an upcoming headset, rumored as the "mixed reality" headset since that past couple of years. In a clip shared on Twitter, when the interviewer asked Cook what he thinks are the key factor, to which, the Apple CEO said he "couldn't be more excited" about AR, despite it being in the initial stages of implementation.
ALSO READ: Apple Mixed Reality Headset Said to be in Advanced Stages: Report
Apple's mixed reality headset has been rumored since the past couple of years. The company is rumored to be bringing an AR/VR headset with multiple cameras reportedly. The mixed-reality headset has been a part of the rumor mill for a long time and will likely be the 'next big thing' after the Apple Watch. Apple has also reportedly ramped up the development of rOS – the dedicated operating system for the mixed-reality headset. Most recent rumors suggest that the mixed reality headset is close to being unveiled as Apple has tested it with the company's executives. This, however, is one of the first time a top Apple executive has commented on AR since the rumors started floating.
WATCH VIDEO: Elon Musk Buys Twitter: Here Are 4 Big Changes You Can Expect
https://www.youtube.com/watch?v=/j9MT1w1GCb0
Tim Cook, however, has talked about AR as a technology before. He has also called himself a fan of the technology and has said that AR is an important part of Apple's future.
Read all the Latest News , Breaking News , watch Top Videos and Live TV here.

Disclaimer: This post has been auto-published from an agency/news feed without any modifications to the text and has not been reviewed by an editor.

Source link
Another egg found inside dinosaur egg for the first time, discovered in India
Dinosaurs have been destroyed from our earth for a long time. Despite this, the searches related to them are going on and many times they surprise. Now the study team of Delhi University has discovered dinosaur eggs during their field trip in Madhya Pradesh. The special thing is that inside this egg also they have found an egg. These eggs were found in the Dinosaur Fossils National Park in the Dhar area of ​​MP. It is claimed that such a discovery has happened for the first time in the world.
According to a study published in the journal Scientific Reports, this discovery is 'unique and important'. Till date no egg has been discovered inside an egg in any reptile. It may also shed light on whether the reproductive biology of dinosaurs was similar to that of turtles, lizards, crocodiles, or birds. Significantly, dinosaur fossils have been found in the Upper Cretaceous Lamata Formation, which extends for 5,000 km in western and central India.
It is being said that the egg found is of Titanosaurid dinosaur. Their size was about 50 feet. They lived in the Southern Hemisphere during the Cretaceous Period. Scientists have not been able to discover much about these dinosaurs so far. It is said that the dinosaurs of this group were the largest creatures ever to live on earth.
Scientists found a total of 10 eggs in their research. Egg is found inside one of these eggs. Of these, the diameter of the larger egg is 16.6 cm, while the diameter of the smaller egg is 14.7 cm. Scientists say that this egg will help in understanding the reproduction of dinosaurs.
Such eggs have never been discovered in India before. This means that dinosaur fossils in central and western India can yield a lot of information. Especially regarding their reproduction. Scientists still believe that the reproduction of dinosaurs was similar to that of reptiles, but they do not have an egg inside the egg. It is also likely that dinosaur breeding may have changed over time. However, this is a subject of long research, in which more information is expected to be found in the coming time.
For the latest tech news, smartphone reviews and exclusive offers on popular mobiles, download the Gadgets 360 Android app and follow us on Google News.
Related news

Disclaimer: This post has been auto-published from an agency/news feed without any modifications to the text and has not been reviewed by an editor.

Source link