Ballon d'Or: Lionel Messi wins the best player in world football for the seventh time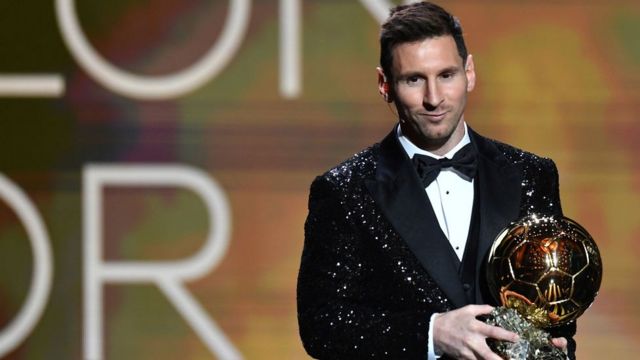 Paris Saint-Germain and Argentine forward Lionel Messi have won the Ballon d'Or, the title of footballer of the year, for the seventh time.
Messi, 34, helped his country Argentina win the Copa America this year. And in 2021 itself, he scored 40 international goals. Of which 28 were for Barcelona, ​​four for his new French club Paris Saint-Germain and eight for Argentina.
Bayern Munich and Poland striker Robert Lewandowski finished second, Chelsea and Italy midfielder Jorginho third and Real Madrid's French striker Karim Benzema fourth at this year's event.
180 journalists from around the world voted to choose the winner of the Ballon d'Or. In the year 2020, no award was given due to the corona epidemic.
Except for one year, between 2008 and 2019, this award has been given to Messi or Ronaldo. Only in 2018 it was won by Croatia midfielder Luka Modric.
Messi had already become the player to win this award the most times. Messi has previously won this award in 2009, 2010, 2011, 2012, 2015 and 2019 as well.
'First Copa America and now this…'
After winning the award at the Théâtre du Chatelle in Paris, Messi said: "It's incredible to be here again. Two years ago I thought it was the last time I was meeting. People started asking me when I was going to retire." But now I am here in Paris and I am very happy."
"This year is special for me. First the Copa America win and now this… The one-zero win against Brazil in the Copa America was very special. It was a pleasure for the Argentines to celebrate that victory together with seven It's hard to say whether this is the best year of my life or not, but because of Argentina winning the title despite tough times and criticism. It's definitely a special year."
On July 10 this year, Argentina won the title of the Copa America tournament played between the countries of South America by defeating Brazil.
Runner-up Award
Messi also praised the second-ranked runner-up, Poland's captain Lewandowski.
Messi said, "Robert deserved to win it last year. I would say that it is a proud moment to win this title, surpassing him."
Lewandowski scored 53 goals for German club Bayern in 2021 and was awarded the Striker of the Year award.
Fourteen of the 30 players selected for the Ballon d'Or currently play in England's Premier League, five each from Chelsea and Manchester City.
Disclaimer: This post has been auto-published from an agency/news feed without any modifications to the text and has not been reviewed by an editor.
rajya sabha chairman on 12 mps suspension: why 12 opposition members suspended from rajya sabha : suspension of 12 opposition members in the rajya sabha will not be withdrawn, chairman naidu says – you break the law and teach the lesson to me too : 12 in rajya sabha The suspension of opposition members will not be withdrawn, Chairman Naidu said – by breaking the decorum, you teach the lesson to me

New Delhi
Suspension of 12 opposition MPs of Rajya Sabha will not be withdrawn. Chairman Venkaiah Naidu made this clear on the opposition's demand to withdraw the suspension. He said that the MPs are bent on justifying their actions instead of repenting them. Therefore, the question of revoking his suspension does not arise. Strict action has been taken against 12 members of Rajya Sabha on the first day of the winter session of Parliament. In the last session, on the pretext of farmers' agitation and other issues, there was a lot of uproar in the house and there was a lot of chaos.

Kharge cited the rules
When Rajya Sabha proceedings began on the second day of the winter session, Kharge cited the rules and said that there was no ground for the suspension of the MPs, so the decision of their suspension should be withdrawn. Kharge sought permission from the Speaker to allow all the 12 opposition MPs to participate in the proceedings of the House. Then the Chairman told the opposition that the suspension action was not his but that of the House. Referred to sub-section 2 of section 256 of the Parliamentary Rules. He said that 256(2) says that on the unbearable conduct of any member or several members in the House, the Chairman shall put the name of such member or members before the House whether a motion for action can be brought against these members,
In this way, there are only two criteria for the suspension of any Rajya Sabha member, first- before the suspension the Chairman should name such members, only then can the suspension motion be moved. More importantly, this process would be relevant till the date on which the inappropriate behavior of the members came to the fore. But, the suspension motion moved by the Minister of Parliamentary Affairs yesterday has reference to the previous session. In this case, the Chairman did not name any member that day. In such a situation, bringing a suspension motion months after the incident is against the parliamentary rule.
Parliament Session: A total of 12 Rajya Sabha MPs, including six of the Congress, fell, the Chairman suspended from the entire session, there was noisy in the last session
Chairman's reply
Chairman Venkaiah Naidu said that Rajya Sabha is a continuous running house. Its term never ends. He said, 'The Chairman of Rajya Sabha has got the power under sections 256, 259, 266 of Parliamentary Act and other sections that he can take action and the House can also take action. Yesterday's action was not of the Speaker, but of the House. A motion in this regard was brought in the House on the basis of which action has been taken.
Naidu said – … you teach me the lesson
On 10 August, these members breached the decorum of the House. The Chairman said, "You tried to mislead the House, you created chaos, you created ruckus in the House, you threw paper on the pedestal, some climbed on the table and are teaching the lesson to me." This is not the right way. The motion has been passed, action has been taken and this is the final decision. He said that the MPs are justifying it instead of repenting their ungodly behavior, so I don't think the opposition's demand should be considered. The Chairman said that there was no question of withdrawing the suspension of the MPs.
12 MPs suspended, biggest ever action in the history of Rajya Sabha
These 12 MPs suspended from the entire session
On the very first day of the Parliament session, 12 members of the Rajya Sabha were suspended from the entire session. These include 6 MPs of Congress, 2-2 from Shiv Sena and TMC while 1-1 MPs of CPM and CPI – Phulo Devi Netam, Chhaya Verma, R Bora, Rajamani Patel, Syed Nasir Hussain and Akhilesh Pratap Singh (Congress), Priyanka Chaturvedi and Anil Desai (Shiv Sena), Shanta Chhetri and Dola Sen (TMC), Elmaram Karim (CPM) and Vinay Viswam (CPI).
Chairman of Rajya Sabha Venkaiah Naidu.
Disclaimer: This post has been auto-published from an agency/news feed without any modifications to the text and has not been reviewed by an editor.
Indian Origin Ceo Who Is In Command Of The Digital World In The Hands Of These Indians These People Including Parag Aggarwal Sundar Pichai Are Involved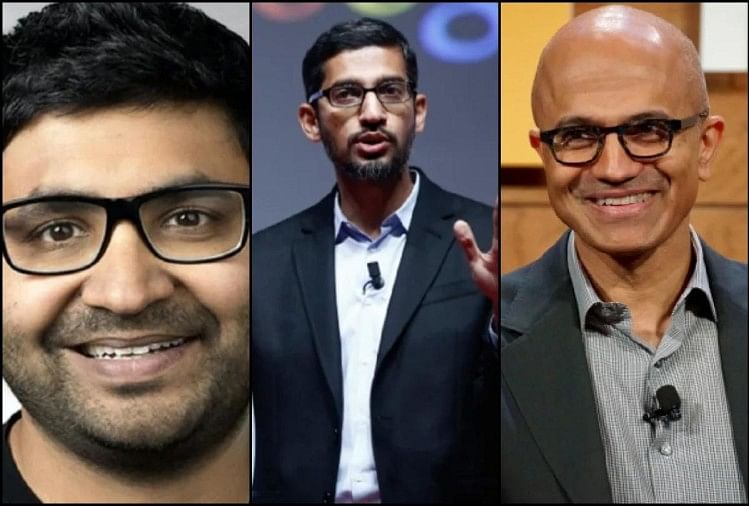 Business Desk, Press24 News, New Delhi
Published by: Deepak Chaturvedi
Updated Tue, 30 Nov 2021 11:09 AM IST
Summary
Command Of Digital World In Indian Hands: The world's largest search engine, Google, technology company Microsoft, computer hardware company IBM, computer software company Adobe, professional services company Deloitte, currently in the post of CEO of the world's largest companies. are in possession.
Indian CEO among world's biggest companies
– Photo : Press24 News
Expansion
Indian-origin Parag Agarwal was appointed to the post after Jack Dorsey resigned from the post of Twitter CEO on Monday. At present, the command of the digital world is in the hands of Indians at this time. Be it Microsoft or Google, Adobe or IBM, all companies are working at the behest of Indians. Now a new name of Parag Agarwal has been added to it. Let us know which other Indians are included in this list, who are playing their danka all over the world.
Parag Agrawan appointed as CEO of Twitter

After the co-founder of Twitter, Jack Dorsey, one of the world's most prominent social media sites, resigned from his post, its command has now come in the hands of Indian-origin Parag Agarwal. Parag has been appointed as the new CEO of Twitter. Prior to this, Parag Agarwal was posted as Chief Technology Officer (CTO) in the company. After joining the company as an engineer in 2011, he traveled to the CTO and has now sat on the CEO's chair. He has studied engineering from IIT Bombay and PhD from Stanford University, California.
Sundar Pichai's secret in Google

Sundar Pichai is the CEO of the world's largest search engine. Sundar Pichai was appointed CEO of Google company in the year 2015. Today his order is considered in Google. Sundar Pichai joined Google in the year 2004.
Microsoft is headed by Satya Nadella

Along with Google and Twitter, in the software company Microsoft also, everything is done at the behest of Indian descent. Satya Nadella of Indian origin is also posted on the CEO of Microsoft. Hyderabad-born Nadella was appointed CEO of the company in 2014 and continues to hold the position.
Arvind Krishna, CEO of IBM

In the world's well-known computer hardware company IBM, the post of CEO is in the hands of Indian-born Arvind Krishna. Arvind was born in Andhra Pradesh, India and was made the CEO of IBM Company in the year 2020. Talking about writing, Arvind Krishna has completed his engineering studies from IIT Kanpur.

Many more big names included

Apart from these, there are many other Indian people who are sitting as CEOs in big companies and are making India proud. These include California-based Adobe CEO Shantanu Narain, VM Wear CEO Raghu Raghuram. Now adding Parag Agarwal's name in this list is definitely not less than a big achievement for India.
Disclaimer: This post has been auto-published from an agency/news feed without any modifications to the text and has not been reviewed by an editor.
What is the matter of doing 'modeling without covering your head' in Kartarpur Gurdwara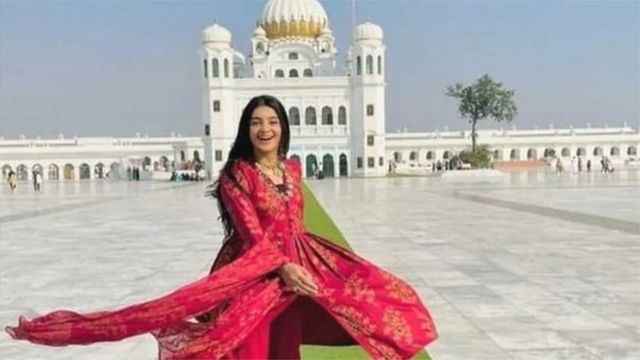 After a photograph of a Pakistani designer clothing ad shot at Gurdwara Darbar Sahib in Kartarpur in Pakistan surfaced, it has been criticized on social media in Pakistan and India.
Here let us tell you that it is not forbidden for women to take pictures or go to the Gurudwara, but keeping the head covered at this place is an important rule that both men and women follow.
After being criticized, the model has apologized to the Sikh community in a message on social media and said that it was not a modeling shoot.
She wrote, "I recently posted a picture on Instagram which was not a part of any shoot. I went to Kartarpur only to learn about history and Sikhism. Not to hurt anyone's sentiments. But still, if I have hurt anyone or they feel that I have not respected their religion, then I apologize for that."
How did the case come to light
It is worth mentioning that Indian journalist Ravinder Singh Robin had complained about this matter on Twitter, tagging the Prime Minister of Pakistan Imran Khan and the Ministry of Religious Affairs.
He wrote, "A Lahori woman in the Gurdwara premises has modeled for women's clothes without covering her head, which has hurt the religious sentiments of many Sikhs."
He wrote that not only was the shooting done but it was also shared on social media.
In response, Pakistan's Information and Broadcasting Minister Chaudhry Fawad Hussain has written that 'the designer and model should apologize to the Sikh community. Kartarpur Sahib is a religious place and not a film set."
The Punjab Police in Pakistan, in response to Ravinder Singh Robin's tweet, has said that it is investigating all aspects of the matter and the brand and model are being questioned.
There was a lot of protest on social media about the picture, after which 'Mannat Clothing' issued a clarification on it on their account saying that they did not get this shoot done and the picture came from third party.
Despite this, he accepted the mistake that he should not have posted this picture and now he has removed that picture.
apologies from the model
After the criticism, the model wrote in a message on social media that 'When I went there I saw Sikhs and other people taking pictures and I also took many pictures of them for those people. I made friends there. Sikhs are very generous and loving people. I can never intentionally hurt them."
"I have a lot of respect for Sikhism and I want to apologize to the entire Sikh community. All these pictures are just a part of the memory that I went there. Nothing more and nothing less, although I would like to see these things in the future." I'll care more about it."
He has finally appealed to share his post so that 'people can know that I did not do this intentionally.'
Criticism in India
Manjinder Singh Sirsa, leader of Shiromani Akal Dal in Delhi and chairman of Delhi Sikh Gurdwara Prabandhak Committee, has demanded action from the Pakistan government and Pakistan Prime Minister Imran Khan after a picture of a model shooting a cloth surfaced.
Manjinder Singh made many tweets regarding this and wrote, 'Such behavior and method cannot be tolerated in the place of Guru Nanak Dev Ji. Can she do this kind of work at her religious place in Pakistan?'
Along with this, he appealed to the Government of Pakistan that strict action should be taken against the model.
It is worth mentioning that such incidents have happened in India and Pakistan in the past, on which a lot of protest has been expressed.
There was also an uproar over the shooting in Lahore's historic Badshahi Mosque, while a case was filed against actress Saba Qamar and singer Bilal Saeed for shooting a song at Masjid Wazir Khan.
In this way, about which scene in a temple in India, the OTT platform Netflix's boycott was talked about.
A user named Mastura Hijazi wrote on social media, "Desecration of religious places is strictly prohibited in Islam. This woman and the brand she is advertising should be punished under the law of Pakistan."
A user Suhaib Nihal wrote, "I hope the government will take cognizance of this. Nobody is allowed to insult anyone's religious places."
Mohammad Osama from Pakistan wrote, "This is very rude. Respect for all religions is necessary. We stand with the Sikh community."
Disclaimer: This post has been auto-published from an agency/news feed without any modifications to the text and has not been reviewed by an editor.