T20 World Cup: Including Hardik Pandya in squad against Pakistan was India's biggest setback, says Inzamam-ul-Haq | Cricket News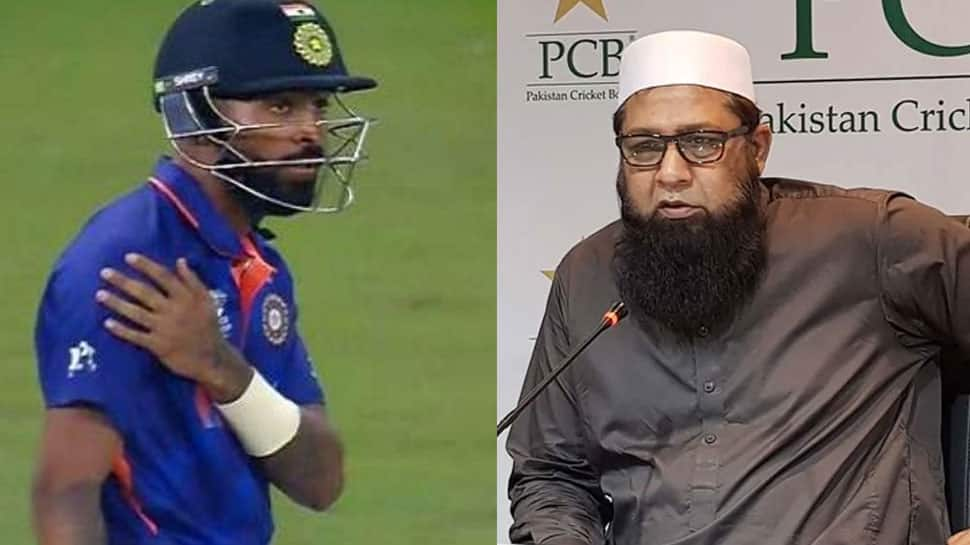 DUBAI: Former Pakistan captain Inzamam-ul-Haq has claimed that the selection of all-rounder Hardik Pandya in the playing XI against Pakistan was one of India's biggest setbacks and a key factor behind Team India's humiliating defeat in the Super 12 clash of T20 World Cup 2021 on Sunday.
Inzamam also questioned skipper Virat Kohli's decision to include Hardik Pandya in the squad who has not been in a good form lately.
"India's biggest setback was that they played with Hardik Pandya. India were not right with their team selection. Babar Azam knew exactly what he was doing with his XI but India were not," Inzamam said on his YouTube channel.
'Inzy' further said that Team India did not get their combination right as they lacked a sixth bowler, who could have come in as a back-up to the five main bowlers. 
The remarks from former Pakistan captain came hours after India lost their opening encounter to Pakistan by 10 wickets – their first defeat against the neighbours in a World Cup match in any format after 12 successive victories.
Giving a piece of advice to Pandya, Inzamam said that he should not have given clue that his shoulder was hurt, saying it was not a good sign as it showed that India were under pressure.
.
Put in to bat at no. 7, Hardik scored just 11 runs off 8 balls. He also hurt his shoulder while attempting a pull shot off Shaheen Shah Afridi in the 19th over of the Indian innings. 
Pandya immediately grabbed his arm and did not seem comfortable. The all-rounder did not come out to the field and was taken for scans.
"I did not think it was the right thing for Pandya to point towards his shoulder after being hit. When you play a high-voltage match like this, you don't give a clue to the opposition even when you are hurt. I have seen Indian players like Sachin Tendulkar get hit but they didn't used to rub that part. They gave no clue that they were hurt. I immediately got a clue that India were under pressure when Pandya grabbed his shoulders. That was not a good sign. He didn't come out in the field, didn't bowl," the former Pakistan batsman said.
While explaining how the absence of a sixth bowler hurt India's chances, Inzamam also heaped praise on Pakistan skipper Babar Azam, who made "good use of his multiple bowling options and got two overs out of the way using the experienced Mohammad Hafeez."
"If India played a sixth bowler, then it would have been better. Look at how playing Mohmmad Hafeez gave an advantage to Babar Azam. He got two overs out of the way by using Hafeez instead of bowling four from Imad Wasim. They had Shoaib Malik too," he added.
Inzamam said that he had "waited for 30 years to see Pakistan beat India in a World Cup match." He, however, said that India was still the favourite to win the ongoing ICC Men`s T20 World Cup in Oman and United Arab Emirates (UAE).
Inzamam said he feels that the Virat Kohli-led India have a greater chance of winning the trophy as the conditions in the Gulf nations are similar to the subcontinent, which makes India the most dangerous side in the event.

Disclaimer: This post has been auto-published from an agency/news feed without any modifications to the text and has not been reviewed by an editor.

Source link
Kane Williamson ahead of New Zealand's match vs Pakistan
New Zealand are set to kick-start their ICC Men's T20 World Cup campaign against Pakistan on Tuesday at the Sharjah Cricket Stadium. This is New Zealand's first game against the Babar Azam-led outfit following their infamous last-minute withdrawal from the Pakistan tour earlier this year due to a security threat.
Ahead of the much-anticipated match, Kiwi skipper Kane Williamson is hoping that the Pakistan squad will not hold any grudge against them for abandoning the tour. Needless to mention that Williamson was not part of the New Zealand squad in Pakistan.
T20 World Cup Full Coverage | Schedule | Photos | Points Table
The 31-year-old also reckoned that the players from both teams have a very good relationship with each other.
"I am sure the game will be played in the right spirit," Williamson said during the pre-match press conference.
The Blackcaps withdrawal due to security threats also prompted the England and Wales Cricket Board (ECB) to forfeit their men's and women's tours of Pakistan. ECB in their statement cited players' physical and mental health as the reason behind their decision.
Following the incident, the newly appointed Pakistan Cricket Board (PCB) chief Ramiz Raja had then said that the Pak team has now added England and New Zealand to their target list for World Cup alongside India.
Williamson during his press meet also insisted that the decision to abandon the Pakistan tour was taken by the New Zealand government. He also praised the Pakistan team's performance against India in their tournament opener, saying that they are one of the pre-favourites to lift the World Cup trophy.
ALSO READ | T20 World Cup: Hardik Pandya's Shoulder Injury 'Not Serious' But Team Management Will 'Wait & Watch'
Riding on pacer Shaheen Afridi's three-wicket haul and fifties from Mohammad Rizwan (79 not out) and Babar Azam (68 not out), Pakistan on Sunday hammered bitter rivals India by ten wickets in their tournament opener at Dubai International Stadium.
Following their emphatic win over India, Pakistan are comfortably sitting at the second spot in the Group 2 table with two points and an impressive run rate of +0.973.
Get all the IPL news and Cricket Score here

Disclaimer: This post has been auto-published from an agency/news feed without any modifications to the text and has not been reviewed by an editor.

Source link
Frenkie de Jong Suffers Thigh Injury During El Clasico Defeat vs Real Madrid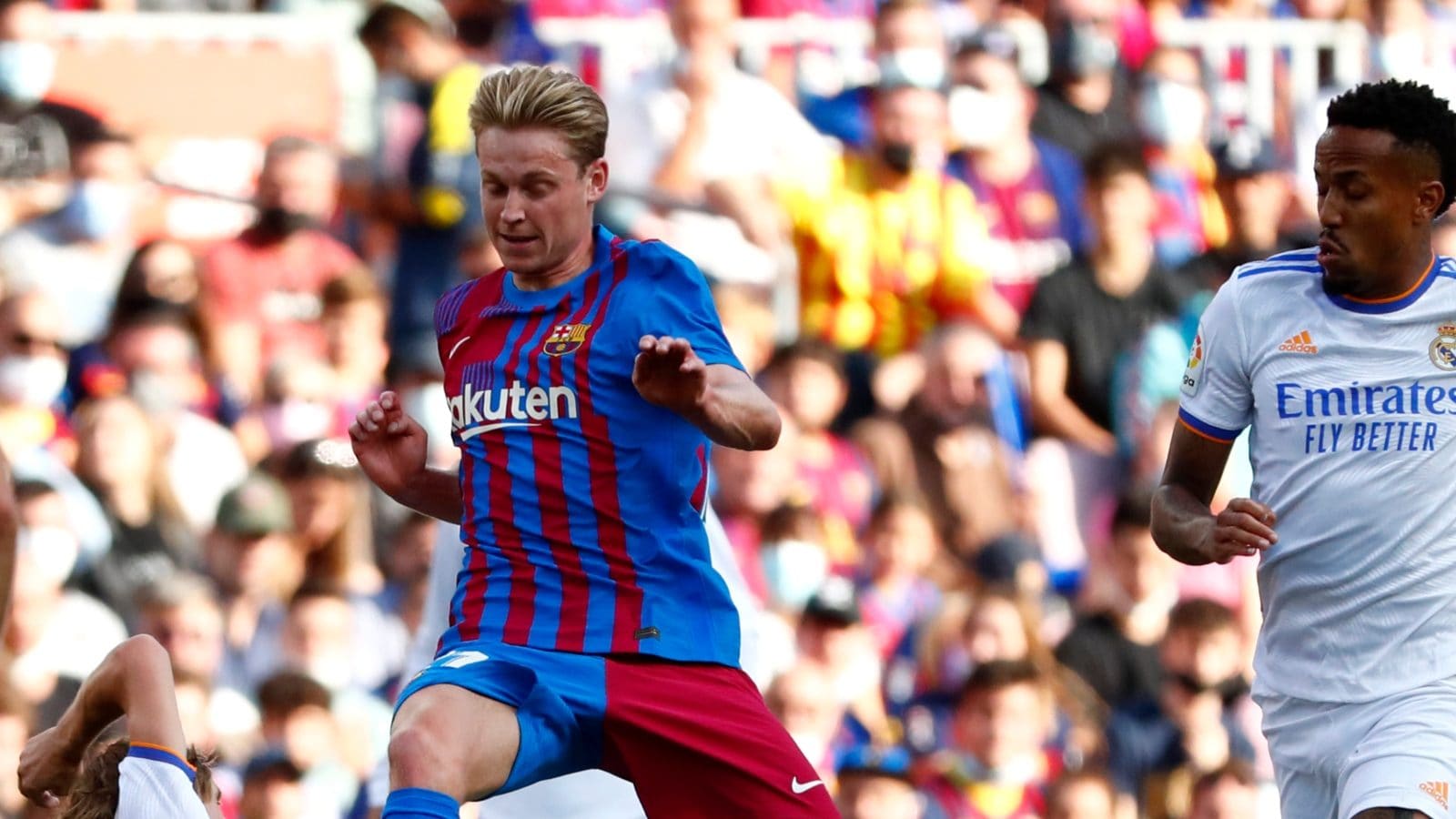 Barcelona's Netherlands midfielder Frenkie de Jong has suffered a right thigh injury, the La Liga club announced on Monday. De Jong, 24, was replaced after 77 minutes during Sunday's Clasico defeat to Real Madrid. He is likely to miss Wednesday's trip to Rayo Vallecano but Barcelona did not specify how long he would be out for.
De Jong has started 11 games this season but has yet to score for Ronald Koeman's side, who are ninth in the table six points adrift of leaders Real Sociedad.
Read all the Latest News, Breaking News and Coronavirus News here. Follow us on Facebook, Twitter and Telegram.



Disclaimer: This post has been auto-published from an agency/news feed without any modifications to the text and has not been reviewed by an editor.

Source link
Hockey Jharkhand beat Hockey Andaman & Nicobar 28-0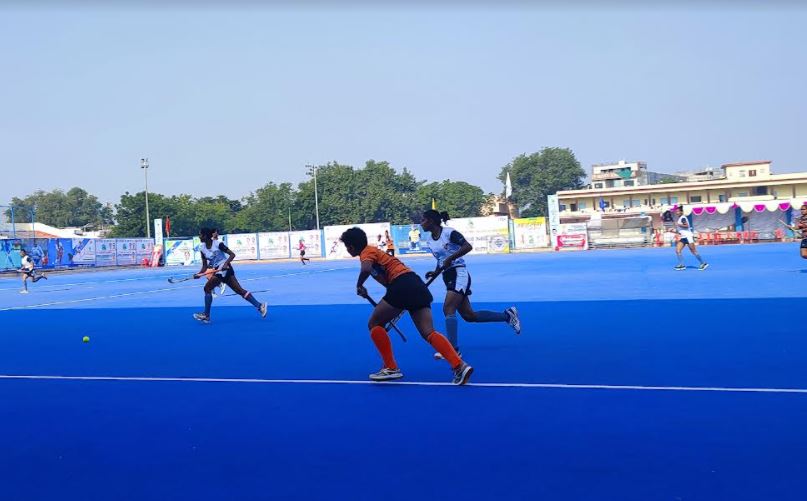 Jhansi: Hockey Jharkhand, Delhi Hockey, Hockey Karnataka, Hockey Unit of Tamil Nadu, Uttar Pradesh Hockey and Kerala Hockey registered victories in their respective matches on the fifth day of the 11th Hockey India Senior Women National Championship 2021 here in Jhansi today.
In the first match of the day, Hockey Jharkhand eased past Hockey Andaman & Nicobar with a 28-0 victory in their Pool F match. Reshma Soreng (12′, 13′, 20′, 28′, 40′, 42′, 45′) scored seven goals, while Pramila Soreng (7′, 19′, 40′, 49′, 60′) and Albela Rani Toppo (16′, 26′, 31′, 32′, 55′) netted five goals each. Betan Dung Dung (15′, 23′, 38′) and Simta Minz (21′, 33′, 53′) scored a hat-trick each, while Roshni Dungdung (6′, 46′) and Captain Subhasi Hemrom (44′, 50′) scored a brace each. Shammy Bara (56′) netted one goal for Hockey Jharkhand.
In Pool F, Delhi Hockey earned a hard-fought 2-1 victory over Hockey Rajasthan. Babita (10′) and Manisha (37′) scored one goal each for Delhi Hockey, while Captain Beena Pandey (44′) scored the only goal for Hockey Rajasthan.
Hockey Karnataka defeated Tripura Hockey 11-0 in their Pool G match. Pavithra PA (18′, 27′, 47′) scored a hat-trick, while Shaina Thangamma MP (7′, 26′) and Anjali HR (50′, 53′) scored a brace each. Yashika MG (38′), Dhanya MG (48′), Vidya KS (50′) and Captain Nisha PC (56′) scored one goal each.
In the other Pool G match, Hockey Unit of Tamil Nadu defeated Telangana Hockey 8-0. Captain Rubasri N (26′, 55′) scored a brace, while Kavya R (7′), Suguna R (16′), Kamaleshwari A (22′), Nivetha (27′), Malarvizhi S (29′) and Jayapratha S (59′) scored a goal each.
In Pool H, Uttar Pradesh Hockey defeated Hockey Jammu & Kashmir 12-0. Komal Sahani (40′, 55′, 57′) scored a hat-trick, while Nilanjali Rai (7′, 41′), Sonal Tiwari (20′, 28′), Anshika Singh (42′, 53′) and Reetu Singh (44′, 54′) scored a brace each. Shreya Singh (49′) scored one goal for Uttar Pradesh Hockey.
In the final match of the day, Kerala Hockey defeated Assam Hockey 5-1 in their Pool H match. Arya KM (19′), Aiswarya KV (24′), Sibya S (30′), Captain Athira Prasad Shylaja (43′) and Ashmi M (58′) scored one goal each for Kerala Hockey, while Captain Elina Tigga (20′) scored the only goal for Assam Hockey.

Disclaimer: This post has been auto-published from an agency/news feed without any modifications to the text and has not been reviewed by an editor.

Source link