Free high-speed Wi-Fi internet service will now be available on the Yellow Line of Delhi Metro!
Delhi Metro commuters can now enjoy internet access at all stations on its Yellow Line using free high-speed Wi-Fi. DMRC has started this facility on Sunday. Officials said the Delhi Metro Rail Corporation, in collaboration with a technology consortium, is working on introducing this facility inside metro trains (other than the Airport Express Line).
In January 2020, this urban transporter introduced a high-speed Wi-Fi facility inside train coaches on the Airport Line connecting New Delhi and Dwarka Sector 21 stations.
This was the first such facility in any country in the South Asian region.
In its endeavor to continuously enhance the travel experience for its commuters, Delhi Metro has successfully introduced free high-speed Wi-Fi service at all Metro stations of Yellow Line or Line-2 from Samaypur Badli to HUDA City Center. Officials said that work is on to extend this facility to stations on other corridors of the network.
DMRC said that this high speed service on Yellow Line will prove to be a boon for the students commuting from North Delhi Campus of Delhi University.
This service has been introduced in the festival season on this line which includes 37 metro stations. Most of it runs underground on this line inside one of the most congested parts of the city. It covers outer Delhi, north Delhi to central Delhi and south Delhi and finally reaches Gurgaon, officials said.
DMRC said that more than 330 access points have been set up at these 37 stations so that passengers can get internet facility without any hassle.
How to access Wi-Fi facility at Delhi Metro Yellow Line stations
To use the high-speed internet facility at Yellow Line stations, a passenger must log on to the OUI DMRC FREE WI-FI network.
After that, he has to enter the phone number and email ID and an OTP will be sent to the mobile number via SMS. After successful login, the passenger can enjoy free Wi-Fi service.
Passengers will be able to enjoy all standard internet applications like e-mail, Facebook, YouTube, Google search, WhatsApp, video and audio calls etc. after logging into the network.
Officials said that OUI DMRC free high-speed Wi-Fi connectivity is already available at all stations on the Blue Line of the metro network.
The Blue Line (Dwarka Sector 21-Noida Electronic City/Vaishali) has 50 metro stations, with over 400 access points maintained by DMRC, while the Airport Express Line has over 50 access points.
DMRC said that this free Wi-Fi service is being provided by a consortium led by M/S Techno Sat Comm.
If there is any problem in availing free Wi-Fi service at Metro stations on all these lines, then the passenger can contact the helpline – 9541693693.

Disclaimer: This post has been auto-published from an agency/news feed without any modifications to the text and has not been reviewed by an editor.

Source link
Cato Networks Takes Aim At Cisco, Palo Alto Networks For SASE Dominance With $200M Funding Round
Cloud networking specialist Cato Networks said it's going on the offense to become the largest standalone SASE provider and leader in the market, announcing a new funding round that smashes its previous record total.
Cato Networks has raised $200 million in funding that brings the company's total financing to $532 million. The new funding will go towards expanding engineering, sales, and marketing of the Cato SASE Cloud to capture more enterprise deals, according to the company.
Tel Aviv, Israel-based company has been on fire with funding in the past two years as the SASE market gains serious momentum. Cato Networks, which does 100 percent of its business through partners, in April 2020 brought in $77 million in Series D funding after a very strong 2020 first fiscal quarter. Cato in November then dwarfed that number with its largest funding round to date until now — a Series E in the amount of $131 million.
Cato Networks is currently valued at $2.5 billion, according to the company.
[Related: Cato Networks Expands Global Partner Program With Eye On MSPs]
The company in 2019 secured a $55 million Series C investment round after growing its bookings by 352 percent in 2018. That growth, according to the company, was led by its channel partners.
The latest funding round revealed Tuesday was led by Lightspeed Venture Partners with the participation of existing investors Greylock, Aspect Ventures / Acrew Capital, Coatue, Singtel Innov8, and Shlomo Kramer, Cato's own founder and CEO.
The SASE market will grow at a compound annual growth rate of 116 percent, hitting a market value of $5.1 billion by 2024, according to research firm Dell'Oro Group. Cato is bracing itself to compete against the likes of networking and security leaders, such as Cisco, Fortinet, HPE, and Palo Alto Networks which are also aggressively going after market share in the same space with their own SASE strategies.
As a channel-first company, the latest funding round will naturally benefit the company's growing channel ecosystem of more than 2,500 VAR, MSP, and agent partners, Anthony D'Angelo, vice president of channel and business development, said in an email to CRN .
"We are investing heavily in developing our channel ecosystem of master agents, VARs, and MSPs to accelerate our market penetration. Cato is supporting the channel with training, thought leadership, joint event sponsorships, and sales incentive programs to position the channel to win in the hot SASE market," D'Angelo said.
Cato Networks was founded in 2015 and has about 400 employees today. The company plans to grow to 600 employees by the end of 2022, according to the company.

Disclaimer: This post has been auto-published from an agency/news feed without any modifications to the text and has not been reviewed by an editor.

Source link
Credenxia leaps into the future with Dock's API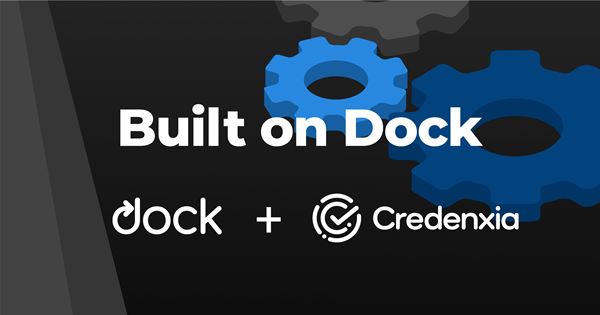 Preparing to move towards a decentralized solution for creating and managing employee credentials, Credenxia is working with Dock to build a Proof of Concept (PoC) application to create, issue, manage, and verify credentials instantly. This PoC is now complete!
Helping businesses around the world work smarter, better, and faster, Credenxia offer a digital platform that uses cloud and smart technology to verify employee identity and establish proof of qualifications. With a mission to simplify management of the workforce, Credenxia understood the need to provide alternatives to their existing centralized verification solutions.
The better solution? Verifiable credentials. These are digital versions of an individual's identity documents, academic achievement, licenses and more. Verifiable credentials use cryptography, providing assurance as to who issued the credential and who it belongs to, as well as guaranteeing the legitimacy of it. Verifiable credentials sit in a digital wallet on the individual's mobile device, giving users back control over their identity.
What are Verifiable Credentials and what makes it a better option?
These digital certificates are stored on an individual's digital wallet that can reside on a mobile device. If the accreditation requires a time stamp on how long it is valid for, the verifiable credential can be time stamped, anchoring them to the Dock blockchain. These credentials can be digitally presented to a third party for instant verification. Users receive the certifications and identity from the issuing body, ie qualifications from educational organizations, they own it and use it entirely on their own free will.
It saves a workforce several days on the time it takes to issue and verify an individual's identity and credentials. A university can take months to prepare, issue and print certificates and diplomas, and an employer would spend weeks verifying an employee's identity and accreditations. With verifiable credentials, hundreds of certifications and identities can be legitimately issued and verified instantly, saving hours and days of tedious work.
In addition, verifiable credentials are tamper-proof and use cryptography to ensure that only the issuer can make changes to the credentials, and only the intended recipient can present the credentials in a verifiable way.
Dock's work with Credenxia
To date, Credenxia has provided a centralized solution with verification through their cloud-based portal. Wanting to offer an alternative to their existing centralized solutions that provides the added benefits of using verifiable credentials with blockchain technology, Credenxia approached Dock to help them develop a Proof of Concept (PoC) application. The vision was to give back control over one's credentials and identity and allow instant verification of credentials.
Using Dock's API, Credenxia will also offer decentralized solutions, building an application where credentials are held by an individual and where all data held is correct and legitimate, using an identity verification service to verify details of individuals prior to registration.
Dock CEO Nick Lambert said of the collaboration "Credenxia's use of verifiable credentials is a great use case and we're excited to support them in bringing this product to the market. Credenxia are getting in on the ground floor with this technology which will significantly reduce verification times and costs for their customers".
Credenxia CEO Terry Jones said of the collaboration, "We are very pleased to have completed the Proof of Concept with Dock. It is a key strategic imperative for Credenxia to offer existing and new clients a decentralized option that maintains highest levels of individual data privacy and integrity. Dock has led the way, by releasing the first public W3C credential verifier, which utilizes the Verifiable Credentials Data Model (VCDM). Meeting the highest global standard in what will be a rapidly evolving digital compliance landscape is essential for our future growth roadmap. Following the PoC, I am confident that the Dock framework will support these objectives."
About Credenxia
Credenxia are a leading global verification partner whose mission is to simplify management of the workforce. Helping people and businesses work smarter, better, and faster, Credenxia offer a digital platform to issue and verify a workers identity and qualifications, instantly.
About Dock
Dock is a platform designed to provide a simple solution for businesses and developers to build, manage and present digital credentials that are instantly verifiable using blockchain technology. With a standalone blockchain and seamless adoption and interoperability, Dock is part of a movement to solve universal problems with existing data and how it is captured, shared and controlled.
For more information on the partnership between Dock and Credenxia, ​​or if you have any questions, please contact Kiran Padam, Content Marketing Manager at [email protected]

Disclaimer: This post has been auto-published from an agency/news feed without any modifications to the text and has not been reviewed by an editor.

Source link
Flipkart Big Diwali Sale: Check out deals on iPhone 12, Pixel 4a and more | Technology News
New Delhi: Customers in India can now take advantage of Flipkart's latest Big Diwali Sale, which offers discounts and bargains on a variety of products. As usual, the e-commerce portal is giving steep discounts on smartphones from Apple, Samsung, Poco, and other popular companies.
The latest sale event follows the company's Big Billion Days sale, which took place just a few days ago. The Flipkart Big Diwali sale is still running in conjunction with Amazon's Great Indian Festival, which runs until the end of October. The Flipkart sale, on the other hand, will conclude on October 25. Customers who have SBI cards are eligible for further savings.
Apple, Xiaomi, Samsung, Poco, Realme, and more smartphone brands will be on sale with steep discounts. The iPhone 12, which is offered for Rs 53,999, is one of the most conspicuous devices that is getting a discount. During the Flipkart Big Diwali Sale, the iPhone 12 small model is currently available for Rs 42,099. The cost-effective iPhone SE (2020) has also been reduced, and is now available for Rs 30,099.
During the Flipkart Big Diwali Sale, the Google Pixel 4a was discounted to Rs 25,999 from its regular price of Rs 31,999. Customers who purchase the Pixel 4a will also receive a 50% discount on the Google Pixel Buds A-series, as well as a free Google Nest Mini smart speaker. Poco smartphones will also be heavily discounted. The Poco C31 is a new entry-level handset that starts at Rs 8,499, and the Poco F3 GT 5G starts at Rs 28,999 with exchange offers and no-cost EMI.
Customers may also have a look at the Samsung Galaxy F62, which is available for Rs 18,999 (down from Rs 29,999) during the Flipkart Big Diwali sale. The Galaxy F12, which has a 6,000mAh battery, is another Samsung gadget that costs Rs 9,499. The Galaxy F22, which has quad rear cameras and a 6,000mAh battery, is also available. It is now available for Rs 12,499, down from the original price of Rs 14,999.
Live TV
#mute

Disclaimer: This post has been auto-published from an agency/news feed without any modifications to the text and has not been reviewed by an editor.

Source link