New Ebola case confirmed in eastern DR Congo | Ebola News
Three-year-old boy tests positive and dies near Beni just five months after the latest epidemic in the country was declared over.
One Ebola case has been confirmed in the Democratic Republic of the Congo (DRC) just five months after the latest epidemic of the disease in the country was declared over.
A three-year-old boy tested positive near the eastern city of Beni, one of the epicentres of the 2018-2020 outbreak, and died from the disease on Wednesday, Health Minister Jean Jacques Mbungani said in a statement on Friday.
It was not immediately known if the case was related to the 2018-2020 outbreak that killed more than 2,200 people in eastern DRC, the second deadliest on record, or the flare-up that killed six this year.
About 100 people, who may have been exposed to the virus, have been identified and will be monitored to see if they develop any symptoms, the statement added.
An internal report from DRC's biomedical laboratory said that three of the toddler's neighbours in Beni's densely populated Butsili neighbourhood also presented symptoms consistent with Ebola last month and died, but none were tested.
The World Health Organization (WHO) released a statement saying that it was working with "health authorities to investigate the case".
The #DRC Ministry of Health just announced that a new case of Ebola has been detected in North Kivu Province, where a previous outbreak was declared over 3 May 2021. @WHO is working with health authorities to investigate the case.

— WHO African Region (@WHOAFRO) October 8, 2021
The DRC has recorded 12 previous outbreaks since the disease was discovered in the equatorial forest near the Ebola River in 1976.
It causes severe vomiting and diarrhoea, and is spread through contact with body fluids.
The disease reappeared in February in an area of North Kivu that, between August 2018 and June 2020, experienced the largest outbreak of Ebola in the history of the DRC – 3,470 infections and 2,287 deaths.
Health experts say it is not unusual for sporadic cases to occur following a major outbreak. Particles of the virus can remain present in semen for months after recovery from an infection.
The disease typically kills about half of those it infects although treatments developed in West Africa have significantly reduced death rates when cases are detected early.
Two highly effective vaccines have also been used to contain outbreaks since then.



Disclaimer: This post has been auto-published from an agency/news feed without any modifications to the text and has not been reviewed by an editor.

Source link
Florida Board of Education Punishes 8 Districts Over Mask Mandates
The political battle in Florida over masks in schools escalated this week, as the state Board of Education voted to authorize sanctions on eight local school districts for not following instructions from Gov. Ron DeSantis's administration that make masks optional.
The eight districts, whose boards all voted to require masks in school buildings, could face cutbacks equal to their school board members' salaries unless, according to the Tampa Bay Times, they show within 48 hours that they are in compliance with state orders. The districts are in Alachua, Brevard, Broward, Duval, Leon, Miami-Dade, Orange and Palm Beach Counties.
The measure was approved unanimously during a conference call meeting on Thursday by the State Board of Education, all of whose members are appointees by Republican governors. The vote came after superintendents from the eight districts argued their mask policies had been effective at curbing the spread of the virus.
After the vote, one of the superintendents, Alberto M. Carvalho of Miami-Dade County Public Schools, noted on Twitter there had been "no major outbreaks" in his district and that student cases had been declining after a spike in early September.
"We disagree with today's State Board of Education's recommendation and wholeheartedly believe that we are in compliance with law, reason, and science," he said in a Twitter post.
But the state board said that the county school boards had "willingly and knowingly violated the rights of students and parents by denying them the option to make personal and private health care and educational decisions for their children."
Masks in schools have become the center of a fiercely partisan debate in Florida, Texas, Arizona and other states whose Republican governors oppose mask mandates as an infringement on personal liberties. In late July, Governor DeSantis, a possible Republican presidential candidate, signed an executive order directing state officials to ensure parents have the power to decide whether children wear masks in school.
The Centers for Disease Control and Prevention recommended that all students, teachers and employees wear masks, regardless of their vaccination status. Most masks offer far more protection to others than to the person wearing them, dispersing the exhaled aerosols that carry the coronavirus in an infected person. So individual masking undermines the protection the masks offer.
President Biden, a Democrat, has openly criticized the Republican governors blocking local mask mandates, and the federal Department of Education has started investigating whether such policies in five states violate the civil rights of disabled students.
The State of Vaccine Mandates in the U.S.
Vaccine rules. On Aug. 23, the F.D.A. granted full approval to Pfizer-BioNTech's coronavirus vaccine for people 16 and up, paving the way for mandates in both the public and private sectors. Such mandates are legally allowed and have been upheld in court challenges.
College and universities. More than 400 colleges and universities are requiring students to be vaccinated against Covid-19. Almost all are in states that voted for President Biden.
Schools. California became the first state to issue a vaccine mandate for all educators and to announce plans to add the Covid-19 vaccine as a requirement to attend school, which could start as early as next fall. Los Angeles already has a vaccine mandate for public school students 12 and older that begins Nov. 21. New York City's mandate for teachers and staff, which went into effect Oct. 4 after delays due to legal challenges, appears to have prompted thousands of last-minute shots.
Hospitals and medical centers. Many hospitals and major health systems are requiring employees to get vaccinated. Mandates for health care workers in California and New York State appear to have compelled thousands of holdouts to receive shots.
Indoor activities. New York City requires workers and customers to show proof of at least one dose of the Covid-19 for indoor dining, gyms, entertainment and performances. Starting Nov. 4, Los Angeles will require most people to provide proof of full vaccination to enter a range of indoor businesses, including restaurants, gyms, museums, movie theaters and salons, in one of the nation's strictest vaccine rules.
At the federal level. On Sept. 9, President Biden announced a vaccine mandate for the vast majority of federal workers. This mandate will apply to employees of the executive branch, including the White House and all federal agencies and members of the armed services.
In the private sector. Mr. Biden has mandated that all companies with more than 100 workers require vaccination or weekly testing, helping propel new corporate vaccination policies. Some companies, like United Airlines and Tyson Foods, had mandates in place before Mr. Biden's announcement.
Lawsuits have also been filed in a number of states, including Florida, challenging bans on mask mandates. In late August, a federal judge said that Florida's state constitution allowed school districts to impose strict mask mandates on students, handing Mr. DeSantis a defeat. The state asked an appellate court to reverse the ruling, which has been stayed temporarily pending a final decision.
On Thursday, the Florida school board maintained that a "parents' bill of rights" enacted by state lawmakers earlier this year gave parents the sole right to decide if their children should wear masks. The board's statement said that the law requires districts and schools to "protect parents' right to make health care decisions such as masking of their children in relation to Covid-19."
"Every school board member and every school superintendent has a duty to comply with the law, whether they agree with it or not," the chairman of the state board, Tom Grady, said in the statement.



Disclaimer: This post has been auto-published from an agency/news feed without any modifications to the text and has not been reviewed by an editor.

Source link
Meet 'Dancing Grannies' of China who have become a 'problem' for locals | viral News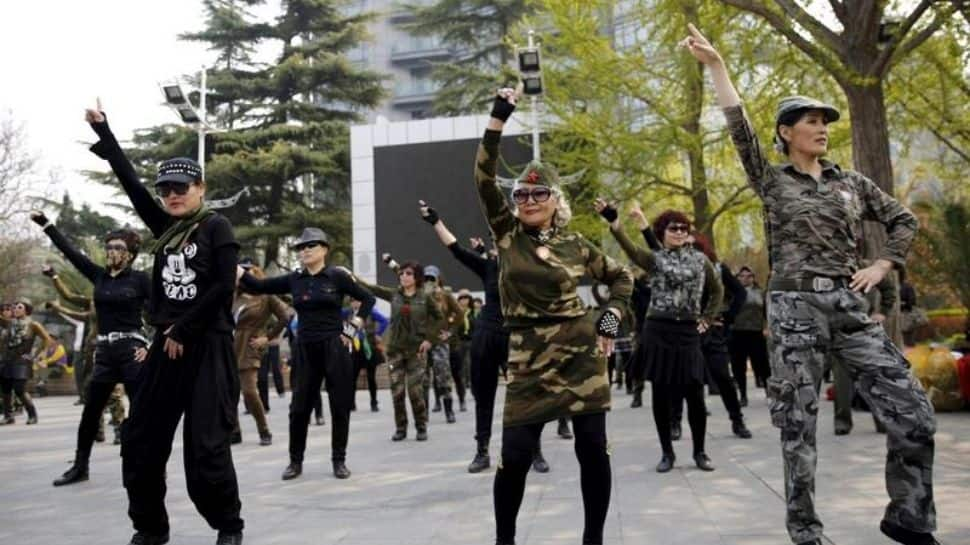 New Delhi: China's elderly women have adopted a new hobby to socialise and exercise much to the annoyance of the locals. The middle-aged and older women in China gather most nights or early mornings into public parks and centers for square dancing. 
According to The Guardian report, these 'gangs' who went through the Cultural Revolution of the 1960s, dance together to 'loud' Chinese music. As locals are 'too scared' to call out these 'dancing grannies' on the blaring music, a remote stun gun-style device that claims to disable a speaker from 50 metres away has gone viral as a solution to this problem. 
A user on Taobao, China's version of eBay, said, "Downstairs is finally quiet. For two days the grannies thought their speaker is not working!"
While another commented, "Great invention, with this tool I will be the boss in the neighbourhood now," adding that it's not a regular product but "it is social justice!"
As per South China Morning Post, square dancing allows these older women, especially those who live alone, to socialise. These women form strong bonds, often shopping or doing other activities, including group investments, together. 
However, local Chinese residents have complained of noise pollution due to loud music. "Most of them are the products of the Red Guard era, they don't respect society or the environment," a young Chinese resident of Guiyang said. 
"Square dancing is a problem left over from history. Many elderly people feel that the whole China is built by their generation. They have the absolute voice and status. We young people have done nothing, and of course are not qualified to question them," the resident added. 
Live TV

Disclaimer: This post has been auto-published from an agency/news feed without any modifications to the text and has not been reviewed by an editor.

Source link
Biden Wants to Address Delays in Green Card Processing System: White House
US President Joe Biden wants to address the delays in the Green Card processing system, the White House has said. The inordinate delay in the procession of hundreds and thousands of talented Indian technology professionals, at times running into several decades, is one of the major issues of concern among the Indian-Americans and their dependent children living here.
"The president absolutely wants to address the delays in the green card processing system as well," White House Press Secretary Jen Psaki told reporters at her daily news conference on Friday. She was responding to a question on the waste of some 80,000 unused employment-based Green Card numbers, which is officially called Legal Permanent Residency on October 1, as the US Citizenship and Immigration Services are unable to allocate them to several millions waiting in line for green card.
Indian technology professionals, for thousands of whom the wait is running into decades, had urged the Biden Administration and the US Congress to make necessary legislative changes to not let those Green Card slots expire. Earlier this week, Congresswoman Mariannette Miller-Meeks introduced the Preserving Employment Visas Act that would allow the USCIS to preserve unused employment-based visas for use in Fiscal Years 2020 and 2021. The legislation is the House companion to S. 2828, introduced by Senator Thom Tillis in September.
"Ensuring that our immigration system is fair and orderly is one of my top priorities in Congress. These visas are already authorised by Congress and would have been used if not for the COVID-19 pandemic," said Miller-Meeks. "My legislation would fuel the American recovery from COVID-19, contribute to long-term economic growth, and provide relief for healthcare providers by reducing the Green Card backlog," she said.
In fiscal 2020; a total of 122,000 family-preference visas went unused. This caused the number of employment-based visas available in FY21 to rise to 226,000. This dramatic increase in employment-based visas represents a unique opportunity to reduce the Green Card backlog and improve American competitiveness through legal immigration. Processing delays at USCIS could put these much-needed employment-based visas to waste. According to recent court filings, USCIS is currently at risk of wasting almost 83,000 employment-based visas, which expired on October 1 this year. This is in addition to 9,100 unused employment-based visas from FY20.
Wasting these visas would be a major loss to American economic competitiveness and to the healthcare industry. American businesses and healthcare providers were already struggling to fill both skilled and unskilled jobs before COVID-19 and continue to face labour shortages during recovery from the pandemic, said the Congresswoman.
.
Read all the Latest News, Breaking News and Coronavirus News here. Follow us on Facebook, Twitter and Telegram.



Disclaimer: This post has been auto-published from an agency/news feed without any modifications to the text and has not been reviewed by an editor.

Source link