Meet 'Dancing Grannies' of China who have become a 'problem' for locals | viral News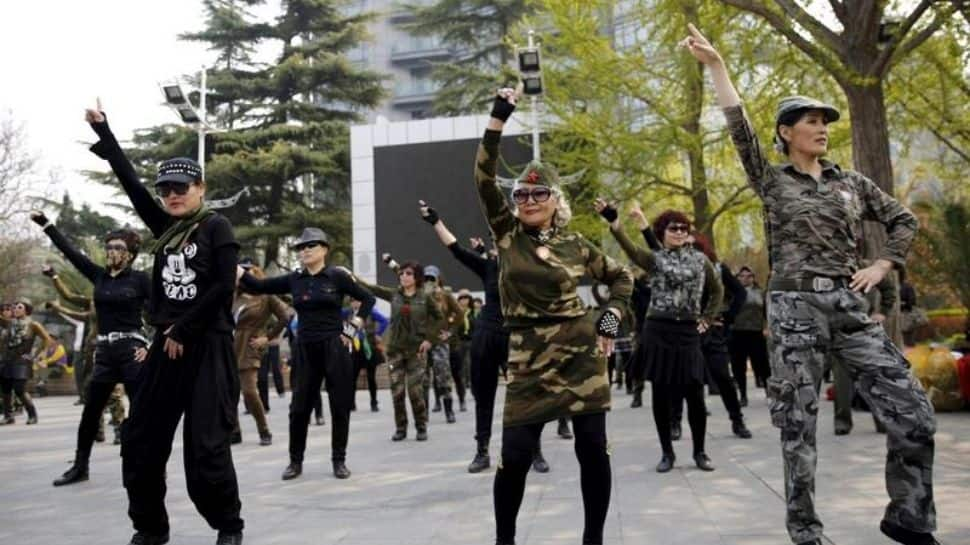 New Delhi: China's elderly women have adopted a new hobby to socialise and exercise much to the annoyance of the locals. The middle-aged and older women in China gather most nights or early mornings into public parks and centers for square dancing. 
According to The Guardian report, these 'gangs' who went through the Cultural Revolution of the 1960s, dance together to 'loud' Chinese music. As locals are 'too scared' to call out these 'dancing grannies' on the blaring music, a remote stun gun-style device that claims to disable a speaker from 50 metres away has gone viral as a solution to this problem. 
A user on Taobao, China's version of eBay, said, "Downstairs is finally quiet. For two days the grannies thought their speaker is not working!"
While another commented, "Great invention, with this tool I will be the boss in the neighbourhood now," adding that it's not a regular product but "it is social justice!"
As per South China Morning Post, square dancing allows these older women, especially those who live alone, to socialise. These women form strong bonds, often shopping or doing other activities, including group investments, together. 
However, local Chinese residents have complained of noise pollution due to loud music. "Most of them are the products of the Red Guard era, they don't respect society or the environment," a young Chinese resident of Guiyang said. 
"Square dancing is a problem left over from history. Many elderly people feel that the whole China is built by their generation. They have the absolute voice and status. We young people have done nothing, and of course are not qualified to question them," the resident added. 
Live TV

Disclaimer: This post has been auto-published from an agency/news feed without any modifications to the text and has not been reviewed by an editor.

Source link
Biden Wants to Address Delays in Green Card Processing System: White House
US President Joe Biden wants to address the delays in the Green Card processing system, the White House has said. The inordinate delay in the procession of hundreds and thousands of talented Indian technology professionals, at times running into several decades, is one of the major issues of concern among the Indian-Americans and their dependent children living here.
"The president absolutely wants to address the delays in the green card processing system as well," White House Press Secretary Jen Psaki told reporters at her daily news conference on Friday. She was responding to a question on the waste of some 80,000 unused employment-based Green Card numbers, which is officially called Legal Permanent Residency on October 1, as the US Citizenship and Immigration Services are unable to allocate them to several millions waiting in line for green card.
Indian technology professionals, for thousands of whom the wait is running into decades, had urged the Biden Administration and the US Congress to make necessary legislative changes to not let those Green Card slots expire. Earlier this week, Congresswoman Mariannette Miller-Meeks introduced the Preserving Employment Visas Act that would allow the USCIS to preserve unused employment-based visas for use in Fiscal Years 2020 and 2021. The legislation is the House companion to S. 2828, introduced by Senator Thom Tillis in September.
"Ensuring that our immigration system is fair and orderly is one of my top priorities in Congress. These visas are already authorised by Congress and would have been used if not for the COVID-19 pandemic," said Miller-Meeks. "My legislation would fuel the American recovery from COVID-19, contribute to long-term economic growth, and provide relief for healthcare providers by reducing the Green Card backlog," she said.
In fiscal 2020; a total of 122,000 family-preference visas went unused. This caused the number of employment-based visas available in FY21 to rise to 226,000. This dramatic increase in employment-based visas represents a unique opportunity to reduce the Green Card backlog and improve American competitiveness through legal immigration. Processing delays at USCIS could put these much-needed employment-based visas to waste. According to recent court filings, USCIS is currently at risk of wasting almost 83,000 employment-based visas, which expired on October 1 this year. This is in addition to 9,100 unused employment-based visas from FY20.
Wasting these visas would be a major loss to American economic competitiveness and to the healthcare industry. American businesses and healthcare providers were already struggling to fill both skilled and unskilled jobs before COVID-19 and continue to face labour shortages during recovery from the pandemic, said the Congresswoman.
.
Read all the Latest News, Breaking News and Coronavirus News here. Follow us on Facebook, Twitter and Telegram.



Disclaimer: This post has been auto-published from an agency/news feed without any modifications to the text and has not been reviewed by an editor.

Source link
Singapore on Covid restrictions, living with Covid and travel lanes
People walk at a pedestrian crossing along the Orchard Road shopping district in Singapore on September 7, 2021.
Roslan Rahman | AFP | Getty Images
SINGAPORE — Singapore announced Saturday it will further tighten Covid restrictions for the unvaccinated, as Prime Minister Lee Hsien Loong predicted it will take between three to six months to get to a "new normal" of living with Covid.
Singapore's ministry of health said the move was aimed at protecting those who have not been vaccinated.
Those who are not vaccinated will no longer be allowed to enter malls, said Gan Kim Yong, Singapore's trade minister and co-chair of the government's coronavirus taskforce, in a briefing Saturday. Even those vaccinated will now be subject to a limit of two people when entering malls, he said.
The unvaccinated will also not be allowed to dine-in at coffee shops and food centers — open-air food establishments in the country, where they were previously allowed to do so, limited to two people per table.
Those restrictions will kick in on Wednesday.
In a speech on Saturday, Lee elaborated on when Singapore's "new normal" could occur.
"How will we know when we get to the new normal? It will be when we can ease off restrictions, have just light [safe management measures] in place, and cases remain stable – perhaps hundreds a day, but not growing," Lee said. "When our hospitals can go back to business as usual, when we can resume doing the things we used to do, and see crowds again without getting worried or feeling strange."
He urged the nation not to be "paralyzed by fear," and said that "sooner or later, every one of us will meet the virus — this means all the elderly will meet the virus too."
He said regions like Europe reached this state, but "paid for it dearly" with many lives lost.
"It will take us at least three months, and perhaps as long as six months to get to this new norm," Lee added.
Singapore had maintained a zero-Covid strategy for the most part of the pandemic, but started opening up after the population's vaccination rate hit more than 80%. As of Oct. 7, 83% of the population has completed two doses of a Covid vaccine.
But after loosening restrictions, the number of cases started spiking, reaching daily record highs and hovering above 3,400 in the last few days.
Authorities in Singapore last month tightened Covid measures again in a bid to slow community transmissions and protect hospitals from being overwhelmed. They reduced group sizes for social gatherings from five to two, and set working from home as the default, encouraging the vulnerable population such as the elderly to stay home as much as possible.
As of Friday, the total number of infections stands at 120,454, with 142 deaths. However, 98.4% of infected people over the past 28 days had no symptoms or mild symptoms, according to the country's health ministry.

Disclaimer: This post has been auto-published from an agency/news feed without any modifications to the text and has not been reviewed by an editor.

Source link
Brazilians seek pre-pandemic normalcy as deaths top 600,000

Brazil has topped 600,000 virus deaths as it bids to return to pre-pandemic normalcy


Disclaimer: This post has been auto-published from an agency/news feed without any modifications to the text and has not been reviewed by an editor.

Source link