In the 1971 war, when Indian pilots survived by breathing from a pipe under a pond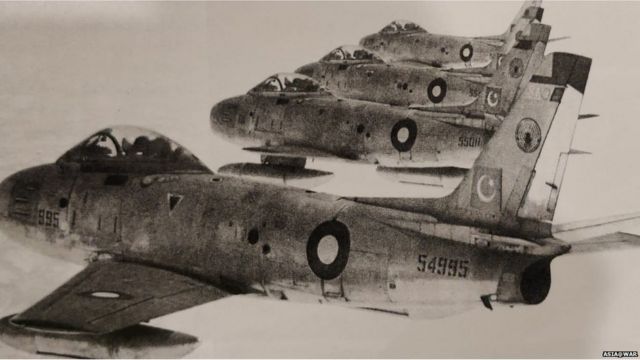 Rehan Fazal
PRESS24 NEWS correspondent
On the morning of December 4, 1971, two Hunter aircraft of 14 Squadron, which had taken off from the Dum Dum air base, attacked Dhaka's Tezgaon airport.
One Hunter was on board the aircraft – Squadron Leader Kanwaldeep Mehra and the other was flying the Hunter – his number two Flight Lieutenant Santosh Mone.
When he flew over Tezgaon airport, he could not see Pakistani fighter planes because Pakistanis had scattered them all around. When Mehra and Mone started returning after dropping bombs on some other bases, they got separated from each other.
First, Mone's eyes fell on two Saber jets of Pakistan at a distance. Within seconds, two Saber jets fell behind both the Indian Hunter planes. Suddenly Mehra realized that a Saber jet plane was coming after him.
Mehra turned to the left and asked Mona about her position. They did not get any reply from Mona. Saber fired several consecutive shots at Mehra's hunter. Mehra asked Mone to fire at Saber from behind so that it would leave him behind. But Mehra had no idea that there was another Saber behind Mone's hunter.
smoke filled the cockpit
At that time the speed of Mone's Hunter was 360 knots i.e. 414 kilometers per hour. Mone brought his plane very low and started flying with full force towards Dum Dum. The Pakistani pilot continued to fire at him, but nothing could harm him.
However, Kanwaldeep Mehra was not that lucky. Flying Officer Shamsul Haque was continuously firing bullets at his hunter. He was flying at an altitude of 100 feet and his ship had caught fire.
Then the coming Saber overshot Mehra's Hunter and went ahead. Mehra wanted to hit him, but could not, as his cockpit was full of smoke and he was having trouble breathing. Slowly the fire started reaching his cockpit.
PVS Jaganmohan and Sameer Chopra write in their book 'Eagles over Bangladesh', "Mehra pressed the ejection button between his legs without delay. But the parachute that opened in a microsecond did not open. The canopy on top of the plane definitely fell apart. The result was that a strong gust of wind came with such a velocity that Mehra's gloves and watch were broken and blown into the air. Not only this, his right turned back so fast that his shoulder was dislocated.
Jaganmohan and Chopra further write in their book, "Somehow Mehra pressed the parachute lever again with his left hand. This time the parachute opened and Mehra went flying in the air. As soon as Mehra fell, the Bengali villagers started beating him with sticks and sticks. Thankfully, two people stopped the crowd and asked Mehra for his identity. Mehra's cigarette and identity card revealed that he is an Indian. Mehra was lucky that he had fallen among the fighters of Mukti Bahini.
Mehra declared 'missing in action'
The villagers picked up Mehra. Changed their clothes and gave them to wear lungi. A Mukti Vahini warrior took his pistol from him. It was probably used somewhere later. Mehra was so injured that he could not walk on his feet. He was taken on a stretcher and taken to a nearby village. But on the way, Mehra again fainted.
After reaching the village, the villagers gave Mehra breakfast. This was his first meal of the day, as Mehra had left his plane early in the morning to attack. When the Indian Air Force did not get the news of Mehra for a few days, he was declared 'missing in action'.
Later, Pakistani Flying Officer Shamsul Haq wrote an article in Pakistan Air Force magazine Shaheen titled 'An Unmatched Feet in the Air' detailing this fight, in which he told that he had shot down Squadron Leader KD Mehra's Hunter. He was ejected from his plane near Dhaka. Due to the help of Mukti Bahini, Pakistani soldiers could not catch him and he later returned safely to India.
Injured Mehra reaches Indian helipad near Agartala
Nine days after this incident, an Indian helicopter landed on a helipad in the frontier area of ​​Agartala region. A general of the Indian Army was sitting in that helicopter. After the general disembarked from the helicopter, the local airmen were servicing that helicopter, while its pilots were talking among themselves.
There it went unnoticed that a slender man in a shirt and lungi had appeared. His right hand was tied in a sling. His beard had grown and he had bruises all over his face. His arm had turned blue and gangrene had started in it. At a glance, the person looked like the refugees who were spread all over Agartala in those days.
The pilots of the Air Force were very surprised when the man called out loud 'Mama'. The nickname of one of them was actually 'Mama'. But in many areas of India, people also use this word as an address. He thought that maybe someone was calling him in the same way. Anyway, he did not want any beggar to harass him during the war. So in order to get rid of them, he asked very rudely, 'What is it?'
Mehra crossed 100 miles
PVS Jaganmohan and Sameer Chopra write, "The man held the pilot's hand and said, 'Oh, recognize something.' 'Don't touch me,' the pilot pulled out his hand rudely. Then the stranger asked 'Do you have a friend named KD?' The pilot replied 'Yes Squadron Leader KD Mehra. But he died. The man replied, 'No, that's me.' It was then that the pilot realized that the beggar-looking man in front of him was none other than Squadron Leader KD Mehra, whose plane had been shot down eight days earlier near Dhaka. KD Mehra was 'missing in action' and was presumed dead. With the help of Mukti Vahini, Mehra reached that place after walking a route of about 100 miles.
Mehra was looked after by Mukti Bahini fighters after his plane crashed on 4 December. He had given them food. His injury was bandaged and his full care was taken. Shueb, a young soldier of Mukti Bahini, took the initiative to take Mehra to the Indian base wearing a lungi and shirt. Earlier, he destroyed his flying suit and IAF ID card by burning.
Mehra was kept under the water of the pond.
Wing Commander ML Bala writes in his book 'Electronic Warfare of the Untold Story of 1971', "The news of Mehra's stay with the Mukti Bahini was conveyed to the Indian Army, but it was not widely publicized for fear that Somewhere Pakistanis should not start searching for them. Mehra's 14 squadron came to know after two days that the rescued pilot was probably KD Mehra.
ML Bala writes, "Mehra was kept briefly in the village where his plane had fallen. Then they were taken out of the hut and hid under water in a pond. He was given a pipe so that he could breathe. Mehra spent the whole afternoon in the water under the pond. When it got dark in the evening, the villagers came and took them out of the water. The Pakistani soldiers who went out to find Mehra burnt the entire village, but no person turned Mehra's informer. Tolerating the atrocities of Pakistani soldiers, the villagers kept Mehra safe with them for five days.
Indian planes rescued from Pakistani gunboats
KD Mehra had jumped by parachute west of Dhaka. Mukti Bahini advised him that it would be best for him to move east towards Agartala.
PVS Jaganmohan and Sameer Chopra write, "Mehra, accompanied by Shuaib, crossed the Meghna river in a fisherman's boat. Then another warrior of Mukti Vahini, Sarwar also came with him. While crossing the river, there was a big danger at one time when a gunboat convoy of Pakistan appeared to them. Mehra and his guards tried their best to stay away from Pakistani gunboats. If the Pakistani boat caught him, his death was certain.
He further writes, "The Pakistani boat was moving as it approached and Mehra and his companions had prepared themselves for the worst of the circumstances. Then suddenly four Indian Air Force planes came down and attacked the Pakistani gunboat and the bombs dropped by them caught fire in the boat. Mehra and his companions came to life and continued to move east. After a while he saw another Pakistani boat. But these people immediately reached the shore and took cover of tall grass, due to which the Pakistanis could not find them.
Message to Air Headquarters
After landing on the eastern bank of Meghna, he covered a thirty-mile road till Agartala. Despite the injury and pain, Mehra continued to walk for hours.
At last they reached the road on which the vehicles of the Indian Army were moving. He stopped a jeep by giving his hand. Mehra succeeded in narrating his ordeal to the Indian soldiers.
All three of them were loaded in a military jeep and taken to the military camp, where they were subjected to intense interrogation. On Mehra's insistence, a message was sent to the Air Force Headquarters and then information came from there that a helicopter was being sent to pick up Mehra. Meanwhile, a doctor from the Indian Army gave Mehra some painkiller medicine to eat.
Later Mehra said in an interview, "That night I was able to sleep peacefully for the first time because I felt safe for the first time in the last eight days. For all these days I could never be comfortable, because I was living in an area which was still controlled by Pakistan.
On 12 December, the commanding officer of the army told Mehra that a helicopter carrying a general was about to reach there. Mehra reached that helipad on a scooter along with Mukti Bahini soldiers. When Mehra saw the helicopter and the pilots, he immediately recognized the pilot nicknamed his junior 'mama'.
Mehra took premature leave from the Air Force
KD Mehra was first taken from that helipad to Agartala and then from there to Shillong, where he was admitted to the Military Hospital and treated. After initial treatment, he was brought to Delhi in a Dakota plane. Mehra's treatment continued for several months. At one point, it came to the point of cutting off his hand. Later, his hand survived but due to other health problems, he was banned from flying.
He retired prematurely from the Air Force five years after the end of the war. On 4 September 2012, Squadron Leader Kanwaldeep Mehra said goodbye to this world at the age of 73.
Disclaimer: This post has been auto-published from an agency/news feed without any modifications to the text and has not been reviewed by an editor.
Saudi Arabia Lifts Ban From Direct Entry Of Education Staff Of Travel Ban Countries Including India : Students and teachers from India can go to Saudi Arabia, big relief to countries included in travel ban list

Riyadh
Saudi Arabia's Interior Ministry on Tuesday announced the direct entry of education staff from countries facing travel restrictions. These countries also include India where education workers will now be allowed direct entry into Saudi Arabia. Saudi Press Agency gave this information and told that now some special category of citizens will not have to spend 14 days in any third country.
Faculty members working in universities, colleges and institutes are the most prominent among the categories that have been allowed admission in the rules of the government. Apart from this, teachers associated with general education, training staff of Technical and Vocational Training Corporation (TVTC) and training institute and scholarship students will also be allowed admission. These people will not be required to spend 14 days in any third country between flight from any country and entry into Saudi Arabia.
Vaccine will have to be put in quarantine

The report quoted the ministry as saying that those who have not received a single dose of the vaccine in Saudi Arabia will have to remain in institutional quarantine after entering the country. It will be mandatory for them to get the vaccine during the quarantine period. Anyone who has received a single dose of the vaccine will be exempt from institutional quarantine. The ministry has asked everyone to follow safety standards and protocols and not to be negligent towards health safety.
Countries included in the travel ban list
The countries currently facing travel bans from Saudi Arabia include India, Pakistan, Indonesia, Egypt, Turkey, Brazil, Ethiopia, Vietnam, Afghanistan and Lebanon. On August 24, Saudi Arabia announced direct entry of expatriates who had received both doses of the vaccine from countries on the travel ban list. This rule is only for expatriates who have a valid residency permit. Also left the Kingdom with exit and reentry visas after receiving two doses of the Kovid-19 vaccine from Saudi Arabia.
(file photo)
Disclaimer: This post has been auto-published from an agency/news feed without any modifications to the text and has not been reviewed by an editor.
Kerala Government To Add 7,000 Covid-19 Deaths, In States Record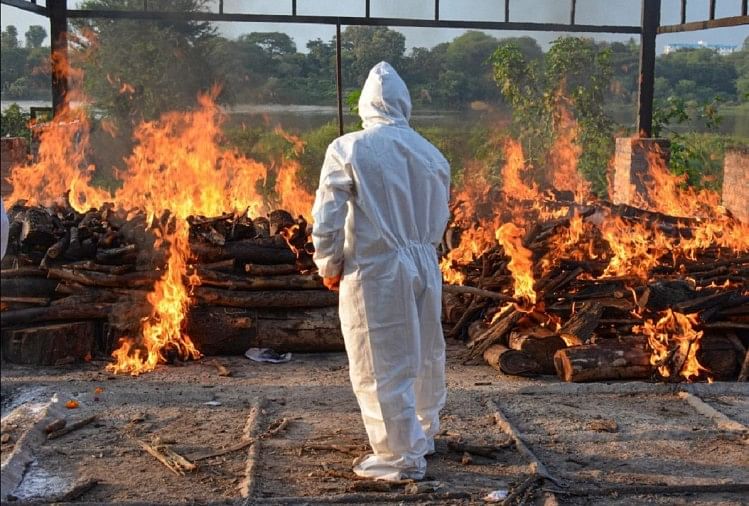 News Desk, Press24 News, Thiruvananthapuram
Published by: Pranjul Srivastava
Updated Sat, 09 Oct 2021 09:29 AM IST
Summary
The opposition had accused the state government of messing up the list of deaths from Corona. The opposition said that the number of deaths is being deliberately shown to be low.
Expansion
The Kerala government, which is facing allegations of manipulating the figures of deaths from Corona, has finally come on the backfoot. After sharp criticism from the opposition, the state government has decided that 7000 people who died will also be included in the list of deaths due to corona. After including these figures, the number of corona deaths in the state will reach 33 thousand. Whereas, it is now 26 thousand.
The opposition had made serious allegations

The opposition surrounded the government on the figures of deaths due to corona in the state. The opposition alleges that the death figures have been manipulated and fewer deaths are being shown. After this the government came on the back foot. Health Minister Veena George says that before online feeding, the data of seven thousand deaths due to corona will also be included in the state figures. He said that complaints of discrepancies in the list would be addressed.
The figures will be till the second week of June

According to the information, the seven thousand deaths that will be added to the state list will be till the second week of June. Officials say that the state government is evaluating the final list by including the new figures. The exact figures will be presented soon.
Disclaimer: This post has been auto-published from an agency/news feed without any modifications to the text and has not been reviewed by an editor.
Two Kidnappers Slept With Boy's Dead Body For 4 Days In Delhi

Highlights
Friend's 5-year-old kidnapped for ransom
Killed him when he raised a noise, slept with the corpse for four days
Wrapped the body in a blanket and threw it in the drain: Police
Secret revealed from CCTV footage, confessed his crime
New Delhi
In outer Delhi's Rajpark area, a neighbor boy kidnapped a 5-year-old boy along with a minor friend for ransom. A day later, when the child raised an alarm, he was killed for fear of being caught. Both the accused slept in the room with the dead body for four days. After this, the body wrapped in a blanket was thrown near the drain. The police arrested the accused after getting the body on Thursday. The police handed over the body to the relatives on Friday after the postmortem.
dead body found wrapped in blanket
Police officers said that a call was received on Thursday about a body blanket draped outside the drain near Mangolpuri Church. The police went to the spot and found that the body of a 5-year-old child was found in the blanket, which seemed to be two-three years old. There were injury marks on the child's body. During investigation, the child was identified as Moksh, a resident of Mangolpuri T-Block. Moksh's father Harpal, who drives an e-rickshaw, had complained about the son's missing on October 1 at the Rajpark police station. The police were looking for the child.
'Slowly the fun started', read how a 19-year-old IIT student ruined the lives of more than 50 girls?
Clues found from CCTV footage
Police checked CCTV cameras around the spot, in which two boys were seen carrying something wrapped in blankets. One of them was identified as Subhash, the neighbor of the child. Police took Subhash into custody and interrogated him, in which he confessed his crime. On his behest, the police also arrested the minor involved in the crime. The accused told that they had kidnapped the child to extort money. A day later, when the child raised an alarm, he killed himself out of fear of being caught.
symbolic picture
Disclaimer: This post has been auto-published from an agency/news feed without any modifications to the text and has not been reviewed by an editor.