Travel bookings surge as U.K. takes S. Africa off red list

South African travel agencies are reporting a surge in reservations for travel to and from Britain ahead of the country being removed from the U.K.'s COVID-19 red list next week


Disclaimer: This post has been auto-published from an agency/news feed without any modifications to the text and has not been reviewed by an editor.

Source link
Saudi aide accused of directing Khashoggi murder moves closer back to power | Saudi Arabia
Three years after the assassination of Jamal Khashoggi, the Saudi royal court adviser accused of directing the murder is being quietly reintroduced by pro-government influencers as a patriotic figure who has served his country well.
Social media accounts that back the Saudi leadership have in recent months been posting tributes to Saud al-Qahtani, a chief aide to crown prince and Saudi Arabia's effective leader, Mohammed bin Salman, in a move that is seen as marking his gradual return to the seat of Saudi power. Qahtani vanished from public view in the aftermath of the gruesome killing in Istanbul that shocked the world and almost derailed his boss's path to the throne.
The close friend of bin Salman has also been seen in the royal court, from where he is accused of planning one of modern history's most brutal assassinations inside the Saudi consulate in Istanbul, which was caught in graphic detail on listening devices planted by Turkish spies. "He looks very nervous, almost paranoid," said one official who has seen Qahtani. "He is still trying to keep a low profile."
Accounts of Qahtani's re-emergence come as Saudi Arabia's sovereign wealth takes formal control of Newcastle United football club after finalising a contentious takeover deal that has been staunchly opposed by human rights groups. The £300m deal is the country's first major acquisition of a foreign team and biggest foray yet into global sports.
Qahtani's whereabouts had been the subject of intense speculation since he disappeared from view in late 2018. The CIA and MI6 both believe he had been the central figure in the plot which saw Khashoggi, a former royal court insider turned critic, butchered inside the consulate by a team of government hitmen that he is accused of assembling.
His reported sighting and increasing mentions on social media accounts that support bin Salman appear to be signs that officials feel safe enough to risk reintegrating him to the heart of government – a move that is almost certain to be opposed by the US, which took a renewed interest in Khashoggi's death after Joe Biden was inaugurated as president.
A spate of postings supporting Qahtani on social media started to appear in May this year from accounts that support the Saudi government. The posts became more frequent in July and August and have continued since. All offer praise for Qahtani as a "hero", "patriot" or "leader". Many posts have included photo tributes, while others have showcased videos featuring him with Prince Mohammed.
The posts have many hallmarks of a concerted campaign, which for such a figure In Saudi Arabia's tightly controlled media environment would not be possible without the sanction of senior leaders.
"There is no question that Qahtani is back," said a senior Gulf official. "The question is, did he ever really leave?"
While it remains unclear whether the Saudi leadership plans to publicly reinstall Qahtani as an aide, his re-emergence is bound to raise questions from the Biden administration, which has sidelined bin Salman and accused him of sheltering the main assassins of Khashoggi, including Qahtani, whom US officials have labelled a ring leader.
In 2019 a Saudi court cleared Qahtani of any charges in connection with the assassination. Five other members of the hit squad were given death sentences and four more sentenced to prison terms of 24 years. However, officials in the US, UK and Europe have since described the sentences as a mockery. The president of Amnesty International, Agnès Callamard, called the sentences the "antithesis of justice".
Saud al-Qahtani had been a pivotal figure in bin Salman's rapid rise and had helped cement his authority at every step. He had assembled the kingdom's cybersecurity and hacking capabilities and was allegedly physically present during at least one rendition of a Saudi citizen from Europe.
He is also alleged to have been central in each of the episodes that won the new leadership infamy, including the round-up and detention of leading business figures, the hacking of Amazon boss Jeff Bezos's mobile phone and a directive to hack two Guardian reporters in 2019. He is also accused of interrogating and menacing the Saudi activist Loujain al-Hathloul in 2018.



Disclaimer: This post has been auto-published from an agency/news feed without any modifications to the text and has not been reviewed by an editor.

Source link
Nobel winner Dmitry Muratov has been a thorn in Putin's side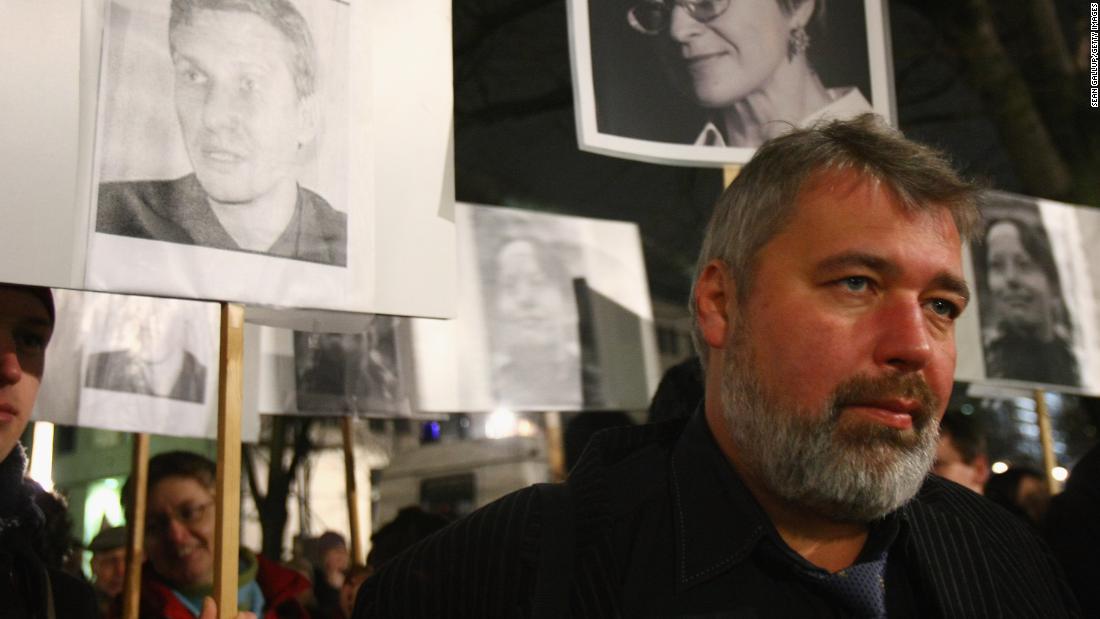 Muratov, who co-founded the paper in 1993, was honored alongside Maria Ressa, CEO of Rappler, a news outlet critical of Philippine President Rodrigo Duterte's regime. Both have faced legal and physical threats during their careers, as their respective governments cracked down on the rights of journalists.
"Free, independent and fact-based journalism serves to protect against abuse of power, lies and war propaganda," Berit Reiss-Andersen, chair of the Norwegian Nobel Committee, said as she announced the prize in Oslo on Friday.
Officially, the prize was cause for celebration in Moscow: Kremlin spokesperson Dmitry Peskov congratulated Muratov, calling him "committed to his ideals," "talented" and "brave."
But the paper has been an irritant to Russian authorities and President Vladimir Putin himself.
Putin was propelled to the Russian presidency soon after the outbreak of a second war in Chechnya in 1999, a conflict Novaya Gazeta journalist Anna Politkovskaya covered without fear or favor.
Her work focused on gruesome human rights abuses, particularly those allegedly carried out by the forces of Akhmad Kadyrov and his son Ramzan, former Chechen separatists who switched to fight on the side of the Russian government.
Politkovskaya endured threats, detention and an apparent poisoning while covering the crisis in the north Caucasus. And then 15 years ago almost to the day, on October 7, 2006, she was murdered outside her apartment in Moscow, shot dead at close range.
Her assassination took place on a day of national significance for Russia: Putin's birthday falls on October 7.
Six staff members at Novaya Gazeta have been killed since the newspaper was launched. Speaking to Russian state media on Friday, Muratov remembered the other colleagues who had died violently: Igor Domnikov, Yury Shchekochikhin, Anastasia Baburova, Stanislav Markelov and Natalia Estemirova.
Markelov, a human rights lawyer, had been investigating abuses by the Russian military in Chechnya when he was shot and killed in 2009 by a masked gunman. Baburova was also killed in the same incident.
Estemirova, a relentless human rights researcher who also contributed to Novaya Gazeta, was killed the same year. She was abducted from her home in the Chechen capital of Grozny and her body was discovered the same day in the neighboring republic of Ingushetia. She had been a prominent critic of the younger Kadyrov, who emerged as the region's pro-Kremlin strongman after the assassination of his father in 2004. Oleg Orlov, chairman of the Russian human rights group Memorial, accused Putin and Kadyrov of complicity in her death.
Covering stories 'rarely mentioned by other media'
More recently, Novaya Gazeta infuriated Kadyrov and the Chechen leadership by breaking the story of the detention of dozens of gay men by the authorities in the republic. Some of those men — speaking anonymously to CNN for fear of retribution — said they were subject to brutal abuse in custody.
As the details emerged, Novaya Gazeta said "its entire staff" was at risk of reprisals.
"The newspaper's fact-based journalism and professional integrity have made it an important source of information on censurable aspects of Russian society rarely mentioned by other media," the Nobel Committee said.
It added that Muratov has "consistently defended the right of journalists to write anything they want about whatever they want, as long as they comply with the professional and ethical standards of journalism."
Independent journalism has long been a dangerous profession in Russia. But the staff of Novaya Gazeta has continued to dig into some of the Russia's most politically taboo subjects despite those ever-present threats.

Disclaimer: This post has been auto-published from an agency/news feed without any modifications to the text and has not been reviewed by an editor.

Source link
EU signals surrender in sausage wars
Evening briefing: Today's essential headlines
The big story: EU signals surrender in sausage wars
The energy crisis. The fuel crisis. The pigs-in-blankets crisis. After all the woes the Government has been facing about essential supplies, at last today has signalled the arrival of a much needed victory. Britain may have won the sausage war with the EU after Brussels offered surrender terms to keep the British banger being sold in Northern Ireland after Brexit. The European Commission plans to offer a sausage clause to bring lasting peace to the banger battles over the Northern Ireland Protocol. Read how it would work and a guide to the Protocol. Former Brexit Secretary David Davis said it was a vindication of Lord Frost's hard line approach, which comes with the EU fighting a separate battle with Poland. It prompted Ursula von der Leyen to vow that the European Commission will use "all its powers" to bring Poland to heel after a Warsaw court challenged the supremacy of EU law in the country.
Meanwhile, the boss of regulator Ofgem has warned households face a "significant" rise to their bills in spring amid soaring wholesale energy costs. Jonathan Brearley, chief executive, said there are no plans for the price cap on energy bills to rise before April, but warned that "legitimate costs do have to be passed through". He also signalled a review of the way the energy price cap is calculated, which could help companies but expose millions of households to spiking costs. How much, then, are you likely to be paying in the not too distant future? Joe Malinowski, a price comparison expert, predicted the rise could be anywhere from £500 to £800 – pushing the average bill to over £2,000. Ben Marlow sets out in three charts why Britain's energy crisis is only going to deepen. Here is guide to the price cap and how to protect yourself from rising bills.
Russia warned
The energy crisis is mainly being driven by rising wholesale gas prices, caused by a shortage of supply triggered by rising demand after the pandemic. Gas prices have climbed eight-fold since the start of the year and supplies are facing more pressure after a fire at a plant in east Siberia today. Some have pointed fingers at Russia, which accounts for 40pc of Europe's gas supply, for being unwilling to boost the shipments above the previously contracted levels. Joe Biden's national security adviser Jake Sullivan has warned the country against using natural gas as a tool to pressure Europe. This graph shows where the EU's imports come from. The bloc is exploring a plan for national governments to jointly purchase and store natural gas to boost resilience and avoid shocks.
'Drastic Dave'
The other shortages giving UK ministers headaches are on supermarket shelves and at the petrol pumps. To tackle this, Boris Johnson has appointed a former Tesco boss to help advise the Government on supply chains. Sir David Lewis, who was chief executive of the supermarket giant during one of its most turbulent periods, will join the Cabinet Office from Monday, until the end of the year. Read more about the man once branded 'Drastic Dave'. It must be a day for nicknames in politics, after Sir Keir Starmer revealed on a visit to a Kellogg's factory today that he sometimes goes by the nickname… yes, you guessed it: "Special K". Feel free to email whether you think it is any better than Jon Bon Govie.
Comment and analysis
Around the world: Kremlin's nod to Nobel winner
The Kremlin has congratulated a "talented" Russian journalist who won this year's Nobel Peace Prize for angering President Vladimir Putin. The Norwegian Nobel Prize Committee said today that Dmitry Muratov from Russia and Maria Ressa from the Philippines have been awarded the prize "for their efforts to safeguard freedom of expression, which is a precondition for democracy and lasting peace." Mr Muratov, 59, is a long-time editor-in-chief of Novaya Gazeta, a Russian daily known for its fearless coverage of atrocities in Chechnya and corruption scandals.
Friday big-read
Emma Raducanu: Her six steps to world domination
Technical tweaks, locker-room life and 'paradise syndrome' are all challenges Britain's tennis star must overcome, writes Simon Briggs
Read her six steps
Sport briefing: Newcastle have £190m to spend
Newcastle United, if their new Saudi Arabian backers allow it, could spend as much as £190 million in January without falling foul of Financial Fair Play rules thanks to the parsimonious spending of former owner Mike Ashley. Read who could be on their transfer list. Alan Shearer is likely to accept an ambassadorial role at the club. Middle East correspondent James Rothwell analyses how the Newcastle deal boosts the hopes of the Saudi Crown Prince to repair his reputation with the West after allegedly ordered the murder of Washington Post columnist Jamal Khashoggi. Elsewhere here is how practice for the Turkish Grand Prix went and read everything you need to know about Tyson Fury's trilogy fight with Deontay Wilder early on Sunday morning.
Editor's choice
Just revenge | How 'orc' Harvey Weinstein tried to ruin Lord of the Rings

Battle of the Adele Vogue covers | Did classy American or 'Barbara Windsor' British win?

The Midults | 'I fell for the man I had an affair with – then he left me and I'm still bereft'
Business briefing: Tesla moves after 'fascist' lockdown
Tesla is to quit Silicon Valley and move its headquarters to Texas after chief executive Elon Musk criticised lockdown measures by local leaders as "fascist". The electric car company will move from Palo Alto to the Texas capital, Austin, Mr Musk told a meeting of Tesla shareholders, making it the biggest company to quit Silicon Valley for the Lone Star state yet. Tesla is also building a giant "gigafactory" in Austin. Read how Musk has been a critic of some of California's coronavirus policies.
Tonight starts now
No Sudden Move, review | Steven Soderbergh claimed he was retiring from cinema in 2013. Likely story: his run of six films since then would be the envy of many a director. His latest, No Sudden Move, is a moody crime drama set in 1954 Detroit. Tim Robey reviews how the film spurns crackerjack noir swagger in favour of something more satisfying.
Three things for you
And finally… for this evening's downtime
Finally, a film that gets Diana right | As 'Spencer' starring Kristen Stewart premieres in London, Tim Robey looks back at a litany of disastrous and laughable biopics of the Princess of Wales.

Disclaimer: This post has been auto-published from an agency/news feed without any modifications to the text and has not been reviewed by an editor.

Source link