Why is China increasing its military pressure on Taiwan? | Taiwan
What is happening?
Last week China sent about 150 warplanes into Taiwan's air defence identification zone (ADIZ), in a massive escalation of its military activity directed towards the island. Over the past two years the People's Liberation Army (PLA) has ramped up its activity, with near daily sorties into the ADIZ and frequent military drills in nearby maritime areas.
Tracking data of the sorties shows a change in the makeup of the PLA air force missions. While surveillance aircraft were the most frequently sent, the balance has now tipped to see fighter jets dominate. The use of bombers, capable of carrying nuclear weapons, has also increased.
Speculation is growing China will try to mount an invasion. Estimates range from within a few years to decades.
On Wednesday, Taiwan's defence minister claimed China was capable now, but by 2025 would much more easily be able to launch a "full scale invasion".
What does China want?
Beijing claims Taiwan as a province of China. Unification is a key goal of the Chinese leader, Xi Jinping, who has not ruled out taking Taiwan by force. Beijing regards Taiwan's democratically elected government as separatists but the island's president, Tsai Ing-wen, has said Taiwan is already a sovereign country with no need to declare independence.
Taiwan holds democratic elections, has a free media, its own military and currency. It has enjoyed de facto independence since the end of the civil war in 1949, when the losing Kuomintang faction fled to the island. The Chinese Communist party has never ruled Taiwan.
Few countries recognise Taiwan's government, many having transferred their formal ties to Beijing from the 1970s onwards. Beijing's "one-China principle" formally declares its claim over Taiwan, and various other nations have their own "One China" policies, which lay out the level of recognition their governments afford Beijing's policy. The US and Australia, for example, acknowledge but do not recognise Beijing's claim over Taiwan.
Large-scale activities are often connected to specific events – Friday marked China's patriotic holiday, National Day – or signalling Beijing's grievances with a recent incident. After the US condemned the incursions of 38 planes on Friday and 39 Saturday, China sent 56 planes into the ADIZ on Monday.
Bonnie Glaser, the director of the Asia programme at the German Marshall Fund, said the flights are increasingly used for training, but also "to signal to the United States and Taiwan not to cross Chinese red lines".
"And to stress Taiwan's air force, to force them to scramble, to stress the aircraft, the pilots, force them to do more maintenance and test the responses of Taiwan's air defence system."
What is the difference between the ADIZ and airspace?
There has been a lot of confusion over the area in which China's warplanes are flying. They are not entering Taiwan's internationally recognised airspace, which would mark a significant and hostile act. Under international law, a state has sovereignty over the air above its land and sea territory.
Not all states have declared ADIZs, which are large areas stretching beyond the airspace, and are monitored for defence purposes. Governments require aircraft entering to provide notice. The PLA does not do this.
Taiwan's ADIZ does cover parts of China's mainland, but Taiwan does not report "incursions" until the planes have crossed into the Taiwan side of the median line.
How is the world responding?
The international community is increasingly condemning China's belligerence towards Taiwan. Major changes in the US relationship with Taiwan and China began under Donald Trump and his secretary of state, Mike Pompeo. The Biden administration pledged to continue the tough line on China and "rock solid" commitment to Taiwan, but has also demonstrated it is a multilateral effort.
This week the US accused Beijing of "provocative military activity" that was "destabilising, risks miscalculations, and undermines regional peace".
Last month the US, UK and Australia announced a new security partnership, Aukus, aimed at countering China's actions in the Indo-Pacific. It raised questions for the UK prime minister on whether the country could be drawn into a war over Taiwan, which he did not rule out.
The US maintains a policy of strategic ambiguity in an effort to deter action by either side.
In April, the EU jointly declared tensions in the South China Sea were threatening regional stability, while French warships have participated in joint exercises with the US and Japan, and Germany recently sent a warship for the first time in two decades.
How is Taiwan responding?
On Tuesday President Tsai wrote that Taiwan would not be "adventurists" but would do "whatever it takes" to defend itself, and warned the fall of Taiwan would see "catastrophic consequences" for the region.
The island's premier, Su Tseng-chan, said Taiwan "must be on alert" to China's behaviour.
"The world has also seen China's repeated violations of regional peace and pressure on Taiwan," he said, adding that Taiwan needed to "strengthen itself" and come together. "Only then will countries that want to annex Taiwan not dare to easily resort to force."
Taiwan is vastly outgunned by China's military. The government is buying up weapons from the US but the defence analyst Dr Si-fu Ou has said there is a years-long lag while Taiwan builds the required infrastructure.
Taiwan has also lobbied for intelligence and logistical support from other nations.
Taiwan is deepening relationships with governments such the US, EU, Australia, Japan and India (even if they are not offering to restore ties just yet), and emphasising its importance in the global economy, particularly as leading supplier of semiconductors – the chips that run the world.
How do the Taiwanese feel?
On Tuesday Taipei residents woke up to the sound of warplanes over the city. It was a Taiwan air force rehearsal for Taiwan's upcoming national day, but those who did not know were rattled. People talk about the China threat in school, at family dinners, and at friends' gatherings. The defence ministry's Twitter account has become part of people's daily news feed.
A number of analysts the Guardian spoke to say there is a distinct lack of focus on how Taiwanese people view the situation, and how they would be affected.
"In all of the talk about flash points, war and US-China competition, we rarely hear about the history and hopes of 24 million people that live in a peaceful democracy," said Natasha Kassam, a China analyst at the Lowy Institute.
Polling in April showed about 40% of people believe Taiwan and China are heading towards military conflict, but that figure is rising. Another survey this year found 50% of people are worried there may be a war in the coming year.
While there are diverse and complicated political views in Taiwan, separate polling last October found 77.6% of people were willing to fight in the event of a Chinese invasion. Other studies have found most support diplomatic efforts.
More than 75% of people in Taiwan consider themselves Taiwanese while 7% consider themselves Chinese.
In the meantime, life goes on. Taiwanese have grown up through martial law, war, or their families memories of it. Drills and military exercises are part of daily life. Taipei Metro is packed in rush hour every day, and karaoke rooms and bars were in full swing on the night China sent its 56th plane for the day. But fears are growing.

Disclaimer: This post has been auto-published from an agency/news feed without any modifications to the text and has not been reviewed by an editor.

Source link
Giant inflatable sails could make shipping greener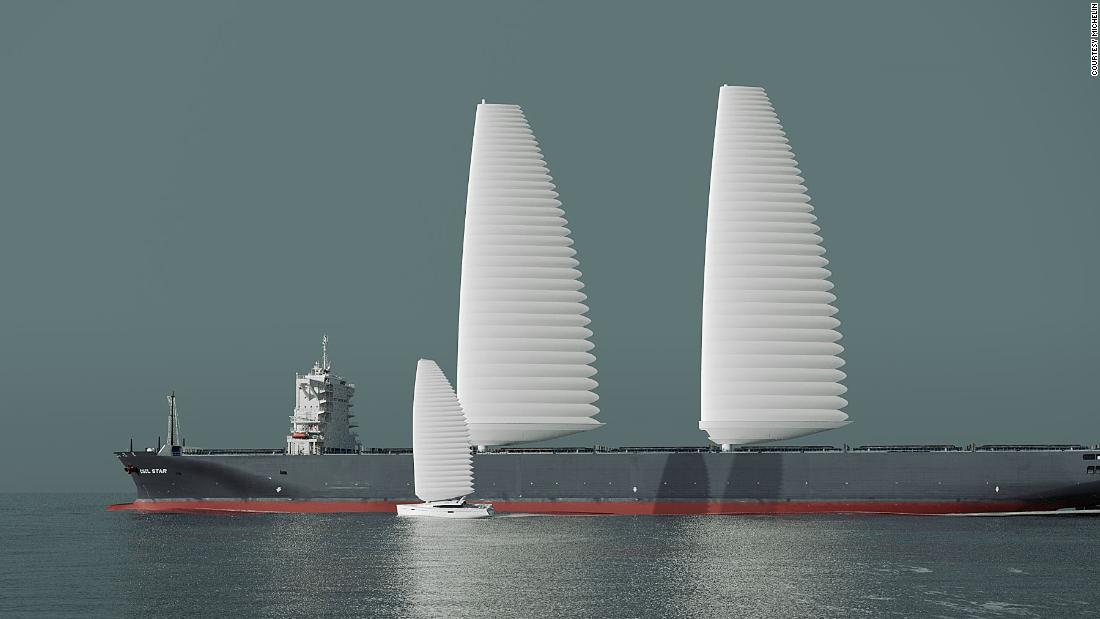 (CNN) —
Sailing boats date back more than 5,000 years, when the ancient Egyptians floated up and down the Nile in wooden vessels powered by wind and oars. But when steam and diesel engines arrived and globalization increased the need for timely trade, the sails dropped.
Today, they are making a comeback as the shipping industry looks to decarbonize. But the new sails look nothing like those of the past. Tall, white and puffy, the giant inflatable sails designed by tire manufacturer Michelin more closely resemble the Michelin man — the company's mascot — than a traditional cloth sail. Made from a flexible material that the company would not reveal, the sails can inflate or deflate at the push of a button. No crew is required to rig them, and they pivot automatically to catch the wind, equipped with sensors that measure the wind direction and speed.
Intended to be retrofitted onto existing cargo ships, the sails will work alongside the ship's engine, reducing its overall reliance on fossil fuels. Michelin estimates fuel savings could be as high as 20%.
"Our aim is to contribute to the decarbonization of maritime transport," says Benoit Dailliez, project leader for the company's wing sail mobility project (WISAMO). He adds that as regulation around carbon emissions increases so will the demand for green alternatives.
Shipping, which is predominantly powered by fossil fuels, accounts for around 3% of global greenhouse gas emissions, according to the International Maritime Organization (IMO).
Decarbonization is proving a slow process, with emissions from shipping rising in the last decade. But modern sails could help to accelerate the transition, according to a report released this year from the Institution of Mechanical Engineers. It urged the industry to take up the technology, noting that "21st century wingsails" could play a significant part in reducing the industry's emissions, especially when retrofitted onto cargo ships.
Wings not sails
Thanks to their size, material and automation, modern sails are able to harness more wind than those of the past. In fact, they are more similar to an aircraft wing than a conventional cloth sail — designed to generate a lift force perpendicular to wind direction with as little aerodynamic drag as possible.
"These are not sails, these are wings," Dailliez tells CNN. He says that the fact that they can be installed on existing merchant ships makes the technology appeal to the mass shipping market, adding that it's also where the most carbon savings are as older ships tend to be the worst polluters.
However, Michelin's design is still a long way from fruition. The company would not disclose if it had secured any commercial clients, and so far, has only tested a 1,000-square-foot version of the design, hoisting it onto a 40-foot yacht in Switzerland's Lake Neuchatel. While this was a success, says Dailliez, it's a world away from 500-foot-plus bulk carriers or oil tankers. He hopes that the company will test a larger version — between 3,000 and 5,000 square feet — on a cargo ship in 2022 before heading into full-scale production.
But Michelin isn't the only company bringing high-tech sails to cargo ships. UK-based BAR Technologies has secured a contract with US shipping giant Cargill to retrofit its "WindWings" onto a bulk cargo ship chartered by the company by 2022.
Based on the same theory as the Michelin design but made of steel, the 150-foot-tall structures not only operate like an airplane wing but look like one too. Instead of inflating or deflating, the wings will sit upright on the deck of a cargo ship and can fold down flat to pass under a bridge or enter a port.
BAR Technologies' "WindWings" (seen here in a rendering) could enter the water by 2022, under a partnership with Cargill.
Courtesy BAR Technologies
The rigid sails look more similar to those on Oceanbird, a 650-foot-long wind-powered transatlantic car carrier designed by Swedish shipbuilder Wallenius Marine, that is due to make its maiden voyage in 2024.
Unlike Oceanbird, which relies solely on wind, BAR Technologies' wings will work alongside the engine — increasing the vessel's fuel efficiency by between 25% and 30%.
BAR Technologies' CEO John Cooper explains that 100% wind power works for routes with guaranteed wind or in situations where it's acceptable for a ship to be a couple of days late. But he says that isn't an option for most commercial shipping.
While the company would not disclose how much it will sell the wings for, Cooper says it's more about payback than price.
"The obvious economic (incentive) is reduced fuel," he says, "and when you reduce fuel you reduce your greenhouse gas (emissions)." These savings make up for the installation cost, he adds, and would be increased if a global carbon tax is introduced, or if the industry moved to more expensive, low-carbon fuels like hydrogen, ammonia or liquefied natural gas.
Low pressure
However, the shipping industry may need a bigger stimulus to convince it to take up these technologies, says Tristan Smith, associate professor and head of the Shipping Group at University College London.
Wind propulsion has long been seen as an option to reduce shipping's dependence on diesel, he explains. Flettner rotors, a technology that dates back to the 1920s, consisting of vertical cylinders that spin with the wind and create a forward motion, have been deployed on cargo ships, such as the Timberwolf tanker (formerly the Maersk Pelican) and the m/v Afros, reportedly generating fuel savings of more than 10%. Giant kites which fly ahead of the vessel and tow it on a rope have also been proposed, with German company SkySails claiming it could save an average of 10-15% of fuel each year.
But despite these savings, uptake of the technologies hasn't been widespread. "There's a decade of (wind propulsion) designs that look good, that save money, that in theory pay for themselves, that haven't materialized into action," Smith tells CNN. "It's not because they don't save fuel, but clearly because they don't save enough fuel relative to their cost."
Another sticking point is that the charterer, not the shipowner, usually pays for fuel. This means there's less incentive for the shipowner to fork out on fuel-saving technology and similarly the charterer might not lease the ship for long enough to see the payback.
Cooper acknowledges this "conundrum" but believes that as demand rises, charterers will be willing to pay more expensive charter rates as they'll be spending less on fuel.
Regulations need to be changed to encourage the use of wind power, urges Smith. While the IMO has set an industry-wide target to halve emissions in the next three decades, he says it lacks stringent enforcement and regulation, and though the EU has proposed charging ship owners for pollution, this is yet to come into force.
"We're basically missing an opportunity to reduce thousands and millions of tons of greenhouse gas emissions because the regulatory bodies aren't making the right decisions at this point in time," he says.
BAR Technologies' Cooper is more optimistic. "Wind is a free fuel," he says, and as some responsible, climate-conscious companies start installing wingsails, the price of the technology will drop, increasing accessibility and making the business case even stronger.
"Everybody will start to do the right thing, rather than being legislated to do the right thing," he says.

Disclaimer: This post has been auto-published from an agency/news feed without any modifications to the text and has not been reviewed by an editor.

Source link
Boris Johnson hailed by his party despite UK's economic woes
MANCHESTER, England (AP) — Empty gas pumps, worker shortages, gaps on store shelves. It's an autumn of inconvenience in Britain, if not quite a winter of discontent.
But this week, Boris Johnson is in his element. The prime minister has shut his problems outside during the Conservative Party's annual conference, speaking to supportive crowds, posing for selfies and clowning around on a bicycle inside a vast convention center in Manchester.
Johnson ends the four-day conference Wednesday with a speech promising that Britain will emerge from Brexit and the coronavirus pandemic as a stronger, more dynamic country — even if the road is slightly rocky.
"There is no alternative," Johnson said Tuesday, adopting a phrase used by former Prime Minister Margaret Thatcher, an iconic figure for Conservatives. "The U.K. has got to (become) — and we can do much, much better by becoming — a higher-wage, higher-productivity economy."
Britain has been through a turbulent time since the party last met in person two years ago. Then, Johnson vowed to "get Brexit done" and take the U.K. out of the European Union after years of wrangling over exit terms.
That promise won Johnson a huge parliamentary majority in December 2019. He led Britain out of the EU last year, ending the U.K.'s seamless economic integration with a trading bloc of almost half a billion people. Britain also has been hammered by a coronavirus pandemic that has left more than 136,000 people in the U.K. dead, Europe's highest toll after Russia.
The pandemic, which put much of the economy on ice, and Brexit, which made it harder for EU citizens to work in the U.K., combined to throw the economy out of sync.
While not as dire as Britain's infamous "Winter of Discontent" in 1978-79, when thousands of striking workers crippled essential services and led to Thatcher's election, the country has seen the most widespread economic disruption in years.
A shortage of truck drivers, due partly to a testing backlog and partly to an exodus of European workers, has snarled British supply chains. That has left supermarkets with some empty shelves, fast-food chains without chicken and gas pumps out of fuel.
After more than a week of fuel-supply problems, the government called in the army this week, getting scores of soldiers to drive tanker trucks. It also says it will issue up to 5,500 short-term visas for foreign truckers to come to the U.K.
Other struggling parts of the economy say they aren't getting the same quick action. Pig farmers protested outside the Conservative conference, saying a shortage of abattoir butchers means thousands of pigs may have to be slaughtered on farms, ending up in landfills rather than the food chain.
Meryl Ward, a pig farmer from central England, said it was "complete madness" that the government was refusing to issue visas to a small number of skilled European butchers to ease the crisis.
"It's a complete and utter waste," she said.
Johnson says businesses will have to tough it out by raising wages, improving pay and conditions to get British workers to fill the empty jobs. He said that too many sectors of the British economy relied on Eastern European workers willing to do tough jobs for low pay, and vowed the U.K. would not go back "to the old, failed model where you mainline low-wage, low-skilled labor."
While Johnson argues that EU membership pushed down U.K. wages — a claim many economists contest — he has downplayed Brexit's role in the country's current economic woes, pointing out that the United States and China also have shortages of truck drivers. Critics say those countries don't also have the gaps on supermarket shelves that Britain is experiencing.
Johnson said supply-chain problems are just the "stresses and strains you'd expect from a giant waking up," adding that Britain is rebounding fast after suffering the sharpest contraction of any major economy in the pandemic. Unemployment is under 5%, though the ending this month of a program that paid the wages of millions of furloughed workers could drive that number up.
Many Conservatives are worried the winter could bring a hit on voters' pocketbooks due to rising fuel costs from a global surge in natural gas prices and a cut to welfare benefits for millions that kicks in this week.
That could make it harder for Johnson to meet his key goal of "leveling up" the U.K. by spreading economic opportunity beyond the south of England, where most business and investment is centered. That promise helped him win working-class votes in areas that long were strongholds of the center-left Labour Party.
"The Conservative Party has changed," said Michael Gove, the government's grandly titled Secretary of State for Levelling Up, Housing and Communities.
He said the party that slashed public spending for a decade after 2010 under Johnson's predecessors had rejected an economic model "in which the fruits of growth were not equally shared and the talents of all were not equally valued."
One day, voters will judge whether the Conservatives have delivered on their promises. But for now, with most opinion polls giving the party a lead over a demoralized Labour Party, delegates in Manchester were as buoyant as their famously irrepressible leader.
They packed meeting halls and sipped warm white wine at sweaty receptions, as if Britain's pandemic-plagued months of lockdowns, masks and social distancing were a bad dream.
The Johnson-led Conservative Party was visibly younger, more diverse and less dominated by affluent residents of southern England than it had been for years.
"You wouldn't have seen this even 10, 15 years ago, the north turning out in such droves to support the Conservative Party," said Max Darby, a delegate who was born in the northern England town of Scunthorpe. "I think Boris has to be doing something right if people like me are more than happy — in fact proud — to vote Conservative."

Disclaimer: This post has been auto-published from an agency/news feed without any modifications to the text and has not been reviewed by an editor.

Source link
As coal stocks shrink, India faces growing energy shortage crisis | Business and Economy News
India is grappling with an escalating crisis as stockpiles of coal, the fuel used to generate about 70% of the nation's electricity, dwindle to the lowest in years just as power demand is set to surge.
Coal-fired power stations have an average of four days' worth of stock of the fuel, according to the latest data, and more than half the plants are already on alert for outages. Power Minister Raj Kumar Singh has warned that the nation could be handling a supply squeeze for as long as six months.
Power shortages are already emerging, and the gap between available electricity supply and peak demand widened to more than 4 gigawatts on Monday, according to government data from power ministry.
While shortages of coal in China, and that nation's power crunch, have commanded most attention, it's India that's facing a potentially worsening scenario.
Industrial and domestic consumption usually hits peak levels as India enters a festival season from later in October and that could risk stalling a rebound in Asia's third-biggest economy, which has been recovering from an unprecedented 7.3% contraction in the fiscal year ended in March.
Here are some potential next steps and constraints in India's crisis:
Mining Rebound
State-run Coal India Ltd., the world's top producer of the fuel, is seeking to increase daily coal supply to 1.9 million tons by mid-October from about 1.7 million tons currently, an increase that would go a long way to help ease the deficit. Deliveries to power plants are currently short by between 60,000 and 80,000 tons a day, according to Anil Kumar Jain, India's coal secretary.
Coal production has been hit by severe flooding in India's eastern and central states during the typical monsoon season, with mines and key logistics routes impacted. Any recovery will hinge on the weather — rains need to stop to allow mines to ramp up operations and for coal trucks to resume deliveries.
On Tuesday the government said it will allow companies that have been allotted coal and lignite mines for their own use to sell 50% of their annual output in a bid to ease shortages.
While coal stockpiles at power plants are perilously low, it remains unlikely the operations will completely run out of fuel. Government ministries and industry are working to closely monitor stocks, and could move again to divert supplies away from industrial users — like aluminum and cement makers — to prioritize power generation. That'd leave those industries faced with their own dilemma: curb output, or pay high prices for imported coal.
Supply Controls
Rationing domestic power supplies, especially in rural and semi-urban areas, may emerge as one of India's easiest solutions — though it'd pose other challenges for Prime Minister Narendra Modi.
Indian power distributors do typically cut supplies to certain areas on a rotational basis when generation is lower than demand, and an extension of load-shedding would likely be considered if power plants take any further hits.
However, doing so would risk jeopardizing the country's fragile economic recovery and Modi's government is already facing criticism for failing to generate enough new jobs.
Price Incentive
Soaring power prices could potentially make it viable for some coastal plants to use high-cost imported coal, easing some of the burden on domestic miners.
The country meets around three-quarters of power demand with locally-produced coal, and much of the rest is imported from countries including Indonesia, South Africa and Australia.
Spot prices of power sold through the Indian Energy Exchange Ltd. jumped more than 63% year-on-year in September to average 4.4 rupees ($0.06) a kilowatt hour and were as high as 13.95 rupees on Wednesday, according to official data. That means some plants likely could now look to snap up prompt cargoes of seaborne coal, even with prices of the commodity at a record.
New guidelines are being drafted to allow generation companies to sell surplus electricity on the exchanges, in part to spur idled plants back into action. Two giant plants in Gujarat state owned by Tata Power Co. and Adani Power Ltd. are among those that have been mothballed as a result of issues including high imported coal prices.
Fuller Dams
The same monsoon rains that have flooded coal mines are likely to boost hydro-power generation.
Large hydro-electric projects on dams are India's major electricity source after coal and the sector performs at its peak around the rainy season which typically extends from June to October.
Generation from the projects accounted for about 14% of India's total during the six months through Sept. 30, and that share could increase if the plants can operate at higher utilization rates. Recent data shows hydro-power generation is above target in a sign that companies are beginning to ramp up output.
Turn to Gas
There could be a larger role for natural gas to play, even with global prices currently surging. India has almost 25 gigawatts of gas-based generation capacity, though nearly 80% of that capacity remains unused because of high prices of the fuel.
At current prices, imported LNG cargoes bought on the surging spot market aren't a solution for Indian power generators, according to Arun Kumar Singh, chairman of Bharat Petroleum Corp, India's second biggest fuel retailer which also buys and sells LNG.
However, in a desperate situation the gas-powered fleet could help prevent any widespread power outages. State-run generator NTPC Ltd., for example, has idled capacity that can be fired up in around 30 minutes if needed and is connected to a gas grid.
Pricey Diesel
Any switch to oil products like fuel oil and diesel could be limited due to pollution curbs and prohibitively high prices. As it stands, the lack of large oil-fired plants directly connected to the grid means gas-to-fuel swaps are unlikely to take place on a grand scale.
Some commercial establishments, including hospitals and malls, as well as small industries use diesel-based generators to ensure uninterrupted power supply in case of outages. But record high diesel prices in the country will prevent their widespread use.

Disclaimer: This post has been auto-published from an agency/news feed without any modifications to the text and has not been reviewed by an editor.

Source link