There will be devastation if China captures us: Taiwan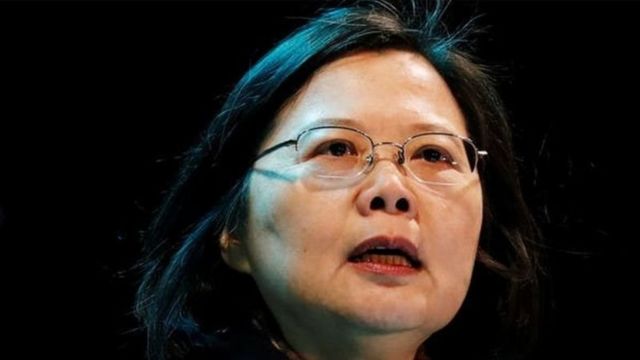 Taiwan's President Tsai Ing-wen has defended her democracy over China's growing aggression, saying it would have disastrous consequences if China took Taiwan under its control.
Sai Ing-wen has written an article in Foreign Affairs, saying this in the same. Recently, 38 Chinese fighter planes entered Taiwan's airspace while encroaching. On Tuesday, Taiwanese Prime Minister Su Seung-chang said that China's aggression is a threat to regional peace and that Taiwan needs to be vigilant.
The People's Liberation Army (PLA) of China sent close to 150 planes to Taiwan's airspace in the first four days of October. It has been seen in the Chinese media as a show of power, but many governments around the world have taken it as a show of fear and aggression by China.
Tsai Ing-wen wrote in Foreign Affairs, "We want peace but Taiwan is ready to do whatever it deems necessary for self-defense if our democracy and way of life is threatened."
Taiwan has urged countries around the world to understand China's wider threat. Taiwan's President Tsai Ing-wen said, "The world needs to understand that if Taiwan passes into the hands of China, it will be disastrous for regional peace." It will also prove to be subversive for democratic partnership.
At the same time, Taiwan's Defense Minister Chiu Kuo-cheng has said that the military relationship between China and Taiwan is going through the worst phase in the last 40 years. Taiwan's Defense Minister has said that China can attack Taiwan by 2025.
Chiu Kuo-cheng said, "China has the potential, but the war will not be so easy. Many other things also have to be considered.
China's claim and Taiwan's side
China claims Taiwan as a province and is determined to take it under its control. China says that if force has to be used to merge itself, it will be done. China considers the government of President Tsai Ing-wen in Taiwan to be separatist.
But Tsai Ing-wen says that Taiwan is a sovereign country and does not need to be declared independent separately. She also says that she does not want a confrontation.
Tsai Ing-wen wrote in his article, "Despite the daily incursions of the PLA, our relationship with China has not changed. Taiwan will not bow down to pressure. No sorrow can deter us. Even if it gets international support, it will not happen.
Some countries have recognized Taiwan as a sovereign nation. Taiwan has unofficial partnerships and agreements with many countries and remains as a non-state party in international forums.
Sai has written that Taiwan's partnership is increasing around the world. He said Taiwan is an important democracy, trading partner and global supplier. He said that Taiwan is an important island group stretching from northern Japan to the island of Borneo.
'The threat of international instability'
"If this line is forcibly broken, it will result in the destruction of international trade and destabilization of the entire western Pacific," Sai said. If Taiwan fails to defend itself, it will not only be disastrous for the people of Taiwan, but it will also lead to the collapse of the security wall that stood for seven decades of peace and extraordinary development.
Analysts debate how legitimate this threat is, but this week the conflict has escalated and raised the ears of many countries.
On Tuesday, Japan's Foreign Minister Toshimitshu Motegi said, "We hope that China and Taiwan will resolve the dispute peacefully." We are keeping an eye on the situation and we are evaluating our position.
After this, there were comments from America and Australia as well. Both countries said that China should reduce tension and do not use force. The White House has said that there has been talk about China's aggression at the diplomatic level as well. Taiwan's foreign minister announced on Tuesday that a group of French senators would be arriving in Taiwan this week.
Taiwan feels that strong international cooperation will help it stop China. Taiwan is also trying to increase its security capability through America. Sai has said, "Taiwan is trying to make itself maximum self-reliant with all these steps. Our preparation is also about the fact that we can bear our own burden and we do not need anyone's help.
Taiwan vs China
Taiwan is a small island in front of China, a superpower of the world, which is not even as big as Cuba. Taiwan is just 180 kilometers away from the People's Republic of China. Taiwan's language and ancestors are Chinese, but there is a different political system and this is also the reason for the enmity between China and Taiwan.
On one side of the Gulf of Taiwan is China, with a population of 130 million, where there is a one-party polity, while on the other side is Taiwan, where 23 million people live in a democratic system.
The dispute between China and Taiwan has been going on since 1949, due to which Taiwan has no access to international organizations and has received limited international recognition. Only 15 countries in the world consider Taiwan an independent nation.
At the same time, China considers it a part of itself and a rebel province. In 2005, China passed an anti-separatist law that gives China the right to annex Taiwan by force. Since then, if Taiwan declares itself an independent nation, then the Chinese army can attack it.
From 1642 to 1661, Taiwan was a colony of the Netherlands. After that the Ching dynasty of China ruled Taiwan from the year 1683 to 1895. But after the defeat of China at the hands of Japan in the year 1895, Taiwan came under Japan's part.
After Japan's defeat in World War II, the US and Britain decided that Taiwan should be handed over to its ally and China's top politician and military commander, Chiang Kai-shek.
Chiang's party had control over a large part of China at that time. But after a few years, Chiang Kai-shek's forces were defeated by the Communist army. Then Chiang and his allies fled China to Taiwan and for many years they dominated Taiwan with a population of 1.5 million.
After many years of very bitter relations between China and Taiwan, the relationship between the two began to improve in the year 1980s. Then China proposed to Taiwan under the 'One Country Two System' that if it considers itself a part of China, then it will be given autonomy. Taiwan turned down this offer.
One China Policy and Taiwan
1. One China policy refers to the policy according to which there is only one nation named 'China' and Taiwan is not a separate country, but its province.
2. The People's Republic of China (PRC), commonly known as China, was formed in the year 1949. It includes two specially administered regions, namely Mainland China and Hong Kong-Macao.
3. On the other side is the Republic of China (ROC), which was occupied by China between 1911 and 1949, but now has Taiwan and some islands. It is commonly called Taiwan.
4. One China policy means that the countries of the world who want diplomatic relations with the People's Republic of China (China), will have to break all official relations with the Republic of China (Taiwan).
5. In the diplomatic world, it is believed that China is one and Taiwan is part of it. Under this policy, the US maintains official relations with China instead of Taiwan. But he has unofficial, but strong ties to Taiwan.
6. Taiwan cannot use the name 'China' in international events such as the Olympic Games. The reason for this is that he attends such forums with the name of 'Chinese Taipei' for a long time.
7. Accepting China's stand on this issue is not only the basis of China-US relations, but it is also important for policy-making and diplomacy from China's side.
8. Many small countries in Africa and the Caribbean region have in the past made and broken ties with both China and Taiwan due to financial cooperation.
9. China has benefited from this policy and Taiwan is isolated at the diplomatic level. Most of the countries of the world and the United Nations do not consider it an independent country. But despite this, he is not completely different.
10. It is clear that China is more powerful in the status quo and because of this Taiwan is on the backfoot in terms of diplomatic relations. It remains to be seen whether Trump's recent statement is indicating any change.
Disclaimer: This post has been auto-published from an agency/news feed without any modifications to the text and has not been reviewed by an editor.
Moon Earth News: Scientists Raise Fear Of Havoc As Moon Goes Father Away And Earth Become Unstable The fear of the holocaust is haunting the scientists, the earth will not be the same as before

Washington
Scientists have feared that one day the Earth may become unstable in the coming time because the Moon is slowly moving away from our Earth. It is going slowly over the life of the Moon's 4.5 billion years. Although these claims are being made from the beginning, but now it is being said that one day the moon may leave us completely. If this happens then it will have a very bad effect on the earth.
According to the science magazine Earth, Planets and Space, due to the departure of the Moon, there will be a catastrophe in every aspect of our life. The impact of the gravitational relationship between the Earth and the Moon will have an impact on the ocean, the Sun, mammals, plant life and many more. This information has been given in the report of Express. At present, the Moon is located at a distance of 384,400 km from the Earth.
Some claimed to have come near

Astronauts measure this distance from Earth by firing a laser at the Moon. The distance between the two can be estimated by calculating the time of the laser's return to Earth. Some experts have warned that the Moon may come closer to Earth over time. As a result of which gravity will destroy it completely. There is a strong magnetic field around the Earth which is created by the rotation of the liquid iron present in the core of the planet.
The Moon also had a magnetic field similar to that of Earth
Earth's magnetic field can be almost as old as Earth's. Scientists believe this idea is the exact opposite of the Moon, which today completely lacks a magnetic field. In the 1980s, geophysicists studying rocks brought by Apollo astronauts concluded that the Moon once had a magnetic field that was as strong as Earth's.
Disclaimer: This post has been auto-published from an agency/news feed without any modifications to the text and has not been reviewed by an editor.
Revenge Travel: Localcircles Survey Revealed, 46 Percent Of People Are Planning To Travel During The Festive Season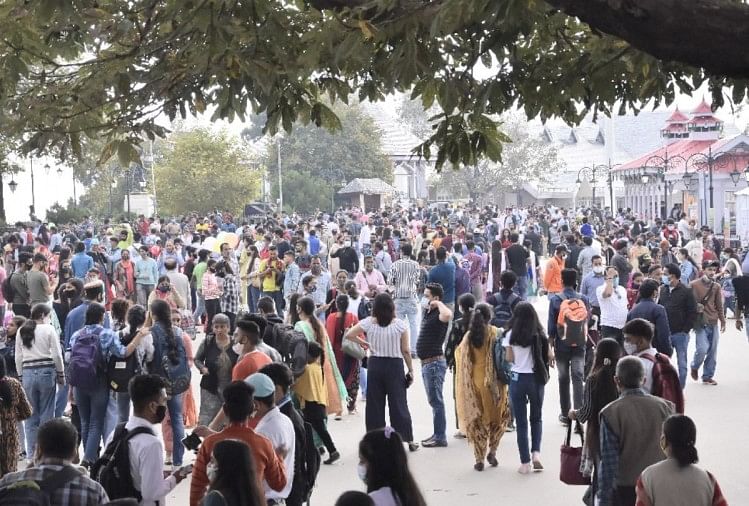 Summary
The Local Circles survey also revealed that the fear of the third wave of corona is still in the minds of the people. Apart from this, there is also a fear that if they book tickets and hotels in advance to roam and the state governments declare a lockdown, then their money may get stuck.
Tourists gathered in Shimla.
– Photo : Press24 News (File photo)
Expansion
People imprisoned in their homes during the second wave of Corona are returning to their old life. Whether it is wedding anniversary or honeymoon planning, people are like to travel once again for all these. After the decreasing cases and vaccination of corona in the country, people are seen in the mood to have fun again. In the coming festive season, 46 percent people are willing to visit tourist places. Whereas last year only 19 percent of the people after the first wave of Corona were planning to go out.
This has been disclosed by the famous local circles for the survey. The latest survey has revealed that during monsoon, Ganesh Utsav and Raksha Bandhan, 28 per cent were planning to move out of their city. Whereas during the festive season of Dussehra and Deepawali, 46 per cent people want to visit tourist places. At the same time, 34 percent people want to spend this festive season holidays with their family and friends. Whereas 28 per cent people are preferring to spend their holidays at tourist places away from home and family.
The survey also revealed that the fear of the third wave of Corona is still in the minds of the people. Apart from this, there is also a fear that if they book tickets and hotels in advance to roam and the state governments declare a lockdown, then their money may get stuck. In such a situation, 40 percent of the people have not made their booking yet. Whereas only six per cent of the people have booked hotels for their stay along with tickets to go out.
Follow corona protocol
Sachin Tapadia, Founder Chairman of Local Circles told Press24 News, "After the first wave of Corona, when our organization did the survey, people were still very excited to go out and travel. In a recent survey it was revealed that people want to travel more outside. We request people to follow the Kovid protocol and travel only after vaccination, so that corona infection can be avoided. As far as we have heard or read from health experts, it has come out that the antibodies of Kovid are of eight to ten months, which will end around November and December. An increase in corona cases can be seen when once again they start traveling towards the east and do not follow the Kovid protocol as before.
Disclaimer: This post has been auto-published from an agency/news feed without any modifications to the text and has not been reviewed by an editor.
Eco-friendly designer clothes – BBC News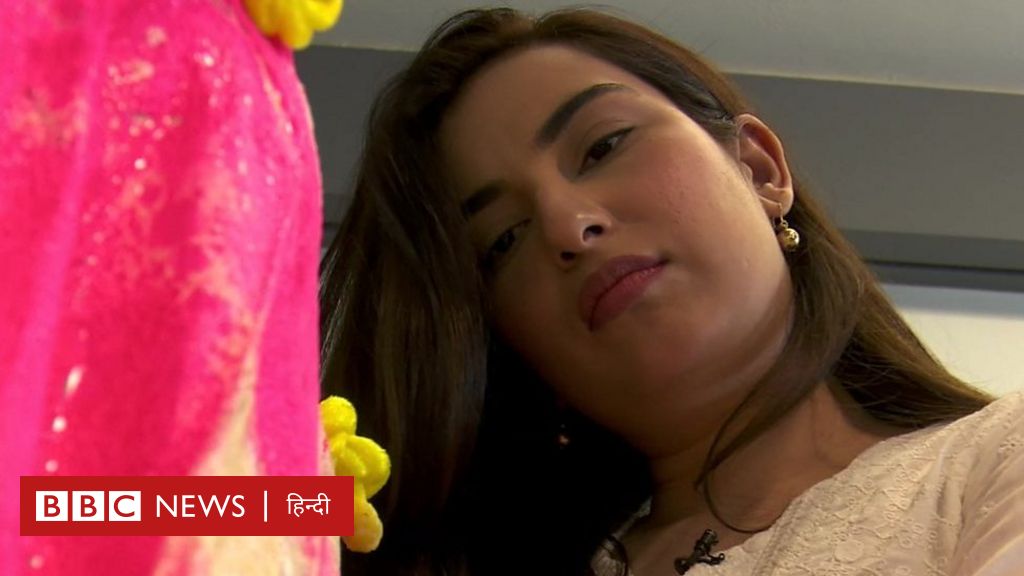 For the wedding, the bride and groom buy expensive expensive clothes which are decorated with salma stars. Beautifully embroidered, but the plastic and other materials used in them can harm the environment, but a designer from Pakistan is now making environment friendly clothes and stars.
Disclaimer: This post has been auto-published from an agency/news feed without any modifications to the text and has not been reviewed by an editor.