Lakhimpur Violence: BJP stirred, 'conspiracy' or 'spread chuka raita' – Press Review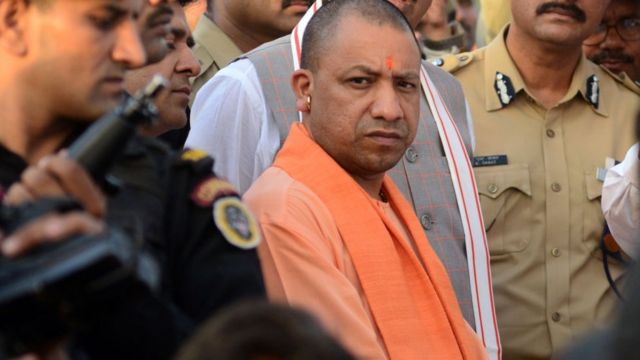 There is growing uneasiness in the BJP over the killing of eight people, including four farmers, allegedly from the convoy of Union Minister of State Ajay Mishra in Lakhimpur Kheri. A section of the party believes that this incident is a 'thought-out conspiracy' and there is a 'Khalistani link' behind it.
Ahead of the assembly elections, this incident has created a stir within the party.
According to the news published in the English newspaper Indian Express, the incident of Lakhimpur Kheri has pushed the prominent leaders of UP BJP on the backfoot. They want this matter to end like this.
Talking to the newspaper, a cabinet minister of the Yogi government said that 'the matter has increased'.
Another minister expressed displeasure over the way the top leadership has handled the matter and said, "We have losses from both sides. The worker also died and the government is also in the dock.
"Political feedback was never taken into account, it is not discussed at all. This is what happens when you take feedback only from bureaucrats. The bureaucracy had no idea that this matter would increase so much in the district. "
Complaining that the current leadership encourages a political culture of hostile attitude, he said, "In such circumstances, extravagant rhetoric is avoided and restraint is exercised, but what to say?"
He points to the video of Mishra's speech, which is said to be dated September 25 and is believed to have fueled farmers' anger.
In the video, Mishra is saying- "You are also a farmer, why didn't you get down in the movement…if I had come down, they would not have found a way to escape." 10-15 people working behind the back make noise here. Had the law been wrong, then the movement should have spread throughout the country. Why didn't it spread 10-11 months? I want to tell such people that get better or else face them. We will correct you by coming and it will take two minutes.
But another minister said, "I don't think the protests are spreading to other areas as well, we should look at the situation with some restraint."
Meanwhile, BJP MP Varun Gandhi has cautioned that it is "inappropriate and cruel" to use "derogatory" language against "struggling farmers" and "might increase their reaction which is very peaceful at the moment".
Zuckerberg got $ 6 billion in a few hours loss
Mark Zuckerberg's personal wealth has suffered a loss of $ 6 billion within just a few hours and he has rolled down the list of the world's rich.
According to the Bloomberg report, there are two reasons behind this financial loss. Whistleblower targeted Facebook and all its platforms were not working for almost six hours late Monday night. This has caused them this loss.
This is believed to be the longest outage in Facebook's service so far.
The social media giant's stock was down 4.9% on Monday. And with this he reached fifth place in the Bloomberg Billionaire Index, below Billgates.
On Monday, Zuckerberg apologized to his millions of users for causing hours of disruption to Facebook's service.
Facebook and its owned WhatsApp and Instagram were down for about 6 hours since late Monday night. All apps are working now.
children's corona Vaccine zykov-D But why is it a matter?
There does not seem to be a talk between the central government and the vaccine manufacturer regarding the corona vaccine Zykov-D.
A person who has a close understanding of the matter, on the condition of anonymity, said, "We think a conclusion will be reached on this matter in a week or two." Right now the whole thing is stuck at the cost, which is being considered very expensive in terms of the vaccination plan of the central government.
Zycov-D is the first Indian vaccine to be shown to be safe and effective for use in children. Also it is a DNA vector vaccine.
Disclaimer: This post has been auto-published from an agency/news feed without any modifications to the text and has not been reviewed by an editor.
UAE Passport Ranks Top In The Strongest Passport In The World Know About India Pakistan

Abu Dhabi

The UAE passport has once again become the most powerful passport in the world. The Global Passport Index released by Arton Capital has ranked UAE passports first in the world to achieve the 'Highest Mobility Score' which allows entry to 152 countries. 98 countries offer visa-free entry, 54 countries offer visa on arrival and 46 countries require a visa before entry.
The UAE passport became the strongest passport for the first time in December 2018. It retained its rank in 2019 but slipped to 14th position in 2020. Now in 2021, the passport has once again secured the top position and has become the strongest passport in the world. The UAE earlier this year approved amendments to the citizenship law, allowing investors, professionals, special talents and their families to acquire UAE citizenship and passports under certain conditions.
Indians will get 'newly designed' passport in UAE, more secure and stronger than before
Ranking changes after Kovid-19
The ranking of the passport is based on the freedom of movement and visa-free travel of the holders. The strength of the passport represents the identity of the citizen. At the same time it is an important factor influencing citizen's access to global opportunities, ease of movement and quality of life. The ranking has been changed after the change in visa rules between countries after the Kovid-19 epidemic.
Which place is India-Pakistan
Indian passport has been ranked 85th in this. Last year this rank was 84. Afghanistan got the last place, 112th rank. On the other hand, Pakistan has got the fourth position from behind. Earlier it was reported that Indian expatriates in UAE will now be given a newly designed Indian passport, which will have more security features than before. According to reports, applying for a new passport or renewing the old passport will get a passport with a new design.
Disclaimer: This post has been auto-published from an agency/news feed without any modifications to the text and has not been reviewed by an editor.
India Attacks Pakistan In Its Right Of Reply At The 1st Committee Disarmament And International Security Issues General Debate In United Nation, A Amarnath is called a martyr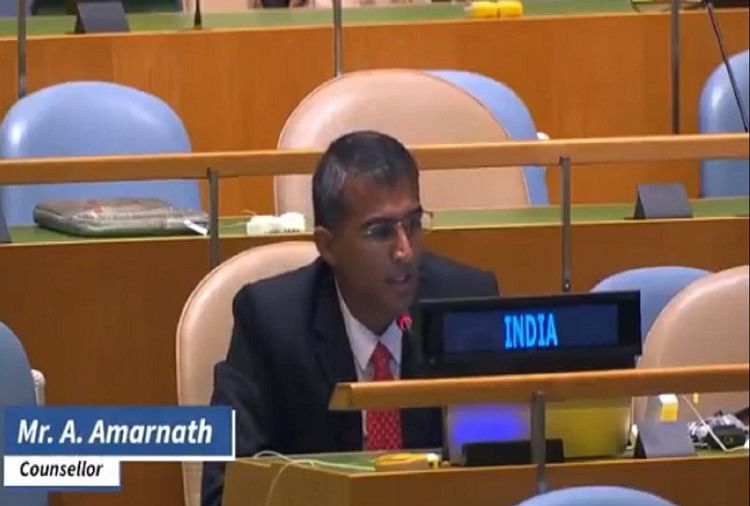 World Desk, Press24 News, United Nations
Published by: Sanjeev Kumar Jha
Updated Tue, 05 Oct 2021 07:38 AM IST
Summary
Using the right to reply, India told the Pakistani representative that you are talking about peace and security here and your Prime Minister is calling a global terrorist like Osama bin Laden a martyr.
Expansion
India has once again lashed out at Pakistan in the United Nations. Using the Right to Reply right, A Amarnath, Counselor of India's Permanent Mission to the United Nations, gave a befitting reply to Pakistan. He told the Pakistani representative that you are talking about peace and security here and your Prime Minister Imran Khan glorifies a global terrorist like Osama bin Laden as martyrs.
In the General Debate on India's First Committee (Disarmament and International Security Issues), A Amarnath said that Pakistan as the epicenter of global terrorism, regardless of UN principles, has repeatedly engaged in cross-border terrorism against its neighbours. . Pakistan's desperate attempt to spread lies in multilateral fora deserves collective contempt.
Even before this, Pakistan has got a befitting reply

Let us tell you that even before this, India had shown a mirror to Pakistan. India's first secretary at the United Nations, Sneha Dubey, gave a befitting reply to Pakistan, saying that brutality on common people and minorities continues in Pakistan, but they are giving wrong statements against India. The country spreading such confusion should be condemned collectively. Such people deserve sympathy because of their mentality. He said that we have been hearing that Pakistan is a 'victim of terrorism'. But this is the country that has set itself on fire. He fosters terrorists in the hope that they will harm the neighbours. The whole world has suffered because of this.
Disclaimer: This post has been auto-published from an agency/news feed without any modifications to the text and has not been reviewed by an editor.
What happened from Lucknow to Tikunia after the Lakhimpur Kheri violence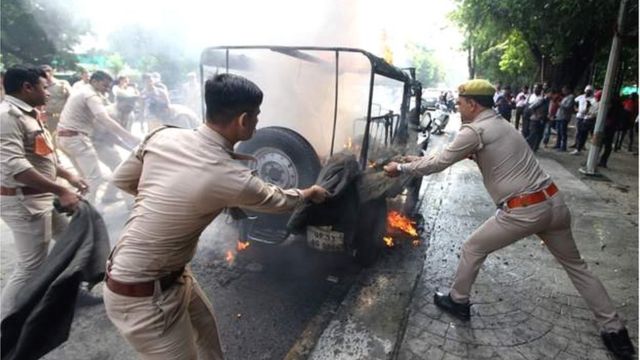 After the violence in Lakhimpur Kheri, the Yogi Adityanath government of the state has registered a case against Ashish Mishra, son of Union Minister of State for Home Ajay Mishra Teni.
Along with this, the state government has also promised to get the incident investigated under the leadership of a retired high court judge.
Meanwhile, opposition leaders have been prevented from reaching the spot. Congress leader Priyanka Gandhi was taken into custody in Sitapur early Monday on her way to Lakhimpur Kheri.
Priyanka Gandhi is still at the PAC guest house in Sitapur where Congress workers are sitting on a dharna outside.
What happened in Lakhimpur on Sunday
Eight people were killed in the violence at Tikunia in Lakhimpur Kheri on Sunday. The biggest bloody clash so far took place on Sunday in connection with the ongoing protests against three agricultural laws of the central government.
According to news agency PTI, four farmers were among those killed, who died due to being crushed by vehicles and those vehicles were allegedly driven by Bharatiya Janata Party workers.
These vehicles were going to welcome the state's Deputy Chief Minister Keshav Prasad Maurya. The rest were BJP workers and their driver among those killed.
According to the PTI report, the agitated protesters dragged them out of the vehicle and thrashed them. Two vehicles were set ablaze at the scene.
After this the leaders of opposition parties started moving towards Tikunia town of Lakhimpur Kheri, but in the meantime the administration imposed Section 144 of CrPC in Lakhimpur Kheri.
Under this, the gathering of more than four people in one place is banned.
Ban on politicians, Lakhimpur district in Supreme Courtnumber
The Uttar Pradesh government stopped Samajwadi Party's Akhilesh Yadav, Chhattisgarh Chief Minister Bhupesh Baghel, Punjab Chief Minister Charanjit Singh Channi, BSP's SC Mishra and Aam Aadmi Party's Sanjay Singh from going to Lakhimpur Kheri.
Angry protesters allegedly torched a police jeep outside Gautam Palli police station after Akhilesh Yadav was stopped from going to Lakhimpur Kheri.
The Attorney General mentioned this incident in front of the Supreme Court bench hearing the constitutionality of agricultural laws.
On this, the Supreme Court said that they will decide whether any organizations can protest on any issue pending in the court or not.
The bench said that when such incidents happen, no one takes responsibility for it.
Prashant Kumar, ADG (Law and Order), Lakhimpur Kheri, said that the state government has announced Rs 45 lakh to the kin of the deceased farmers besides conducting an inquiry under the leadership of a retired high court judge. Government job will be given to the kin of the deceased.
An announcement has been made to give Rs 10 lakh as compensation to those injured in the Lakhimpur incident.
When Prashant Kumar was giving this information, Indian Farmers Union leader Rakesh Tikait was also present there. The dispute in Lakhimpur appeared to be resolved.
The relatives of the dead got ready for the postmortem of the dead bodies. Police have registered a case against Ashish Mishra and many others.
However, Ajay Mishra, father of Ashish Mishra and Union Minister of State for Home and MP of the region, has denied these allegations.
Mamta Banerjee's question to BJP, is this 'Ramraj'?
Attacking the Bharatiya Janata Party, West Bengal Chief Minister Mamata Banerjee on Monday said that the promised 'Ram Raj' is being given instead of 'Killing Raj'.
According to the report of news agency ANI, Mamata Banerjee told reporters in Kolkata, "This is a very unfortunate incident. I have no words to condemn it. The BJP government does not believe in democracy. They only want dictatorship." Is this 'Ramraj'? No it is 'Killing Raj'.
Disclaimer: This post has been auto-published from an agency/news feed without any modifications to the text and has not been reviewed by an editor.