Smriti Mandhana becomes 1st Indian woman to score century in pink-ball Test vs Australia | Cricket News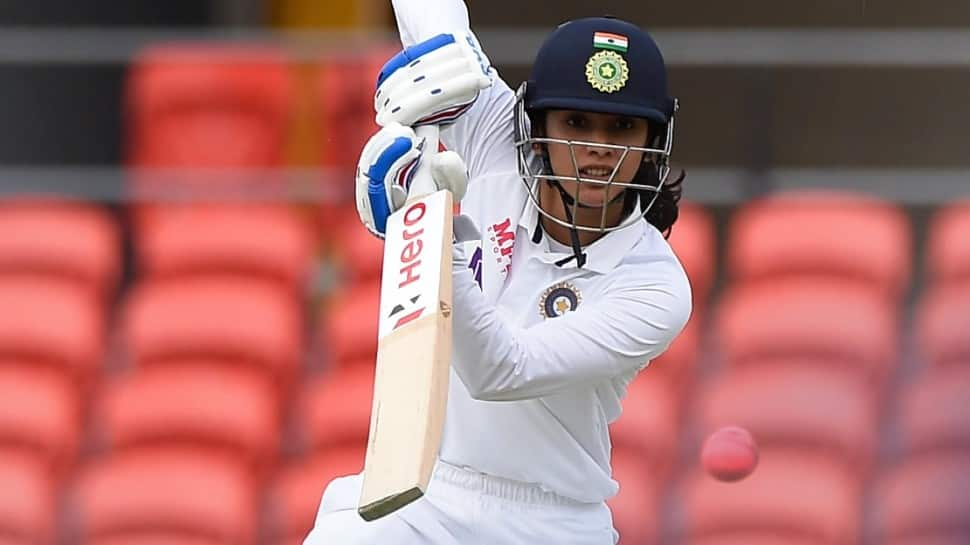 Indian opener Smriti Mandhana became the first Indian woman to score a century in a pink-ball women's cricket Test against Australia on Day Two in Carrara, Queensland on Friday (October 1). Mandhana pulled Ellyse Perry away for her 18th four to bring up her maiden Test century off 170 balls in just her fourth Test.
Mandhana, who was 80 not out overnight, after most of first day's play was washed out due to rain was caught off a no-ball in the 46th over of the innings but maintained her composure to reach the landmark.
Mandhana familiarised herself with the pink ball by keeping one in her kit bag for the last three months, looking at it on and off while trying to 'understand' it. When the idea struck her, little did Mandhana know that her team would enter their first-ever day/night Test match with just two days of training sessions with the pink ball.
What a moment for Smriti Mandhana – her maiden Test ton! #AUSvIND #PinkBallTest pic.twitter.com/PTHOTxYSv1

— cricket.com.au (@cricketcomau) October 1, 2021
The idea to keep the coloured ball around her worked well for the stylish player, who was batting on a sublime 80 when inclement weather brought an early end to the opening day of their historic Test, against a formidable Australian side here.
"We just had two sessions with pink ball. I was coming from the Hundred (in England) so I didn't really get much time to play with pink ball, but during Hundred, I just ordered a pink kookaburra ball, just to keep it in my room because I knew that there is going to be a Test match, so that I can just look at the ball and understand.
"I have actually not batted, I batted for just two sessions but the pink ball was there in my kit bag for last two and half, three months. I don't know why did I carry it, I thought I will have a session but I really didn't get time to do that," Mandhana said during a virtual press conference on Thursday.
Mandhana headlined a rain-hit opening day with a career-best knock which had elegance written all over it as the Indian women's cricket team finished on 132 for 1. Speaking further on her preparation for the pink ball Test, she said, "I don't think we had a lot of time to work regarding this, we are just trying. People who are sitting out really helped, they kept me pumped up throughout the day, they contributed in making me focus in the way I did today," Mandhana said.
The Indian star said her plan was to just play as per merit and not over complicate things. "I wanted that I just don't look at the scorecard, was just trying to be as blank and simple, play according to the ball. I didn't really plan anything. Last two days I felt good, felt I was able to bat well. I will try and do that tomorrow because I don't want to complicate things."
Hosts Australia decided to put India in to bat after winning the toss but did not enjoy a good start to the game. "They bowled slightly short in the first 15 overs but made up in the latter stages. We are used to batting first now but with the kind of wicket it looked like we also would have batted first. But, looking at the scoreboard now, we are happy to bat first.
"The openers have to step up and provide a good base whenever this kind of conditions come up," Mandhana said.



Disclaimer: This post has been auto-published from an agency/news feed without any modifications to the text and has not been reviewed by an editor.

Source link
IPL 2021: Watch – RR's Mustafizur Rahman superb fielding effort denies a near-certain six to RCB
Mustafizur Rahman of Rajasthan Royals amazes the fans with his superb fielding.
While batting and bowling performances continue to light-up the sporting venues, the fielding aspect of the game too has been exceptional this season.
In just over 12 days and 14 matches into the second phase of the ongoing Indian Premier League (IPL) 2021 edition, fans around the world have witnessed some significant action in the 14th season of franchise cricket's biggest extravaganza currently underway in the UAE. Players across teams have pulled off some astonishing performances in the past two weeks in each department. While batting and bowling performances continue to light-up the sporting venues, the fielding aspect of the game too has been exceptional this season.
One such instance of exceptional fielding effort was seen during the Rajasthan Royals (RR) vs Royal Challengers (RCB) match in Dubai on Wednesday. The match between the Royals' teams eventually ended in a seven-wicket heartbreak and further diminishing playoff spot for the Sanju Samson-led side. However, there was a moment of inspiration for the Men in Pink, as teammate Mustafizur Rahman's superb fielding effort saved a certain six on the boundary line.
The Bangladesh front-line bowler is currently plying his trade for Rajasthan in the IPL 2021. The left-arm pacer isn't among the most athletic fielders however, he won many hearts with his incredible piece of fielding. It was in the ninth over of RCB's run-chase when the mercurial Glenn Maxwell pulled a delivery from Kartik Tyagi towards fine-leg. The ball looked to be crossing over the fence for a six, but 'The Fizz' had other ideas. Rahman anticipated the trajectory of the ball and timed his jump to perfection as his one-handed staggering effort saved a guaranteed six.
Although there was no one near Rahman for him to throw the ball back into play, the 26-year-old picked himself instantly to send it back to his wicketkeeper-captain. Rahman's exceptional effort did save his team five runs and it could have made a huge difference if the match was a bit closer.
Watch it here:
Apart from his superb fielding that garnered immense praise from his teammates, Rahman was also the most successful bowler for his side with two wickets while others went wicketless.
Meanwhile, RR are currently in seventh place in the IPL 2021 points table with just eight points from 11 games. They need to win all their remaining matches to have any chance of making the playoffs. The IPL inaugural champions take on Chennai Super Kings (CSK) on Saturday, October 2 at the Sheikh Zayed Stadium in Abu Dhabi.
Get all the IPL news and Cricket Score here

Disclaimer: This post has been auto-published from an agency/news feed without any modifications to the text and has not been reviewed by an editor.

Source link
Olympic Medallist Bajrang Punia, Powerlifting Champion Gaurav Sharma Distribute Food to Needy in Delhi
Bajrang Punia distributing food packets. (IANS Photo)
Bajrang Punia and Gaurav Sharma distributed 1000 food packets and water bottles to the needy people in Delhi.
IANS

New Delhi

Last Updated:

October 01, 2021, 15:37 IST

FOLLOW US ON:
Tokyo Olympics bronze medallist Bajrang Punia and former international powerlifting champion Gaurav Sharma on Thursday distributed 1000 food packets and water bottles to the needy people in the Capital. Bajrang said that he got to know from the news reports that Gaurav has been doing it daily for the last one year and he decided to join the former powerlifter in the noble cause. "Gaurav is doing a great job, helping people. I also wanted to join him and today I met him and we did what we could do. It feels really great. Humanity is above everything," the Indian wrestler said.
Meanwhile, Gaurav said he decided to serve the people in Delhi after the lockdown was imposed last year.
"First of all, I want to thank Bajrang for his support. It means a lot to me. I wish to God that he wins gold in the next Olympics. Well, I distributed food packets when the first lockdown was imposed in Delhi last year. I decided to do it again when it was reimposed.
"Around 1000-1100 food packets have been prepared daily. People are also given bottles of water, sanitiser, and face mask," Gaurav said.
"During the complete lockdown, I saw the daily-wage labourers, people have been stuck and they have not been able to go to their homes, I felt a bit sad seeing that so I decided to serve them. I'll do it till I can," he added.
Read all the Latest News, Breaking News and Coronavirus News here. Follow us on Facebook, Twitter and Telegram.



Disclaimer: This post has been auto-published from an agency/news feed without any modifications to the text and has not been reviewed by an editor.

Source link
Bhaichung, Jeje, Eugeneson the best I've played with in SAFF Championships: Sunil Chhetri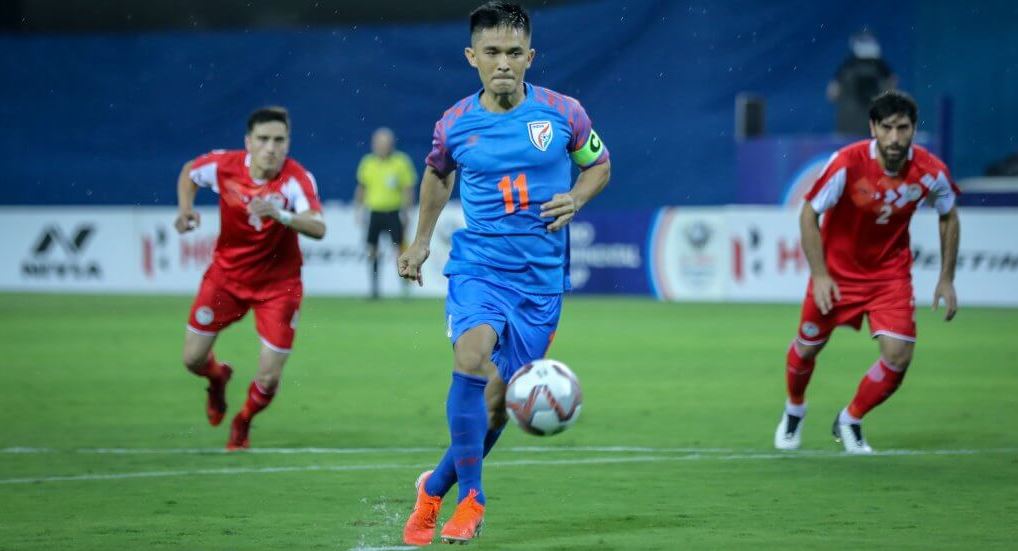 AIFF Media Team
MALE, MALDIVES: It's been 13 years since Sunil Chhetri first appeared for India in a SAFF Championship match. Since then, he has been part of the Blue Tigers in four editions, with the forthcoming Championship (set to kick-off tomorrow October 1 – India begin their campaign on October 4) being his fifth one. In a candid chat, Sunil takes a walk down memory lane and picks up his favourites from editions of the Championship that he has been a part of. EXCERPTS:
Which has been your favourite SAFF Championship so far?
I will pick the one which we won in Kerala in the 2015-16 edition. The rivalry that we had with Afghanistan in the final, and the build-up to it was simply majestic. It is also because we had a lot of youngsters in the squad, and won it with just 19 players after Robin Singh got injured in the first match itself. Over 40,000 people turned up to cheer for us in the final. That will always stay with me.
Which has been your favourite goal from all the editions in which you have played so far?
Jeje's (Lalpekhlua) goal in the final against Afghanistan in 2015-16 in Thiruvananthapuram will always be my favourite. It was an extremely tough match, and we were 0-1 down despite having some good chances. The goal was extremely significant, and the manner the superstar flicked it in was sublime. Most importantly, it came at the right moment. If we hadn't scored then, maybe we would have panicked and the result could have been different. We eventually went on to win 2-1.
Which are the toughest matches which you have played in the SAFF Championship?
There have been quite a few. But if you ask me to pick a specific one, then it has to be the one which we played against Nepal in Kathmandu in the 2013 edition. It was a group stage match, and we lost 1-2 in front of a full house. It was noisy, and it has been my toughest match in the Championship so far.
Who has been the most lethal Indian player that you have played with in the Championship?
That's a really difficult one to answer as there have been many. But I will go for Bhaichung-da, and I don't need to explain it. His name itself is self-explanatory.
With whom have you shared the best relationship on and off the field?
As I have played with so many players, it has kept changing. But I am quite fortunate with whom I have enjoyed my relationship on and off the field. If I stick purely on the pitch, I will pick up Bhaichung-da (Bhutia) and Jeje (Lalpekhlua), and it has more to do with my combination and understanding with them.
But if it's a mix, and the proximity which we share then it has to be Eugeneson Lyngdoh. Despite him playing for a very short time, I am extremely fond of him, and we are very close. But then I am close to everyone.
Who has been your favourite player in the SAFF region?
We as a nation have been very dominant in the SAFF Championships. But if I am not to mention any from my country, I will always vote for Ali Ashfaq. He has been extraordinary, deadly when he has the ball at his feet.

Disclaimer: This post has been auto-published from an agency/news feed without any modifications to the text and has not been reviewed by an editor.

Source link