N Korea says it fired anti-aircraft missile, 4th recent test

North Korea says it test-fired a new anti-aircraft missile


Disclaimer: This post has been auto-published from an agency/news feed without any modifications to the text and has not been reviewed by an editor.

Source link
'I gave up hope – then a metal detectorist messaged me': eight readers on lost and found possessions | Life and style
'I found my books in a secondhand shop, 20 years later'
Many years ago, as a twentysomething in Dublin, I had to leave a flat I had been living in quickly, and inadvertently left behind a shelf full of books. When I went back a week later, the landlord had thrown them out. Twenty years on, I returned to Dublin with my daughter and found three of the books in a secondhand shop, with the date and my signature on them.
Karl Sweeney, financial analyst, Prague
'I posted a drawing of my missing ring on Twitter'
I lost my wedding ring in the sea while surfing at Saunton, North Devon, in May 2021. I watched it sink to the seabed and my mates helped me to search for it, but the waves were too strong and we had to stop looking. I posted a drawing of the ring on Twitter in case, by some miracle, someone found it – but despite a few searches by kind strangers, I gave up hope. Months went by and then I had a message on 24 July – which is actually my wedding anniversary – from a metal detectorist called Mark. He had seen my Twitter post and said he had found my ring! A few weeks later, I was reunited with it.
Jenny Urquhart, artist, Bristol
'My guitar was stolen, but we were reunited after 17 years'
In 1999, I was living in Archway, north London, and we had a break-in. Among the things that were nicked was my much-loved Univox Hi-Flier electric guitar. Seventeen years later, a friend messaged me to say he thought he'd seen it on eBay. I looked online and it was my old guitar. The listing even mentioned that the legend "Toby 2" was scratched into the back. I contacted the seller, with a copy of a very old police report of the theft, and he immediately took it off eBay and said he wanted to return it to me as it was "the right thing to do". He had only recently found it in a pawn shop. Unbelievably, my guitar and I were reunited – but I still wonder what adventures it had during those 17 years.
Toby Macfarlaine, musician, Worthing
'I gave up hope of receiving the artwork I'd bought'
A few years ago, I ordered an artwork from a gallery in New York. It was my first "art purchase" – a limited edition print – but it never arrived in the post; the gallery insisted they had sent it correctly. It wasn't super expensive and as there was no tracking on the parcel, I gave up hope of ever seeing it. Four months later, I was in a pub on the Portobello Road in London when my wife noticed a carrier bag under the table. In the bag was a single item – a cardboard mailing tube, bearing my name and address. Inside was the print from the gallery in New York – a remarkable coincidence that I still can't quite believe to this day.
Alex, entrepreneur, London
'My wallet was returned – with the Leonard Cohen tickets safe inside'
In 1970, I was an art student and Leonard Cohen was coming to town for his first London gig. I got up early one Saturday and queued outside the Royal Albert Hall to buy two front-row tickets. Later that morning, after walking from Kensington Gardens to a busy Oxford Street, I reached into my pocket and realised, to my horror, that my wallet with the tickets in it had disappeared. In a blind panic, I went to the nearest police station – I'm not sure if I was hoping to report the loss, or find that it had been handed in. At the station, the desk sergeant asked casually what was inside the wallet and I blurted out, "Two Leonard Cohen tickets and nothing else!" To my astonishment, he gave me my wallet with the two tickets safe inside. I don't know who handed it in, but that kind and honest act considerably strengthened my faith in humanity.
LS, London
'A couple found my photos in the loft at my old house'
I didn't realise I had left a box of photos from my 20s and early 30s in the loft of a house I sold in early 2000. In the intervening years, the house was sold again, and then those owners were preparing to emigrate to New Zealand. They found the box, full of memories of my university years, friends' weddings, family events and a couple of holidays to Nepal and Thailand, in the clear out. There was also an old envelope with my name on it, so they put a shout-out on a local Facebook page. I got in touch and spent a day reliving some wonderful memories going through all my old photos.
Jacqui McKnight, school data manager, Manchester
'Tears were shed when I realised Ping was gone'
I grew up on the Isle of Skye and, aged seven, against good advice, I took my beloved stuffed panda, Ping, with me on a day trip to the mainland on the ferry. It wasn't until the ferry home that I realised I had mislaid him somewhere in the fishing village of Mallaig. I was distraught and many tears were shed when I realised he was gone for ever. A year or so later, I went to Mallaig again with my mum to buy something in the hardware shop. As my mum was paying, I spotted a small panda that looked like Ping sitting high on a shelf behind the till. We remarked at how nice the panda was, and the shop assistant said: "Oh yes, he's been sitting here for months. A wee girl left him here and we've been looking after him ever since." I couldn't believe it! After verifying that it was indeed Ping (he had a telltale hole in his bum) I got to take my beloved panda home again.
Eilidh, solicitor, Edinburgh
'A glint of silver caught my eye. It was my ring'
A few years ago, I looked at my left hand and realised my wedding band was missing. It was so strange – I never take it off and it fits snugly. I figured it would turn up somewhere around the house, but it never did and I resigned myself to having to buy a new ring at some point. Months later, on a visit to my in-laws who live halfway across the country, we borrowed their car to take a day trip. Near the end of the trip, as I buckled my baby into her car seat, a glint of silver on the back seat caught my eye. It was my ring! It was so odd – we live miles away and I truly couldn't remember the last time we were in their car. Was it somehow caught up in my belongings all this time and only popped out in the car on that trip – despite the fact that we took two flights to get there? To this day it remains a mystery, but I'm so glad to have my ring back.
Amanda Leddy, research facilitator, Canada

Disclaimer: This post has been auto-published from an agency/news feed without any modifications to the text and has not been reviewed by an editor.

Source link
James Bond film premiere: Kate Middleton and other stars line the red carpet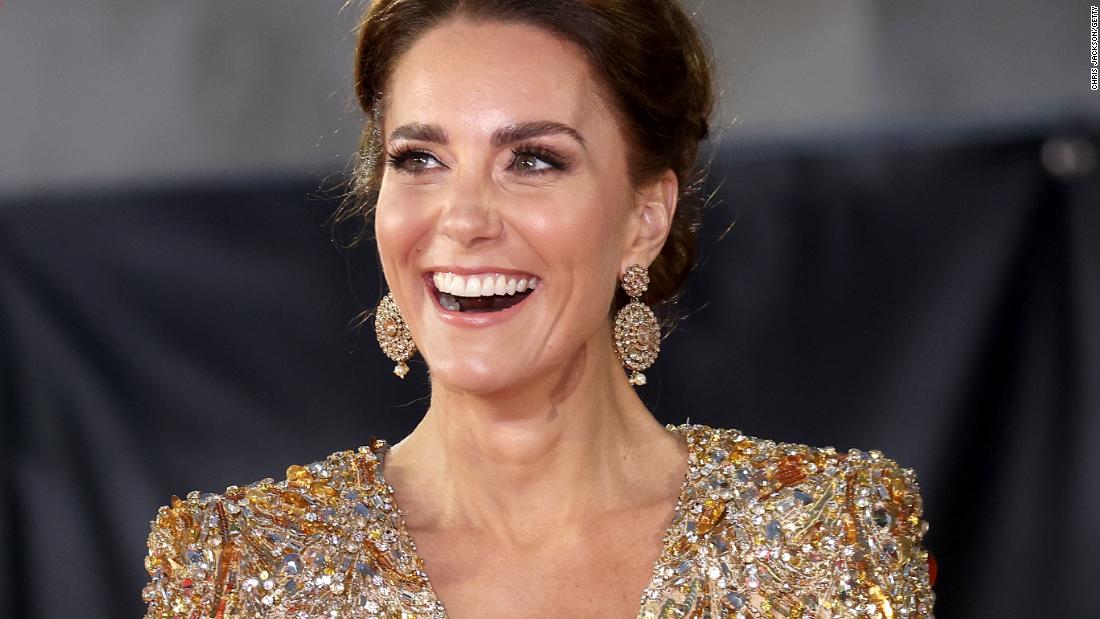 It may have been a long time coming, but Tuesday's world premiere of the new James Bond film did not disappoint.
Stars of screen and stage turned out alongside British royalty for the glittering "No Time to Die" red carpet event at London's Royal Albert Hall.
Britain's Kate, the Duchess of Cambridge, speaks to British actor Daniel Craig upon arrival for the world premiere of the new film James Bond film, "No Time To Die," in London, Tuesday, Sept. 28, 2021. (Chris Jackson/Pool Photo via AP) Credit: Chris Jackson/Pool Photo via AP
Ana de Armas wore a custom velvet Louis Vuitton gown with a plunging neckline and thigh-high split. Credit: Samir Hussein/WireImage/Getty Images
The long-delayed movie, which is Daniel Craig's fifth and final performance as the iconic British agent, was originally scheduled for release in April 2020, but it has been set back numerous times due to the global pandemic.
Kate, the Duchess of Cambridge, who attended alongside her husband, Prince William, and her in-laws, the Prince of Wales and the Duchess of Cornwall, dazzled onlookers in a floor-length gilded gown by Jenny Packham.
Naomie Harris, who stars as Eve Moneypenny, arrived in a white sequined Michael Kors Collection slip dress. Credit: Karwai Tang/WireImage/Getty Images
Former Bond girl Michelle Yeoh donned a misty-hued Elie Saab dress. Credit: Karwai Tang/WireImage/Getty Images
Kate was photographed chatting with Craig, who looked as dapper as ever in a double-breasted cerise velvet tuxedo jacket by Anderson & Sheppard over a white shirt and black bow tie.
Siblings Finneas O'Connell and Billie Eilish, who co-wrote the movie's theme tune, attended the premiere. Credit: P. Lehman/Barcroft Media/Getty Images
Screenwriter Phoebe Waller-Bridge, of "Fleabag" fame, paired a black jumpsuit by Olivier Theyskens with an Azzaro cream overcoat. Credit: Karwai Tang/WireImage/Getty Images
The 53-year-old actor, who first took on the Bond role in the 2006 blockbuster "Casino Royale," told the PA news agency his plans to retire from the franchise haven't changed, but he was delighted to be at the event.
"It's been a bittersweet couple of years, so one has to keep things in perspective. The decision to leave is still there, I'm just glad that we've got a chance to celebrate tonight and have a premiere. That seemed like such a faraway thing for a while," Craig said.
Directed by Cary Joji Fukunaga, whose previous credits include "Jane Eyre" and "True Detective," and written in part by Phoebe Waller-Bridge, "No Time to Die" is the 25th movie in the James Bond series.
Also dazzling onlookers were Craig's co-stars, Naomie Harris, Lashana Lynch, Ana de Armas and Léa Seydoux.
Tennis ace Emma Raducanu walked the red carpet in a Hellenic silver Dior gown. Credit: Samir Hussein/WireImage/Getty Images
Rami Malek, who immortalized Freddie Mercury in "Bohemian Rhapsody," plays a villiain in the new Bond movie. Credit: P. Lehman/Barcroft Media/Getty Images
Rami Malek, who played villain Safin, and M actor Dame Judi Dench, also graced the rain-soaked red carpet.
Many hope the long-anticipated film will kick-start a welcome return to movie theaters following its release in the UK on Thursday.
Despite much speculation about who will take up the mantle from Craig, producers of the James Bond franchise confirmed Tuesday they will not begin their search for the new leading actor until 2022.

Disclaimer: This post has been auto-published from an agency/news feed without any modifications to the text and has not been reviewed by an editor.

Source link
Changes needed on EU plan on rights in Afghanistan
GENEVA (AP) — Pakistan wants the European Union to revise its plan to step up human rights monitoring under the new Taliban leadership in Afghanistan, in part by taking into account socio-economic concerns in a country hoping to emerge from decades of war and instability.
Islamabad says "further improvements" to a resolution at the U.N.'s top human rights body are needed, including concrete pledges of assistance for the war-wracked country without using human rights as the sole criteria. Pakistan is arguably the Taliban's closest state interlocutor, with historic ties and ostensible influence with the religious militia.
The European bloc is leading an effort backed by more than 40 countries at the Human Rights Council to pass a resolution next week that would, among other things, name a special rapporteur on Afghanistan to help the country uphold its international commitments on human rights and offer support to advocacy groups — much of whose work has been disrupted under the new leadership.
The Europeans want consensus for the resolution at the council, which counts Pakistan among its 47 member countries. The rapporteur would benefit from expertise in legal affairs, torture and degrading punishment, the right to education, and the rights of women, girls and minorities, according to the resolution.
Pakistan and the Organization of Islamic Cooperation led a unanimous resolution at the council during a special session in August — before the full departure of international forces — that expressed concerns about the rights situation in Afghanistan, and called for the U.N. human rights chief to monitor the situation, with a written report planned next March. Some advocacy groups said it didn't go far enough.
In comments to The Associated Press late Thursday, Pakistani Foreign Ministry spokesman Asim Iftikhar said the EU draft resolution "needs further improvements" and that delegations were working closely on it. He said Pakistan believes the EU initiative "does not add any value to the OIC resolution adopted just a month ago with agreement of all council members."
He also said the EU proposal "seeks to pursue (human rights) concerns in isolation from security, safety, conflict, governance, and economic dimensions. The EU initiative is geared towards civil and political rights only, without any consideration of economic and social rights.
Iftikhar added: "We have also advised them to include some indication/element of assistance" for Afghanistan, without elaborating.
The reservations from Islamabad suggest that diplomatic wrangling lies ahead in coming days. The proposal fits in with a wider international effort to boost scrutiny of the rights of women, girls, ethnic minorities and others under the Taliban leadership after their ouster of the Afghan government in August and the departure of international forces in the country after some two decades.

Disclaimer: This post has been auto-published from an agency/news feed without any modifications to the text and has not been reviewed by an editor.

Source link