Fire Kills 7 in Romanian Hospital's Covid Ward
A fire tore through the intensive care unit of a Romanian hospital where Covid patients were being treated on Friday, killing at least seven people and raising public outrage over the dismal state of the nation's health care infrastructure.
It was the third deadly hospital blaze in the country in less than a year, and at least two dozen people have died in those fires. An inspection in February at the hospital where the latest fire occurred, in the Black Sea port city of Constanta, had found what one official described as "malfunctions."
The cause of the fire was under investigation, and officials said that oxygen supplies had been turned off, raising the possibility that the tanks may have played a role in the blaze. Oxygen tanks being used to treat patients with severe Covid-19 have been blamed for deadly fires at other coronavirus clinics around the world, most recently killing 14 people in North Macedonia.
President Klaus Iohannis called Friday's fire "a terrible new drama that confirms the deficient infrastructure of the Romanian health system," which he characterized as "an outdated system, long strained and put under unimaginable pressure by the fourth wave of the Covid-19 pandemic."
"I am horrified by the tragedy that took place this morning," he said in a statement.
In a news conference held outside the hospital, Cristian Amarandei, the head of the local branch of Romania's emergency services, said that "irregularities, malfunctions were found" in the February inspection and that "sanctions were applied."
He said the hospital's administrator had promised to address the irregularities by the end of this year. "We have not checked since," he added.
Stela Halichidis, the hospital manager, said in a statement that "all the defects were fixed" and that "everything worked according to the law."
The coronavirus continues to spread widely in Romania, which has the European Union's second-lowest vaccination rate. More than 12,000 new cases were reported on Thursday, a new record. Over 12,000 Covid patients are now in the country's hospitals, including more than 1,300 in intensive care units, according to the health ministry.
When the pandemic hit, even before a new wave of infection driven by the Delta variant this spring, there was concern that Romania's health care system would buckle under the pressure. Tens of thousands of doctors and nurses have emigrated from the country, only one new hospital has been built there since the fall of Communism in 1989, and Romania's spending on its health care system is among the lowest in the European Union.
After a fire at Matei Bals hospital in Bucharest killed several people in January, President Iohannis called for "profound" reform and said that such tragedies "must not happen again."
Criminal investigations into the two earlier fires have yet to reveal the cause of the blazes or result in anyone being held responsible.

Disclaimer: This post has been auto-published from an agency/news feed without any modifications to the text and has not been reviewed by an editor.

Source link
UK May Relax Visa Rules for Some as Nation Faces 'Shortage of Butchers' Ahead of Christmas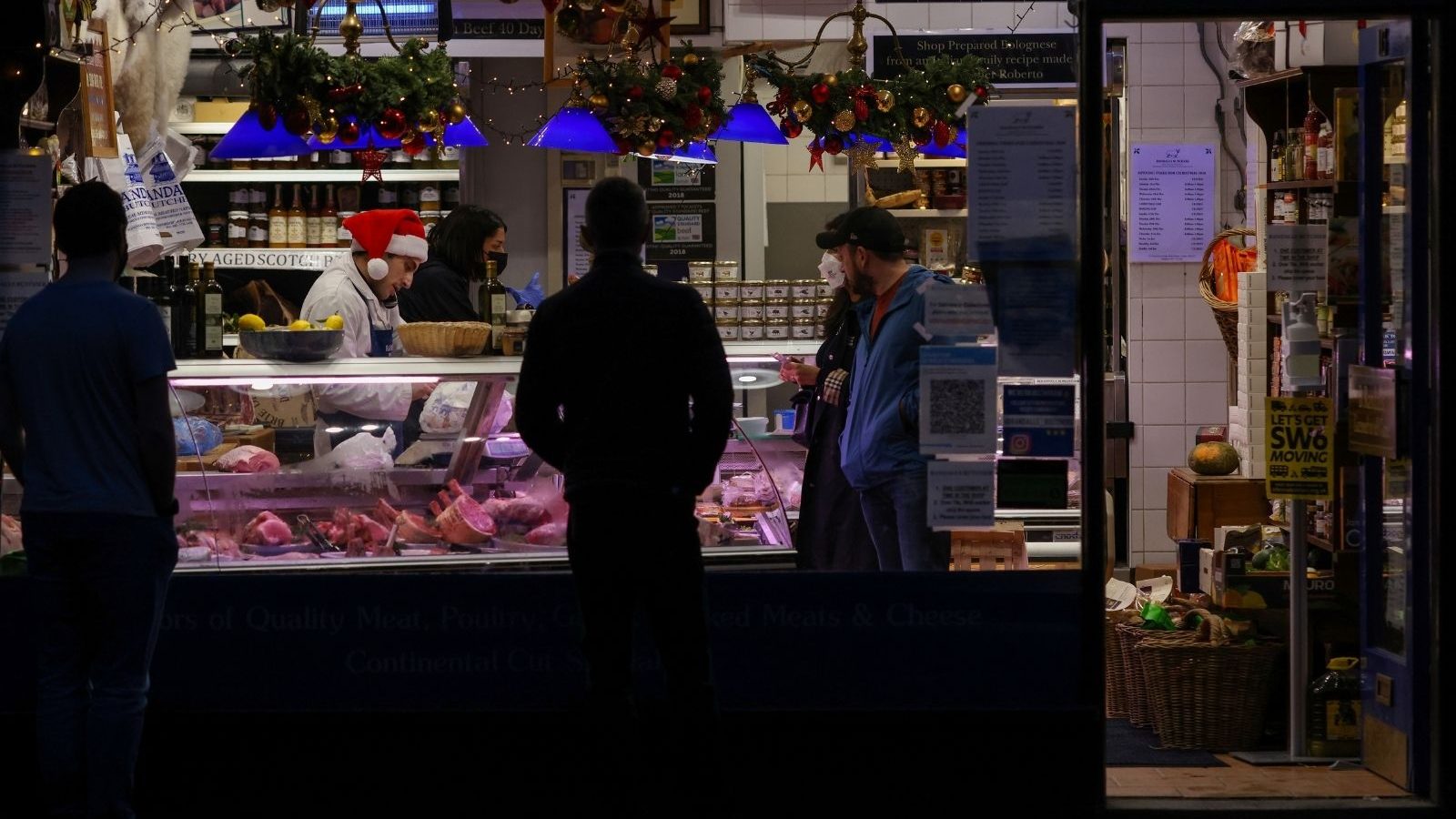 Visa restrictions could be eased for hundreds of foreign butchers, British media reported on Friday, after industry warnings that a shortage could hit Christmas food supplies.
The Times quoted the British Meat Processors Association as saying the sector is short of 15,000 workers, and that up to 1,000 butchers could now be allowed in to the country.
Britain tightened its immigration rules after the country's full departure from the European Union in January, which ended free movement of people and workers across the bloc.
ALSO READ | Australia to Lift 18-month International Covid-19 Travel Ban From November
The government last weekend announced a temporary visa waiver for 5,000 foreign lorry drivers to try to improve worsening supply chain issues due to a lack of truckers.
Many foreign lorry and tanker drivers left after Brexit and during the coronavirus pandemic, hitting supermarket deliveries and also fuel supplies, leading to panic-buying.
Ministers also announced temporary visas for poultry workers, as concerns grow that turkey, like pork products, will be short supply at Christmas.
Retail and hospitality, which are also experiencing high seasonal staff vacancies, also want foreign workers to be allowed back.
The president of the National Farmers' Union Minette Batters called on the government to act to avert an "animal welfare crisis" in the pig industry.
She said 150,000 pigs could be culled in a week unless the government issues visas to foreign butchers.
"We have a got a real crisis situation building in the pig sector," Batters told the BBC.
"Pigs are not coming through onto the marketplace as they are being held back on farm. This will be an animal welfare crisis if it is not resolved," she added.
Rob Mutimer, chairman of the National Pig Association, said Britain was heading into an "acute welfare disaster very quickly", and a "mass cull of animals".
"These animals won't go into the food chain. They will either be rendered or if not, sent for incineration. So, it's an absolute travesty," he said.
A spokesman for the Department For Environment, Food and Rural Affairs said the government was "working closely with the pig and processing sectors".
"We are keeping the market under close review and continuing to work closely with the sector to explore options to address the pressures industry is currently facing," he added.
Read all the Latest News, Breaking News and Coronavirus News here. Follow us on Facebook, Twitter and Telegram.



Disclaimer: This post has been auto-published from an agency/news feed without any modifications to the text and has not been reviewed by an editor.

Source link
DeFi protocol Compound mistakenly gives away $90 million to users
About $90.1 million has mistakenly gone out to users of popular DeFi staking protocol Compound after an upgrade gone epically wrong. Now, the founder is making a plea — and issuing a few threats — to incentivize the voluntary return of the platform's crypto tokens.
"If you received a large, incorrect amount of COMP from the Compound protocol error: Please return it," Robert Leshner, founder of Compound Labs, tweeted late Thursday.
"Keep 10% as a white-hat. Otherwise, it's being reported as income to the IRS, and most of you are doxxed," continued the tweet.
The price of Compound's native token, COMP, initially plunged nearly 13% in a day on news of the bug, but it's since gained back ground.
Whether reward recipients choose to return many millions of dollars to the platform remains to be seen, though if history is any indication, it is certainly possible.
"Alchemix [another decentralized finance, or DeFi, protocol] had a similar incident a few months back where they gave out more rewards than intended," blockchain security researcher Mudit Gupta told CNBC. "Almost everyone who got the extra rewards refunded the extra."
What is different here is that the Alchemix exchange lost just $4.8 million.
But Gupta remains hopeful.
"This makes me optimistic that people will refund most of COMP tokens, as well, but you can never be sure," he said.
What went wrong
DeFi protocols like Compound are designed to recreate traditional financial systems such as banks and exchanges using blockchains enriched with self-executing smart contracts.
On Wednesday, Compound rolled out what should have been a pretty standard upgrade. But soon after implementation, it was clear that something had gone seriously wrong.
"The new Comptroller contract contains a bug, causing some users to receive far too much COMP," explained Leshner in a tweet.
"There are no admin controls or community tools to disable the COMP distribution; any changes to the protocol require a 7-day governance process to make their way into production," he added, indicating that no fix could take effect for seven days.
Gupta, a core developer at decentralized crypto exchange SushiSwap, said in a tweet that the entire episode could be blamed on a "one-letter bug" in the code.
Compound made clear that no supplied or borrowed funds were at risk, but that did little to soften the blow.
Protocol users en masse began reporting massive windfalls. Soon after Leshner's tweet about the bug, $29 million worth of COMP tokens were claimed in one transaction. Another claimed that they received 70 million COMP tokens into their account, or about $20.8 million at the time of their post.
The list of COMP token millionaires goes on.
For users accustomed to providing their crypto to borrowers at a set interest rate, which is typically a single-digit APY, the erroneous and sizable rewards were certainly a nice change in pace.
Leshner made clear, however, that there is a cap to the carnage. The Compound chief tweeted that the Comptroller contract address "contains a limited quantity of COMP."
"The impact is bounded, at worst, 280,000 COMP tokens," Leshner wrote. Gupta told CNBC that this entire pool of tokens — worth about $90.1 million, as of the time of publication — has already been handed out.
Threats lack teeth
Newly-minted COMP token millionaires now have a few options.
Bitcoin developer Ben Carman points out that it isn't really possible for the platform to reclaim the money.
"They shouldn't be able to recall the money without rolling back the chain," explained Carman. "They'd have to purposefully 51% attack the chain to get rid of some blocks."
So, it is up to a user's discretion to decide next steps.
As a hypothetical, let's take the account holder who was accidentally gifted $29 million in COMP tokens in error. This user could return the funds and hold onto the $2.9 million "white-hat" tip. But there is also nothing to keep them from holding their mistaken reward and risk being "doxxed."
Doxxing someone means making public what is considered private information about an individual, which in the cryptosphere, is tantamount to committing a cardinal sin.
"Doxxing their customers is about the worst thing a crypto company can do from a PR perspective," Mati Greenspan, portfolio manager and Quantum Economics founder, told CNBC.
And it seems unlikely Leshner would pursue that route. He was quick to walk back his Thursday evening tweet, saying that, it "was a bone-headed tweet/approach."
And then there's the threat related to the mistaken reward being reported to the IRS.
"Section 61 of the IRS code defines income very broadly. If you received a large sum from this error and decide to keep it, that would be considered income," explained Shehan Chandrasekera, a CPA and head of tax strategy at crypto tax software company CoinTracker.io.
Users who were mistakenly awarded extra tokens could voluntarily return the funds. In that scenario, Chandrasekera says that "technically the recipient is supposed to pay income tax based on the market value of the coins at the time of receipt, but if he or she returns the funds, there's no reason to report the income."
But Chandrasekera also makes clear that no one has to return the funds. If their reward is reported to the IRS, they would simply be subject to income taxes on that amount.
So that $29 million COMP token winner stands to take the most home in a scenario where they just pay up to Uncle Sam, rather than pay it back to Compound.
But as Greenspan points out, how things play out with this bug is almost entirely beside the point. "The bigger issue is – can it happen again?" he said.
Compound is the world's fifth-largest DeFi protocol with a total value locked of $9.65 billion, according to DeFi Llama, which provides ranking and metrics for DeFi protocols.
"The protocol can easily absorb a loss of $90 million and a lot of it will likely be returned, but the larger issue would be if people lose confidence in the system's ability to function properly," said Greenspan.



Disclaimer: This post has been auto-published from an agency/news feed without any modifications to the text and has not been reviewed by an editor.

Source link
N Korea says it fired anti-aircraft missile, 4th recent test

North Korea says it test-fired a new anti-aircraft missile


Disclaimer: This post has been auto-published from an agency/news feed without any modifications to the text and has not been reviewed by an editor.

Source link