DeFi protocol Compound mistakenly gives away $90 million to users
About $90.1 million has mistakenly gone out to users of popular DeFi staking protocol Compound after an upgrade gone epically wrong. Now, the founder is making a plea — and issuing a few threats — to incentivize the voluntary return of the platform's crypto tokens.
"If you received a large, incorrect amount of COMP from the Compound protocol error: Please return it," Robert Leshner, founder of Compound Labs, tweeted late Thursday.
"Keep 10% as a white-hat. Otherwise, it's being reported as income to the IRS, and most of you are doxxed," continued the tweet.
The price of Compound's native token, COMP, initially plunged nearly 13% in a day on news of the bug, but it's since gained back ground.
Whether reward recipients choose to return many millions of dollars to the platform remains to be seen, though if history is any indication, it is certainly possible.
"Alchemix [another decentralized finance, or DeFi, protocol] had a similar incident a few months back where they gave out more rewards than intended," blockchain security researcher Mudit Gupta told CNBC. "Almost everyone who got the extra rewards refunded the extra."
What is different here is that the Alchemix exchange lost just $4.8 million.
But Gupta remains hopeful.
"This makes me optimistic that people will refund most of COMP tokens, as well, but you can never be sure," he said.
What went wrong
DeFi protocols like Compound are designed to recreate traditional financial systems such as banks and exchanges using blockchains enriched with self-executing smart contracts.
On Wednesday, Compound rolled out what should have been a pretty standard upgrade. But soon after implementation, it was clear that something had gone seriously wrong.
"The new Comptroller contract contains a bug, causing some users to receive far too much COMP," explained Leshner in a tweet.
"There are no admin controls or community tools to disable the COMP distribution; any changes to the protocol require a 7-day governance process to make their way into production," he added, indicating that no fix could take effect for seven days.
Gupta, a core developer at decentralized crypto exchange SushiSwap, said in a tweet that the entire episode could be blamed on a "one-letter bug" in the code.
Compound made clear that no supplied or borrowed funds were at risk, but that did little to soften the blow.
Protocol users en masse began reporting massive windfalls. Soon after Leshner's tweet about the bug, $29 million worth of COMP tokens were claimed in one transaction. Another claimed that they received 70 million COMP tokens into their account, or about $20.8 million at the time of their post.
The list of COMP token millionaires goes on.
For users accustomed to providing their crypto to borrowers at a set interest rate, which is typically a single-digit APY, the erroneous and sizable rewards were certainly a nice change in pace.
Leshner made clear, however, that there is a cap to the carnage. The Compound chief tweeted that the Comptroller contract address "contains a limited quantity of COMP."
"The impact is bounded, at worst, 280,000 COMP tokens," Leshner wrote. Gupta told CNBC that this entire pool of tokens — worth about $90.1 million, as of the time of publication — has already been handed out.
Threats lack teeth
Newly-minted COMP token millionaires now have a few options.
Bitcoin developer Ben Carman points out that it isn't really possible for the platform to reclaim the money.
"They shouldn't be able to recall the money without rolling back the chain," explained Carman. "They'd have to purposefully 51% attack the chain to get rid of some blocks."
So, it is up to a user's discretion to decide next steps.
As a hypothetical, let's take the account holder who was accidentally gifted $29 million in COMP tokens in error. This user could return the funds and hold onto the $2.9 million "white-hat" tip. But there is also nothing to keep them from holding their mistaken reward and risk being "doxxed."
Doxxing someone means making public what is considered private information about an individual, which in the cryptosphere, is tantamount to committing a cardinal sin.
"Doxxing their customers is about the worst thing a crypto company can do from a PR perspective," Mati Greenspan, portfolio manager and Quantum Economics founder, told CNBC.
And it seems unlikely Leshner would pursue that route. He was quick to walk back his Thursday evening tweet, saying that, it "was a bone-headed tweet/approach."
And then there's the threat related to the mistaken reward being reported to the IRS.
"Section 61 of the IRS code defines income very broadly. If you received a large sum from this error and decide to keep it, that would be considered income," explained Shehan Chandrasekera, a CPA and head of tax strategy at crypto tax software company CoinTracker.io.
Users who were mistakenly awarded extra tokens could voluntarily return the funds. In that scenario, Chandrasekera says that "technically the recipient is supposed to pay income tax based on the market value of the coins at the time of receipt, but if he or she returns the funds, there's no reason to report the income."
But Chandrasekera also makes clear that no one has to return the funds. If their reward is reported to the IRS, they would simply be subject to income taxes on that amount.
So that $29 million COMP token winner stands to take the most home in a scenario where they just pay up to Uncle Sam, rather than pay it back to Compound.
But as Greenspan points out, how things play out with this bug is almost entirely beside the point. "The bigger issue is – can it happen again?" he said.
Compound is the world's fifth-largest DeFi protocol with a total value locked of $9.65 billion, according to DeFi Llama, which provides ranking and metrics for DeFi protocols.
"The protocol can easily absorb a loss of $90 million and a lot of it will likely be returned, but the larger issue would be if people lose confidence in the system's ability to function properly," said Greenspan.



Disclaimer: This post has been auto-published from an agency/news feed without any modifications to the text and has not been reviewed by an editor.

Source link
N Korea says it fired anti-aircraft missile, 4th recent test

North Korea says it test-fired a new anti-aircraft missile


Disclaimer: This post has been auto-published from an agency/news feed without any modifications to the text and has not been reviewed by an editor.

Source link
'I gave up hope – then a metal detectorist messaged me': eight readers on lost and found possessions | Life and style
'I found my books in a secondhand shop, 20 years later'
Many years ago, as a twentysomething in Dublin, I had to leave a flat I had been living in quickly, and inadvertently left behind a shelf full of books. When I went back a week later, the landlord had thrown them out. Twenty years on, I returned to Dublin with my daughter and found three of the books in a secondhand shop, with the date and my signature on them.
Karl Sweeney, financial analyst, Prague
'I posted a drawing of my missing ring on Twitter'
I lost my wedding ring in the sea while surfing at Saunton, North Devon, in May 2021. I watched it sink to the seabed and my mates helped me to search for it, but the waves were too strong and we had to stop looking. I posted a drawing of the ring on Twitter in case, by some miracle, someone found it – but despite a few searches by kind strangers, I gave up hope. Months went by and then I had a message on 24 July – which is actually my wedding anniversary – from a metal detectorist called Mark. He had seen my Twitter post and said he had found my ring! A few weeks later, I was reunited with it.
Jenny Urquhart, artist, Bristol
'My guitar was stolen, but we were reunited after 17 years'
In 1999, I was living in Archway, north London, and we had a break-in. Among the things that were nicked was my much-loved Univox Hi-Flier electric guitar. Seventeen years later, a friend messaged me to say he thought he'd seen it on eBay. I looked online and it was my old guitar. The listing even mentioned that the legend "Toby 2" was scratched into the back. I contacted the seller, with a copy of a very old police report of the theft, and he immediately took it off eBay and said he wanted to return it to me as it was "the right thing to do". He had only recently found it in a pawn shop. Unbelievably, my guitar and I were reunited – but I still wonder what adventures it had during those 17 years.
Toby Macfarlaine, musician, Worthing
'I gave up hope of receiving the artwork I'd bought'
A few years ago, I ordered an artwork from a gallery in New York. It was my first "art purchase" – a limited edition print – but it never arrived in the post; the gallery insisted they had sent it correctly. It wasn't super expensive and as there was no tracking on the parcel, I gave up hope of ever seeing it. Four months later, I was in a pub on the Portobello Road in London when my wife noticed a carrier bag under the table. In the bag was a single item – a cardboard mailing tube, bearing my name and address. Inside was the print from the gallery in New York – a remarkable coincidence that I still can't quite believe to this day.
Alex, entrepreneur, London
'My wallet was returned – with the Leonard Cohen tickets safe inside'
In 1970, I was an art student and Leonard Cohen was coming to town for his first London gig. I got up early one Saturday and queued outside the Royal Albert Hall to buy two front-row tickets. Later that morning, after walking from Kensington Gardens to a busy Oxford Street, I reached into my pocket and realised, to my horror, that my wallet with the tickets in it had disappeared. In a blind panic, I went to the nearest police station – I'm not sure if I was hoping to report the loss, or find that it had been handed in. At the station, the desk sergeant asked casually what was inside the wallet and I blurted out, "Two Leonard Cohen tickets and nothing else!" To my astonishment, he gave me my wallet with the two tickets safe inside. I don't know who handed it in, but that kind and honest act considerably strengthened my faith in humanity.
LS, London
'A couple found my photos in the loft at my old house'
I didn't realise I had left a box of photos from my 20s and early 30s in the loft of a house I sold in early 2000. In the intervening years, the house was sold again, and then those owners were preparing to emigrate to New Zealand. They found the box, full of memories of my university years, friends' weddings, family events and a couple of holidays to Nepal and Thailand, in the clear out. There was also an old envelope with my name on it, so they put a shout-out on a local Facebook page. I got in touch and spent a day reliving some wonderful memories going through all my old photos.
Jacqui McKnight, school data manager, Manchester
'Tears were shed when I realised Ping was gone'
I grew up on the Isle of Skye and, aged seven, against good advice, I took my beloved stuffed panda, Ping, with me on a day trip to the mainland on the ferry. It wasn't until the ferry home that I realised I had mislaid him somewhere in the fishing village of Mallaig. I was distraught and many tears were shed when I realised he was gone for ever. A year or so later, I went to Mallaig again with my mum to buy something in the hardware shop. As my mum was paying, I spotted a small panda that looked like Ping sitting high on a shelf behind the till. We remarked at how nice the panda was, and the shop assistant said: "Oh yes, he's been sitting here for months. A wee girl left him here and we've been looking after him ever since." I couldn't believe it! After verifying that it was indeed Ping (he had a telltale hole in his bum) I got to take my beloved panda home again.
Eilidh, solicitor, Edinburgh
'A glint of silver caught my eye. It was my ring'
A few years ago, I looked at my left hand and realised my wedding band was missing. It was so strange – I never take it off and it fits snugly. I figured it would turn up somewhere around the house, but it never did and I resigned myself to having to buy a new ring at some point. Months later, on a visit to my in-laws who live halfway across the country, we borrowed their car to take a day trip. Near the end of the trip, as I buckled my baby into her car seat, a glint of silver on the back seat caught my eye. It was my ring! It was so odd – we live miles away and I truly couldn't remember the last time we were in their car. Was it somehow caught up in my belongings all this time and only popped out in the car on that trip – despite the fact that we took two flights to get there? To this day it remains a mystery, but I'm so glad to have my ring back.
Amanda Leddy, research facilitator, Canada

Disclaimer: This post has been auto-published from an agency/news feed without any modifications to the text and has not been reviewed by an editor.

Source link
James Bond film premiere: Kate Middleton and other stars line the red carpet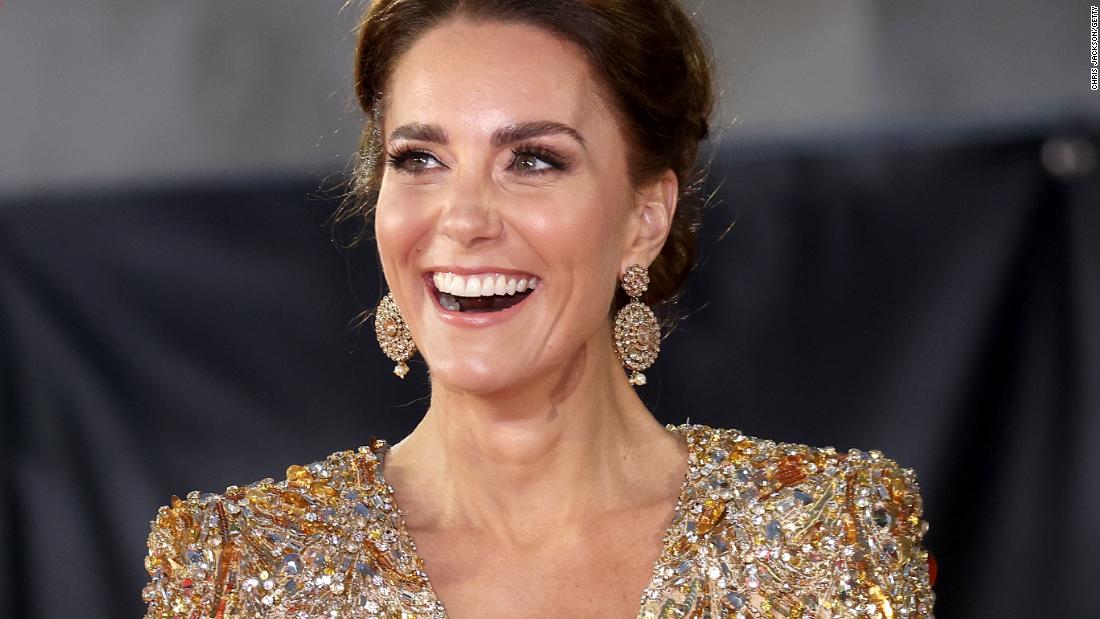 It may have been a long time coming, but Tuesday's world premiere of the new James Bond film did not disappoint.
Stars of screen and stage turned out alongside British royalty for the glittering "No Time to Die" red carpet event at London's Royal Albert Hall.
Britain's Kate, the Duchess of Cambridge, speaks to British actor Daniel Craig upon arrival for the world premiere of the new film James Bond film, "No Time To Die," in London, Tuesday, Sept. 28, 2021. (Chris Jackson/Pool Photo via AP) Credit: Chris Jackson/Pool Photo via AP
Ana de Armas wore a custom velvet Louis Vuitton gown with a plunging neckline and thigh-high split. Credit: Samir Hussein/WireImage/Getty Images
The long-delayed movie, which is Daniel Craig's fifth and final performance as the iconic British agent, was originally scheduled for release in April 2020, but it has been set back numerous times due to the global pandemic.
Kate, the Duchess of Cambridge, who attended alongside her husband, Prince William, and her in-laws, the Prince of Wales and the Duchess of Cornwall, dazzled onlookers in a floor-length gilded gown by Jenny Packham.
Naomie Harris, who stars as Eve Moneypenny, arrived in a white sequined Michael Kors Collection slip dress. Credit: Karwai Tang/WireImage/Getty Images
Former Bond girl Michelle Yeoh donned a misty-hued Elie Saab dress. Credit: Karwai Tang/WireImage/Getty Images
Kate was photographed chatting with Craig, who looked as dapper as ever in a double-breasted cerise velvet tuxedo jacket by Anderson & Sheppard over a white shirt and black bow tie.
Siblings Finneas O'Connell and Billie Eilish, who co-wrote the movie's theme tune, attended the premiere. Credit: P. Lehman/Barcroft Media/Getty Images
Screenwriter Phoebe Waller-Bridge, of "Fleabag" fame, paired a black jumpsuit by Olivier Theyskens with an Azzaro cream overcoat. Credit: Karwai Tang/WireImage/Getty Images
The 53-year-old actor, who first took on the Bond role in the 2006 blockbuster "Casino Royale," told the PA news agency his plans to retire from the franchise haven't changed, but he was delighted to be at the event.
"It's been a bittersweet couple of years, so one has to keep things in perspective. The decision to leave is still there, I'm just glad that we've got a chance to celebrate tonight and have a premiere. That seemed like such a faraway thing for a while," Craig said.
Directed by Cary Joji Fukunaga, whose previous credits include "Jane Eyre" and "True Detective," and written in part by Phoebe Waller-Bridge, "No Time to Die" is the 25th movie in the James Bond series.
Also dazzling onlookers were Craig's co-stars, Naomie Harris, Lashana Lynch, Ana de Armas and Léa Seydoux.
Tennis ace Emma Raducanu walked the red carpet in a Hellenic silver Dior gown. Credit: Samir Hussein/WireImage/Getty Images
Rami Malek, who immortalized Freddie Mercury in "Bohemian Rhapsody," plays a villiain in the new Bond movie. Credit: P. Lehman/Barcroft Media/Getty Images
Rami Malek, who played villain Safin, and M actor Dame Judi Dench, also graced the rain-soaked red carpet.
Many hope the long-anticipated film will kick-start a welcome return to movie theaters following its release in the UK on Thursday.
Despite much speculation about who will take up the mantle from Craig, producers of the James Bond franchise confirmed Tuesday they will not begin their search for the new leading actor until 2022.

Disclaimer: This post has been auto-published from an agency/news feed without any modifications to the text and has not been reviewed by an editor.

Source link