WHO horrified over sexual exploitation by aid workers in DR Congo
World Health Organization (WHO) staff were among 83 aid workers who sexually abused women and girls while tackling the Ebola outbreak in the Democratic Republic of Congo, a report finds.
The abuses, which included nine allegations of rape, were committed by both national and international workers between 2018 and 2020.
The report comes after more than 50 local women reported sexual abuse.
WHO Director-General Tedros Adhanom Ghebreyesus said it was "inexcusable".
The 35-page report was produced by an independent commission following an investigation.
The commission, which interviewed dozens of women who had alleged they were offered work in exchange for sex, found that 21 of the 83 alleged perpetrators were employed by WHO.
Local women were also allegedly plied with drinks, "ambushed" in hospitals, forced to have sex, and two became pregnant.
The WHO said it was terminating the contracts of four people who were still employed by the organisation and promised more measures would be taken.
Speaking at a news conference on Tuesday, Dr Tedros said it made for harrowing reading and apologised directly to the victims and survivors.
"I'm sorry for what was done to you by people who are employed by WHO to serve and protect you," he said. "It is my top priority that the perpetrators are not excused, but held to account."
He said the responsibility ultimately rested with him and promised to help support and protect victims, while vowing to overhaul the WHO's structure and culture.
WHO Africa regional director Matshidiso Moeti also apologised to those who suffered "because of the actions of our staff".
She said she was "humbled, horrified and heartbroken" by the inquiry's findings.
The commission said it found "clear structural failures and unpreparedness to manage the risks of incidents of sexual exploitation and abuse" in the central African country.
It said this was partly because of the focus on eradicating Ebola.
More than 2,000 people died in the Ebola outbreak in DR Congo.
The WHO, which spearheaded global efforts to curb the spread of the outbreak, declared it over in June last year.

Disclaimer: This post has been auto-published from an agency/news feed without any modifications to the text and has not been reviewed by an editor.

Source link
Police suspect foul play in Swedish apartment building explosion | Sweden News
Up to 20 people were injured as an explosion in Gothenburg set ablaze an apartment block in a central residential area.
A powerful explosion has rocked an apartment building in the Swedish city of Gothenburg, setting off multiple fires, injuring up to 20 people and forcing the evacuation of hundreds.
The explosion took place just before 5am (03:00 GMT) on Tuesday in the Annedal district in Sweden's second-largest city. Flames spread to several apartments, and fire department crews were still working to extinguish the flames mid-morning.
Jon Pile, operations manager at the local rescue service, told reporters it appeared the explosion took place in the building's inner courtyard, which had its entry gate blown away. He added some people jumped out of their windows to escape.
Police spokesman Thomas Fuxborg said the cause of the explosion was not yet known, but he told Swedish broadcaster TV4 that investigators think foul play might have been involved. They are looking into whether any tenants might have been targeted, he said.
"We suspect that someone might have placed something that has exploded," Fuxborg said.
'The whole apartment vibrated'
Sahlgrenska University Hospital spokeswoman Ingrid Frederiksson said 16 people were taken to Gothenburg's main hospital. Four people -three older women and a man in his 50s – were being treated for serious injuries, she said. Some with lesser injuries were treated at the scene.
Building resident Lars Hulten told the daily newspaper Goteborgs-Tidningen that the sound of the explosion woke him up.
"It was probably the loudest thing I heard. The whole apartment vibrated. The bed vibrated," he said.
Hulten said he saw desperate people who "hung from balconies, climbing over balconies. There was one who fell. It was very dramatic and a very fast course of fire and smoke".
Another witness, Lars-Gunnar Wolmesjo, told Expressen newspaper that he, too, saw people on their balconies and "some climbed down, some jumped and some had to wait for the firefighters to pick them up with a ladder."
'Crime cannot be ruled out'
The blast comes amid a rise in violence between organised criminal gangs in the Scandinavian nation.
On June 30, a police officer was shot and killed in Gothenburg. A 17-year-old suspect has since been arrested.
Earlier this year, the national council for crime prevention said Sweden was the only European country where fatal shootings have risen significantly since 2000, primarily because of violent gangs.
In 2019, a powerful explosion ripped through two adjacent apartment buildings in the southern city of Linkoping, injuring 25 people and damaging more than 100 apartments. Police believe a feud between opposing criminal gangs was behind the blast. No arrests have been made.
On Tuesday, Swedish media immediately focused on the possibility that the Gothenburg blast could be related to feuding gangs, but Prime Minister Stefan Lofven repeatedly declined to speculate on a motive.
"We do not want to speculate on what this is. It is too early to draw conclusions. We do not know what the motive is. We know nothing," Lofven said.
"We all want to know more. We want to understand what happened and what was the cause of this explosion, but it's clear that crime cannot be ruled out," Home Affairs Minister Mikael Damberg added at the same press conference with Lofven.

Disclaimer: This post has been auto-published from an agency/news feed without any modifications to the text and has not been reviewed by an editor.

Source link
'I Can't Imagine a Good Future': Young Iranians Increasingly Want Out
TEHRAN — Amir, an engineering master's student standing outside Tehran University, had thought about going into digital marketing, but worried that Iran's government would restrict Instagram, as it had other apps. He had considered founding a start-up, but foresaw American sanctions and raging inflation blocking his way.
Every time he tried to plan, it seemed useless, said Amir, who at first would not give his real name. He was afraid of his country, he said, and he wanted to leave after graduation.
"I'm a person who's 24 years old, and I can't imagine my life when I'm 45," he said. "I can't imagine a good future for myself or for my country. Every day, I'm thinking about leaving. And every day, I'm thinking about, if I leave my country, what will happen to my family?"
This is life now for many educated urbanites in Tehran, the capital, who once pushed for loosening social restrictions and opening Iran to the world, and who saw the 2015 nuclear deal with the United States as a reason for hope.
But three years ago, President Donald J. Trump reneged on the agreement and reimposed harsh economic sanctions, leaving these Iranians feeling burned by the Americans and isolated under a newly elected president at home who is antithetical to their values — a hard-liner vowing further defiance of the West.
After years of sanctions, mismanagement and the pandemic, it is easy to put numbers to Iran's economic struggles. Since 2018, many prices have more than doubled, living standards have skidded and poverty has spread, especially among rural Iranians. All but the wealthiest have been brought low.
But there is no statistic for middle-class Iranians' uncertainty and increasingly pinched aspirations. Their darkening mood can best be measured in missed milestones — in the rush to leave the country after graduation, in delayed marriages and declining birthrates.
In conversations around Tehran during a recent visit, Iranians wavered between faith and despair, hope and practicality, wondering how to make the best of a situation beyond their control.
In Tehran for the day to run errands — he needed a phone, she had government paperwork — Bardja Ariafar, 19, and Zahra Saberi, 24, sat on a bench in Daneshjoo Park, exercising one of the subtle social freedoms Iranians have carved out under the strict theocracy in recent years. Despite a ban on gender mixing in public, men and women now sit together in the open.
The friends work at Digikala, the Amazon of Iran, sorting goods in a warehouse in Karaj, a suburb now full of ex-Tehran residents seeking cheaper rents. Mr. Ariafar said he was supplementing his income as a computer programmer. Ms. Saberi, like many overqualified young Iranians, had not found a job that would let her use her Persian literature degree.
If and when Ms. Saberi marries, she and her family will have to pay for their share of everything the couple would need, from household appliances, new clothes and a customary mirror-and-candlesticks set to a house. The groom's family will supply a gold-and-diamond jewelry set for the wedding.
But after Iran's currency, the rial, lost about 70 percent of its value in just a few years, her family could no longer afford it.
The rial plunged from about 43,000 to the dollar in January 2018 to about 277,000 this week, a decline that forced the government last year to introduce a new unit, the toman, to slash four zeros off the bills. But everything from rents to clothing prices is based on the dollar because most raw materials are imported, so Iranians are spending much more of their incomes on much less.
In 2020, the percentage of Iranians living on the equivalent of less than $5.60 per day had risen to 13 percent from less than 10 percent a decade ago, according to an analysis by Djavad Salehi-Isfahani, a Virginia Tech economist. It was worse in rural areas, where about a quarter of the population lives in poverty, up from 22 percent in 2019.
Increasingly, Iran's middle class has felt the pressure. Mr. Ariafar's new smartphone cost him 70 percent of a month's wages.
"It's hard to succeed and develop in Iran," he said, "so maybe that's my only choice, to go abroad."
But for Ms. Saberi, leaving was not an option.
"This is my home, my land, my culture," she said. "I can't imagine leaving it. We have to make it better, not flee."
In July, Iranian authorities unveiled a solution to Iran's marriage and childbirth crisis: a state-sanctioned dating app. But for the young Iranians the authorities would like to start families, matches may not be the problem.
Standing in Tehran's Grand Bazaar, Zahra slid on a braided gold-and-diamond wedding ring, the jewelry store's overhead lights glinting off her hot-pink manicure.
"How much?" she asked, holding her finger up for her fiancé's inspection.
"We'll give a good discount," replied Milod, 38, the owner.
"Do you have any fake diamonds?"
"No, but I'll give you a good discount," he repeated.
"I don't want real diamonds," she said, removing the ring.
With the price of gold up tenfold, by jewelers' estimates, in the past few years, more couples have opted for costume jewelry. Others marry in small, hurried ceremonies, while saving up to leave. Some postpone marriage into their 30s; others are priced out.
The next step, too, has edged out of reach.
Iran's fertility rate dropped by nearly 30 percent from 2005 to 2020, to 1.8 children per woman in 2020, prompting a flurry of incentives.
Would-be parents are troubled by the possibility of further unrest, even war. No one knows whether the ultraconservative president, Ebrahim Raisi, will curb the few social freedoms that Iranians have carved out like the Western music throbbing through many cafes or even the tattoos snaking up young people's arms.
And will the economy ever become strong enough to give a child a good life?
Zahra Negarestan, 35, and Maysam Saleh, 38, got lucky — up to a point.
They married six months before Mr. Trump reimposed sanctions. Soon after, everything they were expected to buy before marrying doubled in price.
"It was bad then," Ms. Negarestan said. "We didn't think it could get worse."
The couple, who recently started a business selling pottery wheels, said they have both always wanted children. Yet they keep putting off a decision.
"You can either have a very objective view of things — to have a baby, I need insurance, I need a job with this much income," said Mr. Saleh, who works for a water treatment company and freelances in video production. "Or you can base it on faith — once you have a baby, God will provide. But on any given day, my practical side is winning."
Ms. Negarestan has held onto some optimism.
"Maybe," she said, "he or she will find a better way to live."
But if they have a baby and the country deteriorates, she said, they will leave.
Between hope and despair, there is compromise.
For some, it involves getting married in fake jewels and a rented dress. For others, it involves smuggling.
Tehran's rich can still find Dutch coffee filters and baby carrots from California, at a price, thanks to a cottage industry of small-time sanctions-busters. On the capital's streets, late-model AirPods poke from ears, and any traffic jam might include a shiny Range Rover.
When Fatemeh, 39, started working as an information technology engineer 17 years ago, she said she earned enough to save for a house and support a comfortable life. Three children and a steep economic decline later, however, she needed to pad her income.
After the 2018 sanctions, as foreign clothing stores disappeared or raised prices, she detected opportunity. Soon, she was paying Iranians in Turkey to buy products online and fly or drive them home.
Three years later, business is brisk. Her customers pay a 20 percent markup for foreign brands rather than resign themselves to Iranian ones.
"It's not like with the sanctions, you say, 'Goodbye lifestyle, goodbye everything that I wanted,'" she said. "We try to find a way around it."
Yet even after doubling her income, Fatemeh said she was barely keeping up. Her children's school costs four times what it did a few years ago, she said, and her grocery bill has quintupled.
With two more years' hard work, she said, she might just catch up to inflation — longer, if things got worse.

Disclaimer: This post has been auto-published from an agency/news feed without any modifications to the text and has not been reviewed by an editor.

Source link
Iran denies US call for UN inspectors' access to nuclear site | World News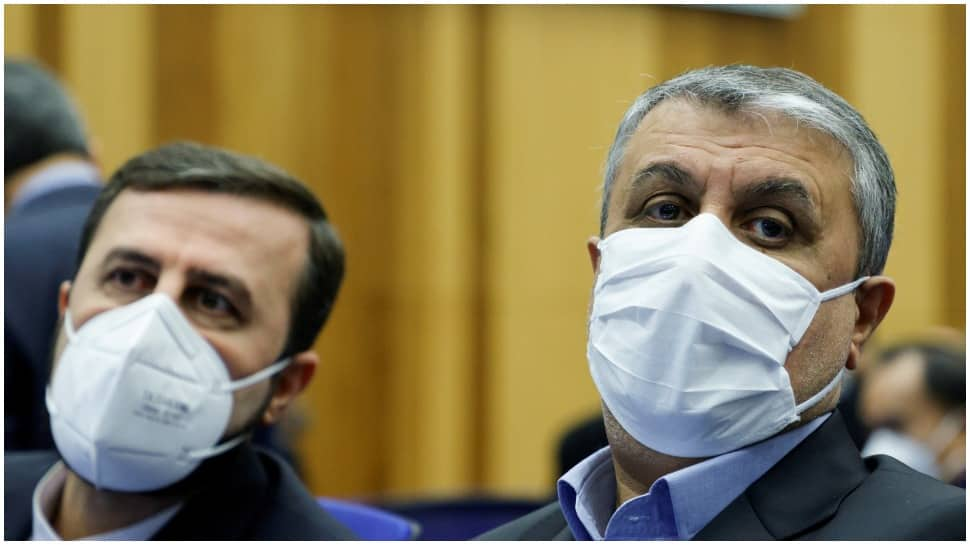 Iran
"Countries that did not condemn terrorist acts against Iran`s nuclear site are not qualified to comment on inspections there," said Mohammad Eslami, head of the Atomic Energy Organization of Iran.

Disclaimer: This post has been auto-published from an agency/news feed without any modifications to the text and has not been reviewed by an editor.

Source link