Victoria's hospitals strain under 'extraordinary' demand as Covid cases surge | Victoria
One of Victoria's largest public hospitals has been forced to close its Covid screening clinic and divert resources to emergency and intensive care patients, as the state's health system strains under pressure from a surge in cases.
The Royal Melbourne hospital confirmed the closure of its Covid testing clinic on Tuesday. The RMH chief medical officer, Dr Cate Kelly, said the demand on emergency meant the hospital had been forced to close the public clinic. The hospital has four Covid wards, plus the intensive care unit, between them managing 77 Covid-positive patients.
"Over the past two weeks the RMH has without doubt seen an increase in Covid hospital presentations," Kelly said.
"As a result of this surge, we have had to permanently close our public Covid-19 screening clinic to provide our emergency department with additional capacity to manage the increase in Covid-positive presentations."
While authorities on Tuesday were forced to address concerns over 10-minute wait times on triple zero calls, emergency department staff were reported to be taking increased sick leave due to burnout as they struggle with double shifts and increased patient numbers.
A physician working across three Melbourne hospitals, Dr Stephen Parnis, said "pressure on rosters is high".
"Sick leave is higher than normal, especially for my nursing colleagues, double shifts are much more common," he said.
The health minister, Martin Foley, said there had been a 55% increase in Covid cases in hospital over the one-week period to Sunday, and the government was discussing plans for boosting hospital capacity. Elective surgery, particularly non-urgent elective surgery, may be paused, he said.
On Tuesday he acknowledged an "extraordinary" demand on the health system.
"And the levels of stress on our healthcare system are only going to increase," he said.
He said reported 10-minute wait times on triple zero calls was due to increased demand due to rising Covid cases.
The surge in Covid cases in hospital was due to the delay between symptom onset and severe disease developing, Prof Joshua Davis, a clinician and researcher at the Menzies School of Health Research said.
"On average, people who catch Covid and deteriorate to the point of needing hospital admission … [do so] on day seven to nine after diagnosis, or after onset of illness. And so that's why the hospitalisations we'd expect to lag by seven to nine days behind diagnosis."
Parnis said the length of the pandemic and protesters targeting health workers were contributing to staff fatigue and roster gaps.
"We are now more than 18 months into this pandemic with no signs of it abating in the near future," he said.
"We also do business differently. Even arriving at the hospital is radically different to what it used to be, because I need an extra 10 minutes to sign declaration forms about exposures, to have my temperature checked, to sanitise and get into gowns, masks and gloves. There are times you think twice about even going for a toilet break or getting something to eat because of the time it takes to go through procedures again.
"And then you have staff being told not to wear their scrubs on their way home because they may be targeted by protesters. Some of my colleagues are probably better at ignoring it than I am, but when these protests happen in the community with people persecuting those providing vaccination … it just cut through the layers, I have to say."
According to Burnet Institute modelling provided to the Victorian government, even without any easing of restrictions, there is a moderate risk of exceeding health system capacity. According to the modelling, a peak in seven-day average daily diagnoses of 1,400-2,900 cases is estimated to occur between 19 and 31 October. This would result in corresponding peaks in hospital and intensive care demand, with 24% of model simulations resulting in hospital demand exceeding 2,500 beds.
"I think we're as prepared as we can be," Parnis said. "Is that a guarantee that we'll get through this unscathed? Absolutely not."
A Victorian department of health spokesperson told Guardian Australia that hospitals had been preparing for the coronavirus pandemic since last year, creating extra capacity and ensuring there were enough beds, equipment, PPE and staff to manage any surge in patients, while maintaining other services.
The Northern hospital in Epping was taking a significant proportion of the state's Covid-19 cases, with more than half of the 867 Covid-19 cases announced on Tuesday in the northern suburbs.
The Northern hospital had three dedicated Covid wards, as well as a section for Covid patients in intensive care.
Video taken outside the hospital on Monday showed more than a dozen ambulances outside the hospital "ramping" – a term used when patients were left in ambulances waiting to be admitted because the emergency department was full.
The chief operating officer for Northern Health, Debra Bourne, said Monday was particularly busy for emergency, with 96 ambulance arrivals and 403 patients seen.
"We need to carefully screen patients for Covid-19, which means it is taking longer for us to receive patients into the emergency department," she said. "These are unprecedented times."
About 65 Covid-19 patients were in the Northern hospital. As of Tuesday there were 375 people in hospital with the virus throughout Victoria. Of those, 81 were in intensive care, and 61 on a ventilator.

Disclaimer: This post has been auto-published from an agency/news feed without any modifications to the text and has not been reviewed by an editor.

Source link
Ultraman Tiga ban: Cartoons and children's shows are on the chopping block in China's entertainment crackdown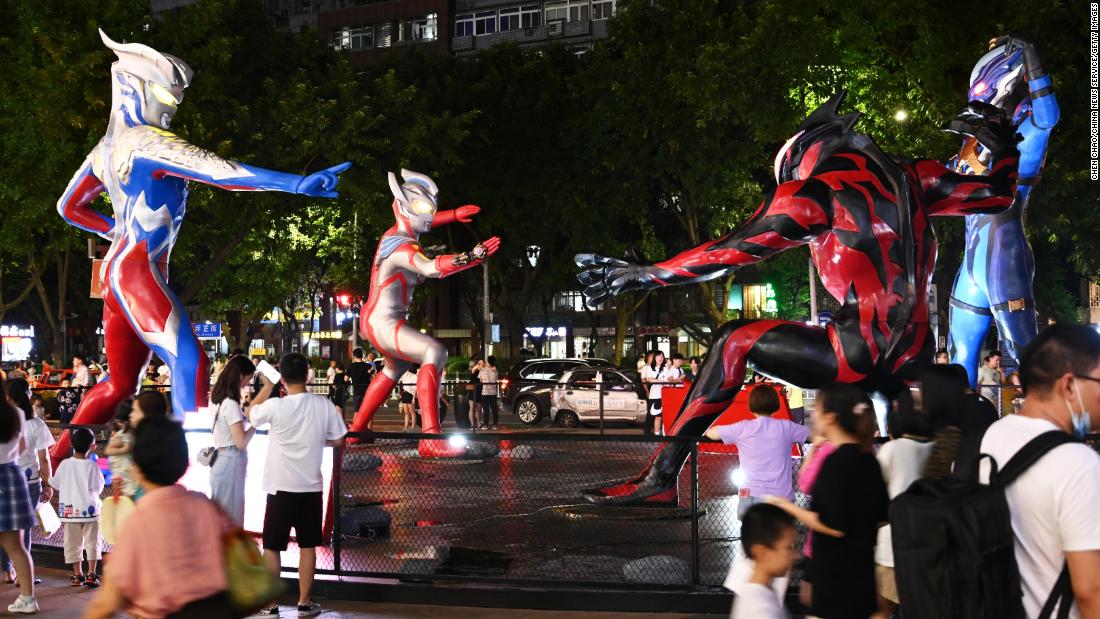 The National Radio and Television Administration, the country's broadcasting authority, announced late Friday that it would ban cartoons and other TV shows primarily produced for children that contain any mention of violence, blood, vulgarity or pornography.
TV channels must "resolutely resist bad plots," and instead only broadcast "excellent cartoons with healthy content and promote truth, goodness and beauty," said the authority in a statement on its website.
"Children and adolescents are the main audience groups of cartoons," the authority said, adding that broadcast organizations should set up special TV channels for children that create a good environment for "the healthy growth of young people."
The new regulation applies to all cartoons broadcast on television as well as those streamed online — and though the authority did not name any specific shows, networks wasted no time in enforcing it.
"Ultraman Tiga," a hugely popular Japanese series about a superhero who protects Earth from monsters and aliens, was removed from online streaming platforms on Friday. State-run tabloid Global Times suggested it could have been removed because its "violent plot" included fight scenes and explosions.
The show's removal sparked widespread outcry and dismay from its Chinese fans. The topic trended on the heavily censored Chinese social media platform Weibo. One popular post, which broke the news on the ban, was liked more than 1 million times before being deleted. A hashtag over the show's removal has so far been viewed more than 84 million times.
"So many people liked to watch the animation Tiga when they were young. It not only [expresses] belief in the light, but it's also my people's childhood memories. Besides, it doesn't bring people any negative impact," one Weibo user commented under the now-deleted post, possibly referencing the "light" of humanity and justice that saves the hero during the series.
"Ultraman Tiga," which first aired in 1996, is part of the larger Ultraman franchise that debuted in 1966 and gained popularity across Asia. The hero's ubiquity is comparable to that of Superman in the United States.
Some on Chinese social media pointed out that conflict is a part of life and that cartoons offer a valuable way to teach children about more complicated issues. "Is this world either black or white?" commented another Weibo user under the deleted post. "Isn't it good to talk more about human nature?"
Others argued that if authorities were concerned about portrayals of violence or vulgarity, they might as well ban the Four Classic Novels — four highly influential works written between the 14th and 18th centuries and considered masterpieces in Chinese literature — as they include plotlines of civil war, government corruption, executions and murder, and young romance. The novels, particularly "Journey to the West," and their adaptations continue to be taught to children and studied in schools.
But their protests may be in vain. China has been signaling a crackdown on cartoons and other shows — including many produced in China — for a while.
In April, authorities in Jiangsu province released a list of 21 cartoons and television dramas that could affect children's development. The list included the well-known shows "Peppa Pig," a British cartoon series; "My Little Pony," an American cartoon; and "Case Closed," also known as "Detective Conan," a massively successful Japanese manga and anime series.
Friday's ban comes as Chinese authorities clamp down on various sectors of the entertainment industry, ranging from "idol" competition shows to K-pop fan clubs and "effeminate" male pop stars.
During the government's efforts to clean up the industry, a number of "misbehaving celebrities" have been reportedly blacklisted by broadcast authorities, according to a list that circulated on social media in August.
In nearly all of the recent bans and crackdowns, Chinese officials and state media have consistently decried the supposed capitalist moral decay and Western values threatening young minds, and instead encouraged nationalism and loyalty to the ruling Chinese Communist Party among Chinese youth.
For instance, on Friday, Beijing's television and radio authority launched a training course designed to teach broadcasters and entertainment workers to make content that has a "positive influence" on the public, according to Global Times. That means discouraging materialism and vanity, it said, while spreading "correct values" such as "patriotic thinking" and "national spirit."

Disclaimer: This post has been auto-published from an agency/news feed without any modifications to the text and has not been reviewed by an editor.

Source link
WHO horrified over sexual exploitation by aid workers in DR Congo
World Health Organization (WHO) staff were among 83 aid workers who sexually abused women and girls while tackling the Ebola outbreak in the Democratic Republic of Congo, a report finds.
The abuses, which included nine allegations of rape, were committed by both national and international workers between 2018 and 2020.
The report comes after more than 50 local women reported sexual abuse.
WHO Director-General Tedros Adhanom Ghebreyesus said it was "inexcusable".
The 35-page report was produced by an independent commission following an investigation.
The commission, which interviewed dozens of women who had alleged they were offered work in exchange for sex, found that 21 of the 83 alleged perpetrators were employed by WHO.
Local women were also allegedly plied with drinks, "ambushed" in hospitals, forced to have sex, and two became pregnant.
The WHO said it was terminating the contracts of four people who were still employed by the organisation and promised more measures would be taken.
Speaking at a news conference on Tuesday, Dr Tedros said it made for harrowing reading and apologised directly to the victims and survivors.
"I'm sorry for what was done to you by people who are employed by WHO to serve and protect you," he said. "It is my top priority that the perpetrators are not excused, but held to account."
He said the responsibility ultimately rested with him and promised to help support and protect victims, while vowing to overhaul the WHO's structure and culture.
WHO Africa regional director Matshidiso Moeti also apologised to those who suffered "because of the actions of our staff".
She said she was "humbled, horrified and heartbroken" by the inquiry's findings.
The commission said it found "clear structural failures and unpreparedness to manage the risks of incidents of sexual exploitation and abuse" in the central African country.
It said this was partly because of the focus on eradicating Ebola.
More than 2,000 people died in the Ebola outbreak in DR Congo.
The WHO, which spearheaded global efforts to curb the spread of the outbreak, declared it over in June last year.

Disclaimer: This post has been auto-published from an agency/news feed without any modifications to the text and has not been reviewed by an editor.

Source link
Police suspect foul play in Swedish apartment building explosion | Sweden News
Up to 20 people were injured as an explosion in Gothenburg set ablaze an apartment block in a central residential area.
A powerful explosion has rocked an apartment building in the Swedish city of Gothenburg, setting off multiple fires, injuring up to 20 people and forcing the evacuation of hundreds.
The explosion took place just before 5am (03:00 GMT) on Tuesday in the Annedal district in Sweden's second-largest city. Flames spread to several apartments, and fire department crews were still working to extinguish the flames mid-morning.
Jon Pile, operations manager at the local rescue service, told reporters it appeared the explosion took place in the building's inner courtyard, which had its entry gate blown away. He added some people jumped out of their windows to escape.
Police spokesman Thomas Fuxborg said the cause of the explosion was not yet known, but he told Swedish broadcaster TV4 that investigators think foul play might have been involved. They are looking into whether any tenants might have been targeted, he said.
"We suspect that someone might have placed something that has exploded," Fuxborg said.
'The whole apartment vibrated'
Sahlgrenska University Hospital spokeswoman Ingrid Frederiksson said 16 people were taken to Gothenburg's main hospital. Four people -three older women and a man in his 50s – were being treated for serious injuries, she said. Some with lesser injuries were treated at the scene.
Building resident Lars Hulten told the daily newspaper Goteborgs-Tidningen that the sound of the explosion woke him up.
"It was probably the loudest thing I heard. The whole apartment vibrated. The bed vibrated," he said.
Hulten said he saw desperate people who "hung from balconies, climbing over balconies. There was one who fell. It was very dramatic and a very fast course of fire and smoke".
Another witness, Lars-Gunnar Wolmesjo, told Expressen newspaper that he, too, saw people on their balconies and "some climbed down, some jumped and some had to wait for the firefighters to pick them up with a ladder."
'Crime cannot be ruled out'
The blast comes amid a rise in violence between organised criminal gangs in the Scandinavian nation.
On June 30, a police officer was shot and killed in Gothenburg. A 17-year-old suspect has since been arrested.
Earlier this year, the national council for crime prevention said Sweden was the only European country where fatal shootings have risen significantly since 2000, primarily because of violent gangs.
In 2019, a powerful explosion ripped through two adjacent apartment buildings in the southern city of Linkoping, injuring 25 people and damaging more than 100 apartments. Police believe a feud between opposing criminal gangs was behind the blast. No arrests have been made.
On Tuesday, Swedish media immediately focused on the possibility that the Gothenburg blast could be related to feuding gangs, but Prime Minister Stefan Lofven repeatedly declined to speculate on a motive.
"We do not want to speculate on what this is. It is too early to draw conclusions. We do not know what the motive is. We know nothing," Lofven said.
"We all want to know more. We want to understand what happened and what was the cause of this explosion, but it's clear that crime cannot be ruled out," Home Affairs Minister Mikael Damberg added at the same press conference with Lofven.

Disclaimer: This post has been auto-published from an agency/news feed without any modifications to the text and has not been reviewed by an editor.

Source link