Dutch PM given extra security amid fears of drug gang attack | Netherlands
The Dutch prime minister, Mark Rutte, who cycles to work in The Hague, has reportedly been given extra personal security in response to raised fears of a kidnapping or attack by organised crime.
The decision was made after "spotters" were seen scoping out Rutte's movements, raising concerns about a possible move by one of the country's drug gangs.
According to De Telegraaf newspaper, specially trained police officers from the Royal and Diplomatic Security Service (DKDB) have been deployed to shadow Rutte, who has often eschewed close protection during his 10 years as premier.
An "elite security guard" was visibly in position during a two-day budget debate last week, which the Telegraaf reported was a result of the increased security brief. A government spokesperson declined to comment.
The far-right politician Geert Wilders tweeted: "Terrible. I wouldn't wish this on anyone. Good luck Prime Minister Rutte."
The Telegraaf journalist Mick van Wely told the TV programme Goedemorgen Nederland: "We know it's taken very seriously and there are really big concerns about this."
There have been increasingly violent incidents involving drug gangs, including the so-called mocro (Moroccan) mafia, leading to claims from the Dutch police union that the Netherlands is becoming a "narco state".
The recent murder of the prominent Dutch crime journalist Peter R de Vries has been seen by police as an effort by organised criminals to show that nobody is out of their reach.
Investigators believe film footage and photographs of a dying De Vries that emerged on social media shortly after he was attacked were taken and circulated by gang members as a warning to others.
The scale of the violence has been highlighted during the high-profile Marengo trial, in which 17 alleged gang members are accused of being part of a "well-oiled murder machine".
The chief suspect in the trial, Ridouan Taghi was reportedly described by a police chief as "one of the world's most dangerous and wanted men" before his arrest in Dubai in 2019.
De Vries had been acting as a spokesperson for the key prosecution witness, Nabil B, a former gang member turned informant, before he was killed.
Between 20 and 30 people involved in the case, including judges and lawyers, have been given extra security. A lawyer for Taghi has denied that his client had any involvement in De Vries' murder.
Last week the government announced that an extra €400m would be spent in 2022-23 fighting organised crime.

Disclaimer: This post has been auto-published from an agency/news feed without any modifications to the text and has not been reviewed by an editor.

Source link
Climate change: Australia's Scott Morrison may dodge COP26 climate talks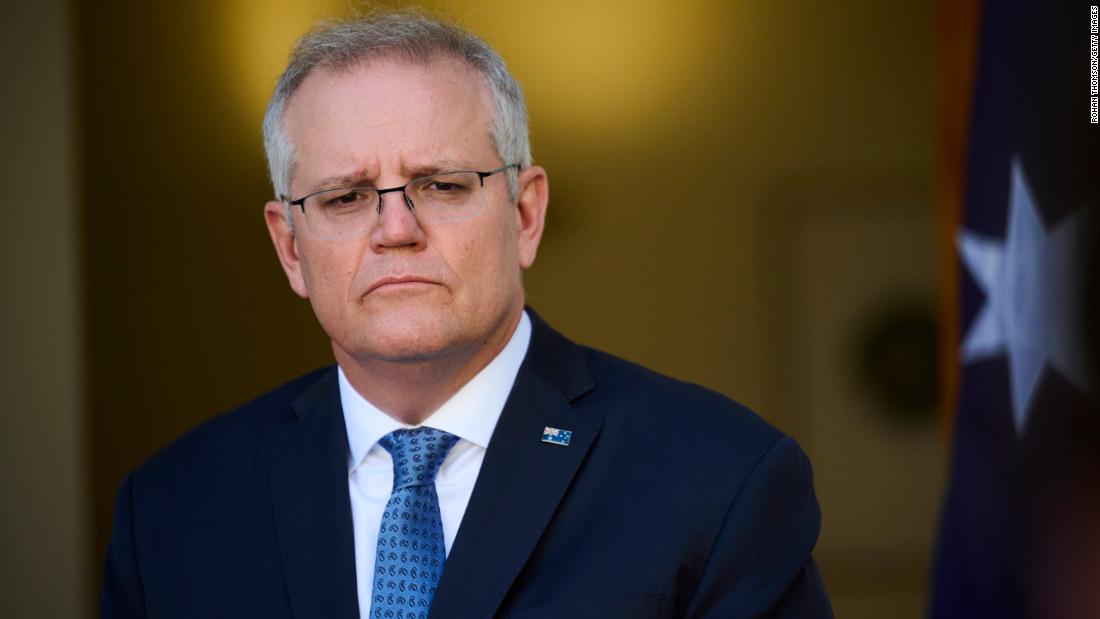 More than 100 world leaders, including US President Joe Biden, have confirmed their attendance at the talks hosted by the United Kingdom, a close ally of Australia. Leaders of the G20, which includes Australia, will be convening in Rome a day ahead of the climate talks. While it is not yet confirmed if Morrison will be at that summit, many G20 leaders are likely to take the short flight from the Italian capital to COP26 in Scotland.
Morrison said he needed to focus on the country's reopening after an extended lockdown. His government is aiming to relax its hardline border restrictions in December.
"Australia will be opening up around that time, there will be a lot of issues to manage and I have to manage those competing demands," he said.
The Prime Minister made his comments as Australia comes under pressure from allies, including the United States, to announce more ambitious pledges on the climate crisis. The country is the world's second-biggest exporter of coal and the Morrison government has said it will continue to mine, export and use the fossil fuel well beyond 2030.
Leaders including COP26 President Alok Sharma and UN Secretary-General António Guterres have called on the developed world to end the use of coal by the end of this decade.
Morrison's office did not immediately respond to CNN's questions on the Prime Minister's plans for COP26.
"I am bringing the Government and I hope the country together on where we are seeking to go and we are working though our commitments, we are working through our plans … a plan gives people certainty about the big change that will occur over the next 20-30 years," Morrison told the West Australian.
The Australian government has been promising a new long-term emissions plan ahead of the talks for months. Morrison made no announcements on any new plans on Friday when he addressed the UN General Assembly in New York in a pre-recorded video. He has said that the country's plan will focus on "tech not taxes."
Australia is one of just a handful of countries that did not increase its target to reduce greenhouse gas emissions when registering its official update on its climate plans to the UN last year. It sent its update on December 31 with little fanfare, keeping its target to a 26-28% reduction in greenhouse gas emissions by 2030, from 2005 levels.
The Australian Climate Council, which is independent of the government, has suggested the country should slash emissions by 75% by 2030, compared to 2005 levels, to do its part in containing global warming to 1.5 degrees. More than 190 countries signed up to the Paris Agreement in 2015, in which they committed to trying to contain global warming to 2 degrees, but preferably 1.5 degrees, above pre-industrial levels to stave off the more catastrophic impacts of the climate crisis.
Australia's target sits well below those made by the US, European Union and UK, among other developed nations.
Pressure growing on Australia
Speaking to Australia's ABC radio on Monday, Australian Foreign Minister Marise Payne confirmed "no final decision has been made" on whether Morrison would attend the talks or whether she would stand in his place, but said Australia "will be strongly represented" at COP26 "no matter which senior Australian representative" attends.
"One thing we are absolutely committed to, as we have said, is setting out our long-term emissions reduction plan prior to the COP and that is what we are focused on as a government,"
Payne said in the interview.
Australia is becoming increasingly isolated on the world stage because of its climate failings.
US officials pressed Australian ministers on their country's climate record at a recent defense meeting in Washington, mentioning the "urgency" of the "climate crisis" in a communiqué that Morrison signed.
Members of the EU Parliament have told CNN in recent weeks that Australia has one of the worst climate records of all developed nations and some expressed incredulity when it emerged that Australian negotiators had pressured the UK into dropping key climate commitments from their bilateral trade agreement.
And comments from Australia's resources minister Keith Pitt dismissing the UN as a "foreign body" that should stay out of Australia's affairs has only worsened the country's image as an uncooperative player in climate action.
COP26 comes at a crucial time for the world's efforts on the climate crisis. A state-of-the-science report published by the UN in August showed that the world is warming faster than scientists previously thought, and that slashing greenhouse gas emissions by at least half this decade is crucial to staving off the more catastrophic impacts of climate change.
Australia is already experiencing more heat extremes and higher sea level rises than the global average because of the crisis. Heat, sea level rise and drought are all projected to increase in Australia the more the Earth warms, the report found.
CNN's Ivana Kottasová and Chandler Thornton contributed to this report.



Disclaimer: This post has been auto-published from an agency/news feed without any modifications to the text and has not been reviewed by an editor.

Source link
Judge suspends probe into Lebanon port blast amid challenges
BEIRUT (AP) — The lead judge investigating last year's massive blast in Beirut's port suspended his work in the case Monday after he was formally informed that a former Cabinet minister had submitted a request to recuse him.
Judge Tarek Bitar, the second judge to lead the complicated and thorny investigation, cancelled the questioning of a former military intelligence general, scheduled for Monday. The Court of Appeals now has to decide whether to dismiss him from the case or not.
The development comes amid a growing campaign by Lebanon's political class against Bitar, who took over the job in February after his predecessor, Fadi Sawwan, was removed following similar legal challenges by senior officials he had accused of negligence that led to the blast.
On Aug. 4, 2020, hundreds of tons of ammonium nitrate, a highly explosive material used in fertilizers that had been improperly stored in the port for years, exploded, killing at least 214 people, injuring more than 6,000 and devastating nearby neighborhoods.
Bitar's removal, if it happens, would likely be the final blow to the probe, making it highly unlikely that a third judge would take up the job amid threats by members of the country's political elite who have closed ranks in their effort to block the probe.
Families of the victims of the explosion have already demanded an international probe, not trusting the Lebanese probe. Lebanon is known for a culture of impunity that has prevailed for decades, including among the entrenched political elites.
Bitar's demise began in July when he announced intentions to go after senior Lebanese officials, and summoned for questioning then-outgoing Prime Minister Hassan Diab, three former Cabinet ministers and top security officials.
None showed up for questioning; the parliament failed to lift immunity of those summoned — a necessary step before any prosecution — while Diab's office and then-interior minister, Mohamed Fehmi, declined to let Bitar question the heads of two security agencies.
On Friday, former Interior Minister Nouhad Machnouk, who was also implicated in the probe, filed a motion to dismiss the judge.

Disclaimer: This post has been auto-published from an agency/news feed without any modifications to the text and has not been reviewed by an editor.

Source link
Biden adviser to meet Saudi crown prince on Yemen: US officials | Saudi Arabia News
NSA Jake Sullivan will meet MBS in Riyadh as the UN warns of an 'indefinite state of war'.
President Joe Biden's national security adviser, Jake Sullivan, is travelling to Saudi Arabia to meet Crown Prince Mohammed bin Salman to press the kingdom to move towards a ceasefire in the conflict in Yemen, US officials have said.
On Monday, Sullivan will become the highest-ranking Biden administration official to visit Saudi Arabia. Beyond meeting Prince Mohammed, who is popularly known as MBS, he is expected to meet Deputy Defence Minister Khalid bin Salman, The Associated Press news agency reported, citing two officials who spoke on the condition of anonymity.
The visit represents continued engagement between the Biden administration and MBS following criticism that Washington did not take a strong enough stand against the crown prince after a US intelligence report made public in February directly linked him to the killing of the Washington Post journalist and Saudi critic Jamal Khashoggi.
The Biden administration, which has promised a human rights-leading foreign policy, faced further criticism for welcoming MBS for high-level meetings in Washington, DC in July.
The engagement is part of a wider determination that ending the seven-year conflict in Yemen, which began when Houthi fighters took over Sanaa and overthrew the internationally recognised President Abd-Rabbu Mansour Hadi in 2014, could not be achieved without engaging with the most senior Saudi officials face-to-face, a Biden administration told The Associated Press news agency.
Riyadh intervened in Yemen in 2015, leading a coalition against the Iran-linked Houthis that included the United Arab Emirates, as well as support from the United States and the United Kingdom.
The Biden administration has since stopped military support to the Saudi Arabia-led war, which has caused a humanitarian disaster in the poorest country in the region. Still, the administration has remained closely aligned with Riyadh, and said it would continue to provide military assistance for the kingdom's defence.
Rights groups say both sides have committed abuses in the fighting. The United Nations food agency last week warned that 16 million people in the country are currently "marching towards starvation".
Sullivan is being dispatched as Houthi fighters continue their offensive on the city of Marib, the Saudi Arabia-backed government's last stronghold in the country's oil-rich north.
The newly appointed UN special envoy to Yemen, Hans Grundberg, recently declared that the country is "stuck in an indefinite state of war", and warned that negotiations to end the more than six-year conflict will not be easy.
White House officials are hopeful that the appointment of Grundberg will bring a new dynamic and put pressure on all sides to bring an end to the conflict, the two senior administration officials told the AP.
On Monday, National Security Council spokeswoman Emily Horne confirmed that Sullivan will travel to Riyadh and would also visit the UAE. He will be accompanied by National Security Council Middle East and North Africa Coordinator Brett McGurk and US Special Envoy for Yemen Tim Lenderking.
Lenderking had previously travelled to Saudi Arabia and Oman to press for an end to the war.
Last week, Secretary of State Antony Blinken held talks with his counterpart members of the Gulf Cooperation Council on the margins of the UN General Assembly.

Disclaimer: This post has been auto-published from an agency/news feed without any modifications to the text and has not been reviewed by an editor.

Source link