Sarkari Naukri 2021 Live Govt Job Alert Results News Updates 26 September Apply Now – Sarkari Naukri 2021 Live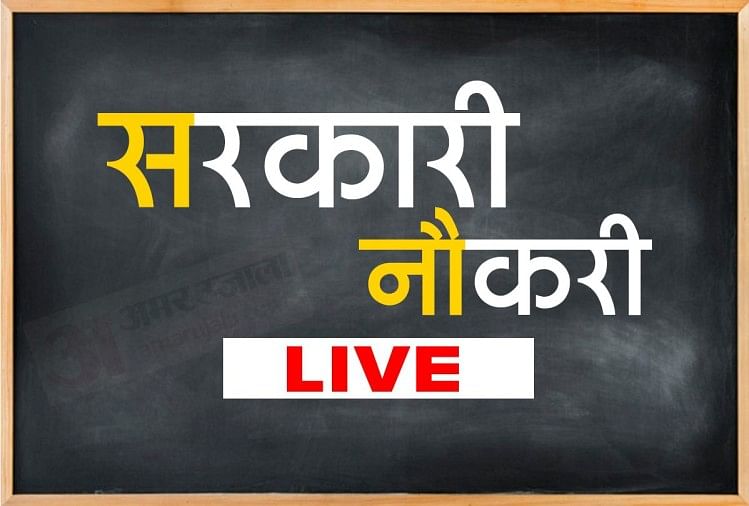 10:34 AM, 26-Sep-2021
Government Jobs: Above 15 years can apply
The minimum age of the candidate should be 15 years and maximum age of 24 years as on October 20, 2021 to apply for the railway vacancies. Upper age limit is relaxable by 05 years in case of SC/ST candidates, 3 years in case of OBC candidates. For Persons with Disabilities, the upper age limit is relaxable by 10 years.
10:05 AM, 26-Sep-2021
LIVE: Railway has recruited more than 2000 posts for 10th pass, apply immediately
Railway Recruitment Cell (RRC) of Northern Railway, Lajpat Nagar, New Delhi has invited applications for more than 3093 Apprentice posts in the organization. Interested and eligible candidates can apply for NR Apprentice Recruitment 2021 through official website- rrcnr.org. Candidates must note that the last date to apply is October 20, 2021.
Disclaimer: This post has been auto-published from an agency/news feed without any modifications to the text and has not been reviewed by an editor.
Why is Iraq working so hard on Saudi Arabia and Iran?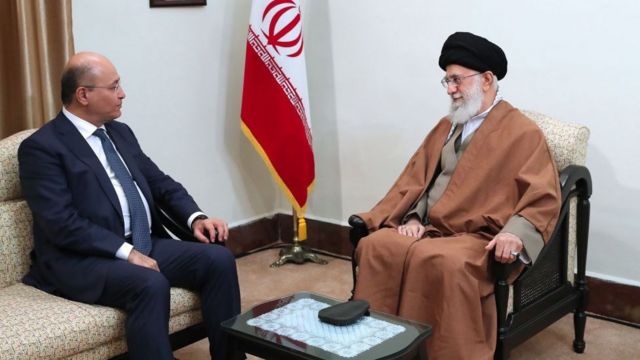 Is the enmity between Iran and Saudi Arabia going to be history now? Although this is fine in the form of a question, it is too early to agree with it.
But both the countries have started talks with each other. Saudi is a Sunni-ruled Islamic country while Iran is Shia-ruled. This has also been a reason in the dispute between the two countries.
According to Iran's official news agency Irna, Iran's Foreign Ministry spokesman Khatibzadeh has said, "We have held talks with the government of Saudi Arabia in several phases over the past few months in Baghdad, the capital of Iraq. Good talks have taken place regarding bilateral relations. Good progress has been made in talks regarding the security of the Gulf.
According to Irna, the spokesperson of the Ministry of Foreign Affairs said that the problems and conflicts in the region can be resolved through comprehensive dialogue among themselves. He said that there is no need for any outside party to solve the problem of this area.
Why Iran Active?
Iran has been opposed to outside interference in the Middle East. On Wednesday, Saudi Arabia's King Salman bin-Abdullaz, while addressing the 76th General Assembly of the United Nations, said, "Iran is our neighbor country. We hope that the initial talks will pave the way for concrete results in terms of building trust. Relations with Iran will be based on international rules, respect for sovereignty, non-interference in any country and stop supporting terrorism.
The talks between the two countries started in the month of April. The President of Iraq had said that Iraq is hosting the talks.
According to Iranian media, after meeting in Baghdad, representatives of the two countries have also met in New York on the sidelines of the 76th General Assembly of the United Nations. Iranian media says that on August 28, in addition to Iran's Foreign Minister Hussein Amir Abdollahian, representatives of the foreign ministers of Jordan, Saudi Arabia, Turkey, Kuwait, Egypt, Qatar and France attended Baghdad.
Iranian media also say that the EU's foreign policy chief, the Secretary General of the Arab League, the OIC and the GCC also attended this meeting. The Iranian Foreign Minister said in this meeting that Iran wants good relations with neighboring countries. According to media reports, he had also said that solutions can be found only through diplomacy.
What does the Iraqi PM want?
Sources in Iraq's Prime Minister Mustafa al-Qadimi have told Amwaz Media that the Baghdad conference was unimaginable for a time. The people involved have opined that such conferences should be held every year in different capitals. According to Iranian media, on September 21, a meeting took place at the residence of the Iraqi ambassador in New York. The next meeting is scheduled in Jordan.
Since the coming to power of Ibrahim Raisi in Iran, more enthusiasm is being seen about talks with Saudi Arabia. On 25 August, the Iranian parliament confirmed that the Iranian foreign minister had gone to Iraq on 28 August to attend the Baghdad conference in his first overseas visit.
Why is Iraq upset?
It is being said that the Prime Minister of Iraq had worked hard for this conference. One reason for this is also being told that Iraq is trying to show that it no longer wants to be a battleground but a bridge for a long time.
It is being said that the President of Iraq is seeking a second term and that is why he visited Iran on 12 September to get support. Although the Iraqi Prime Minister did not meet Iran's Supreme Leader Ayatollah Ali Khamenei during this visit, it has been a tradition since 2003 that the Iraqi Prime Minister used to meet the Supreme Leader on his visit to Iran.
It is being said that the absence of Iran's supreme leader from Kadhimi is a message that Iran does not want to favor any leader in the Iraq election. There is pressure on Kadhimi regarding the election. Iran wants Kadhimi to make some positive announcements.
Iraq has allowed more people to come from Iran for the visiting Arbaine pilgrims. According to Iranian media, Iran and Saudi officials may meet again in Baghdad soon. It is being said that this meeting can be held on 27-28 September.
Shia Connection
The majority of Iraq's population is Shia. As long as Saddam Hussein remained in power in Iraq, Shias remained marginalized here. Saddam Hussein was a Sunni Muslim. But since 2003, all Iraqi prime ministers have been Shia Muslims and Sunnis have been marginalized. Before 2003, Saddam Hussein's Iraq was dominated by Sunnis. From the army to the government, Sunni Muslims dominated.
Shias and Kurds were marginalized during Saddam's time. In Iraq, Shias are 51 percent and Sunni 42 percent, but because of Saddam Hussein, Shias were helpless despite being a majority. When America invaded Iraq in March 2003, Sunnis were fighting against America and Shias were with America.
Since 2003, Iran and Iraq have grown closer because the Shias are now ahead under the leadership of Iraq and Iran is a Shia country.
In 2018, the then US President Donald Trump broke the nuclear deal with Iran. Although Biden said after coming to power that he wanted to restore the nuclear deal, but no concrete progress has been made so far.
Dispute between Iran and Saudi
The conflict between Saudi Arabia and Iran has been going on for a long time. The two countries have been rivals of each other for a long time but in recent times the tension between the two has increased. The conflict between the two powerful neighbors has been going on for a long time over regional dominance.
Religion is also at the center of this decades-old struggle. Both are Islamic countries but both are Sunni and Shia dominated. Iran is a Shia Muslim majority, while Saudi Arabia is a Sunni majority.
This religious division is seen almost throughout the Middle East. Some of the countries here are Shia-majority and some are Sunni-majority. Some countries look to Iran and some to Saudi Arabia for support and advice.
Saudi Arabia has historically been a monarchy. Sunni-dominated Saudi Arabia is the birthplace of Islam and is one of the most important places in the Islamic world. So it sees itself as the leader of the Muslim world.
However, in 1979 it was challenged by the Islamic Revolution in Iran, which created a new state in the region – a kind of revolutionary theocracy. He had a clear goal of spreading this model around the world. Especially in the last 15 years, due to some successive incidents, the differences between Saudi Arabia and Iran have increased tremendously.
In 2003, the United States destroyed Saddam Hussein's power by invading Iraq, Iran's main adversary. This opened the way for a Shia-dominated government here and Iran's influence in the country has grown rapidly since then.
Disclaimer: This post has been auto-published from an agency/news feed without any modifications to the text and has not been reviewed by an editor.
ramesh bidhuri on muslim: ramesh bidhuri muslim

Highlights
BJP MP targets Pakistan PM Imran Khan
Bidhuri said – Babur's blood in the veins of those who raised anti-national slogans
Demand to include the 1921 Malabar massacre in the syllabus
New Delhi
BJP MP Ramesh Bidhuri has given a controversial statement regarding Muslims. The BJP MP said that wherever Muslims are a minority, there is talk of human rights. At the same time, where they come to the majority, violence and bloodshed starts. BJP MP said this at an RSS event in Delhi. Bidhuri also targeted Pakistan PM Imran Khan.
According to the news of India Today, the BJP MP said that wherever the Muslim community lives in a minority, there is talk of human rights. The Prime Minister of Pakistan talks about the rights of minorities. I want to ask how the Hindu population in Pakistan has come down from 26% to 2.5%.
Targeting those who raised anti-national slogans
The BJP MP also targeted those who raised anti-national slogans. Bidhuri said that the blood of India is not running in the veins of those who raised slogans of 'tukde tukde' of Kerala and JNU. The blood of Babar and Aurangzeb runs in the veins of such people. Referring to Jamia and Shaheen Bagh, Ramesh Bidhuri described those who raised slogans against the country as a symbol of this mentality.
Sadhvi Pragya again gave a controversial statement, said- Kshatriyas should produce a lot of children
The incident of Malabar massacre got a place in the syllabus
In the same program, Vinay Sahasrabuddhe, BJP's Rajya Sabha MP and chairman of the Parliament's Standing Committee on Education, has said that the incident of the Malabar massacre in 1921 should be included in the curriculum. Vinay Sahasrabuddhe said that as the chairman of the Parliamentary Standing Committee on Education, he has been working on reviewing the syllabus for the last several months and believes that the new generation of the country should know the truth of the Malabar massacre. Complete information should be found about the great sons of India like Bhagat Singh, Rani Laxmibai.
Monsoon Session Parliament 2021: BJP MP gave notice of breach of privilege against Sonia Gandhi, know the reason
Stop glorifying those who massacre Hindus
In the program, BJP leader Kapil Mishra and senior RSS leader and national convener of Pragya Pravah J Nandakumar demanded that the attempt to glorify Bhagat Singh by comparing the people who massacred Hindus 100 years ago as freedom fighters should be stopped. Also, the pension being given to the families of the people who committed the genocide should be stopped. He said that in support of these demands a seminar has also been organized in Delhi on 26th September and his campaign will continue till these demands are fulfilled.
(with IANS input)
Disclaimer: This post has been auto-published from an agency/news feed without any modifications to the text and has not been reviewed by an editor.
Ipl 2021: Csk Vs Kkr Preview Playing-11 Prediction Head To Head Stats And Records Chennai Super Kings Vs Kolkata Knight Riders | Indian Premier League 2021 – Csk Vs Kkr: Chennai Super Kings will reach the playoffs for the record 11th time, Kolkata has a chance to reach the top-3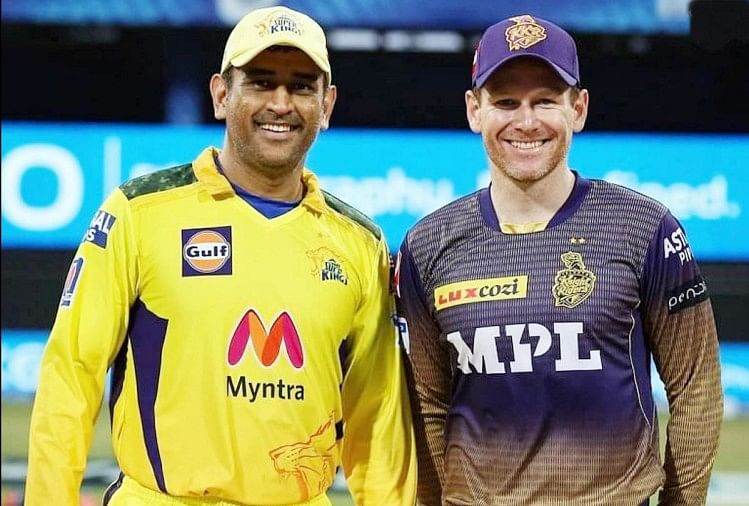 Summary
Chennai's team is currently at number two with seven wins and 14 points from nine matches. At the same time, Kolkata has eight points from nine matches with four wins.
Chennai Super Kings captain Dhoni and Kolkata Knight Riders captain Morgan.
– Photo : Social Media
Expansion
Three-time champion Chennai Super Kings and two-time champion Kolkata Knight Riders will face each other in the 38th match of IPL 2021. In this match, a tough competition can be seen between both the teams. The match will be played at the Sheikh Zayed Stadium in Abu Dhabi from 7:30 PM.
Chennai's team is currently at number two with seven wins and 14 points from nine matches. At the same time, Kolkata has eight points from nine matches with four wins. If Chennai's team manages to register a win against Kolkata, it will reach the playoffs for a record 11th time. If Kolkata wins, it will be entered in the top three in the points table.
Chennai Super Kings strong in numbers
Talking about the figures, so far there have been 26 matches between the two. In this, Chennai has won 16 and Kolkata has won nine matches. One match yielded no result. The two teams have met twice in the UAE. Of these, one has been won by KKR and one by CSK.
Both the teams have won their last two matches. Kolkata made a great start to the second phase after the first phase went bad. They first defeated Royal Challengers Bangalore and then Mumbai Indians. With these two victories, the team reached the top four. At the same time, CSK has also defeated Mumbai Indians and Royal Challengers Bangalore in the second phase.
Rituraj Gaikwad in fine form
Talking about the Chennai team, young Rituraj Gaikwad is running in excellent form. He played a match winning innings of 88 not out in 58 balls against Mumbai. After this 38 runs were scored against Bangalore. It was the highest individual score by his team. Captain Mahendra Singh Dhoni would like Rituraj to maintain this momentum.
After failing against Mumbai, Chennai's middle-order batsmen also performed brilliantly against Bangalore. Duplessis (31), Moeen Ali (23), Ambati Rayudu (32) and Suresh Raina (17 not out) all got off to a good start. Even in front of Kolkata's strong bowling line-up, captain Dhoni would be expecting a great performance from the batsmen.
Brave and Deepak bowled brilliantly
The CSK bowlers also seem to be in good form. Dwayne Bravo took three wickets each in two consecutive matches. At the same time, Shardul Thakur and Deepak Chahar have supported him well so far. Ravindra Jadeja and Moeen Ali will be seen handling the spin department.
On the other hand, Kolkata Knight Riders made a great start to the second phase after struggling in the first phase. They first defeated Bangalore by nine wickets and then Mumbai by seven wickets. Young Venkatesh Iyer has batted brilliantly for Kolkata and has turned the match single-handedly. He scored an unbeaten 41 in 27 balls against RCB, while 53 runs in 30 balls against Mumbai.
Venkatesh Iyer turned Kolkata's fortunes
Shubman Gill is also in good form. He scored 48 runs in 34 balls against RCB and 13 runs against Mumbai. Rahul Tripathi scored an unbeaten 74 off 42 balls in the last match. The matter of concern for Kolkata is the form of captain Eoin Morgan. He has scored 99 runs in nine matches so far this season.
Among the bowlers, Varun Chakravarthy, star all-rounder Andre Russell, Lockie Ferguson, Sunil Narine and Pramukh Krishna have bowled well and troubled the front. Bangalore were bundled out for 92 by KKR bowlers, while Mumbai's team could only score 155 runs. The Knight Riders would like to repeat the performance of 2014, when they won nine matches in a row.
Probable Playing XI of both the teams
Chennai Super Kings:
Faf du Plessis, Rituraj Gaikwad, Moeen Ali, Suresh Raina, Ambati Rayudu, MS Dhoni (captain), Ravindra Jadeja, Dwayne Bravo, Shardul Thakur, Deepak Chahar, Josh Hazlewood.
Kolkata Knight Riders: Venkatesh Iyer, Shubman Gill, Rahul Tripathi, Nitish Rana, Eoin Morgan, Dinesh Karthik, Andre Russell, Sunil Narine, Lockie Ferguson, Varun Chakraborty, Famous Krishna.
read ahead
Chennai Super Kings strong in numbers
Disclaimer: This post has been auto-published from an agency/news feed without any modifications to the text and has not been reviewed by an editor.