Russia says it's in sync with US, China, Pakistan on Taliban

Russia's foreign minister says the United States, China, Russia and Pakistan are working together to ensure that Afghanistan's new Taliban rulers keep their promises


Disclaimer: This post has been auto-published from an agency/news feed without any modifications to the text and has not been reviewed by an editor.

Source link
Vanuatu to seek international court opinion on climate change rights | Vanuatu
Vanuatu will ask the International court of justice for an advisory opinion on the rights of present and future generations to be protected from climate change.
With a population of about 280,000 people spread across roughly 80 islands, Vanuatu is among more than a dozen Pacific island nations facing rising sea levels and more regular storms that can wipe out much of their economies.
In a statement on Saturday, Vanuatu's government said it "recognises that current levels of action and support for vulnerable developing countries within multilateral mechanisms are insufficient".
It comes ahead of the UN Cop26 climate summit in November.
Ahead of the summit, Vanuatu will expand "its diplomacy and advocacy" by forming a coalition with fellow Pacific Islands and other vulnerable nations to push the initiative.
In a speech to the UN general assembly on Sunday, Vanuatu prime minister Bob Loughman repeated the call for comprehensive global action on climate change.
"The dire consequences of climate change can no longer be ignored, and the science linking climate change to past and present emissions of greenhouse gases is now beyond question. Climate change is driving sea level rise, desertification, disease redistribution, floods, unprecedented 'heat domes', cyclones, hurricanes, and other extreme weather events."
Last year, a Category 5 cyclone devastated the northern part of Vanuatu, an area already struggling with the impact of Covid-19.
Loughman said the issues are increasingly beyond the control of individual national governments and international cooperation is therefore essential for Vanuatu and other small island developing states to combat the threat of climate change.
International court of justice advisory opinions are not binding, but it is hoped an opinion would assist with climate litigation cases around the world.
Vishal Prasad, a campaigner at Pacific Islands Students Fighting Climate Change, told the Guardian that Vanuatu's move to obtain an advisory opinion form the court is a "catalyst' to bolster and advance progress in the climate fight.
"The youth is strongly pushing for an advisory opinion that looks at … what the obligations of states are in protecting the right of current and future generations from the adverse effects of climate change," he said.
"This is a first milestone achievement for [our] campaign going ahead. What this means is that it now gives extra strength to the youth campaign, that there is now a state that is willing to take this forward … we have now backing and support from a state," Prasad added.
With Reuters

Disclaimer: This post has been auto-published from an agency/news feed without any modifications to the text and has not been reviewed by an editor.

Source link
Turkmenistan claims it hasn't had a single Covid-19 case. Activists say that's a lie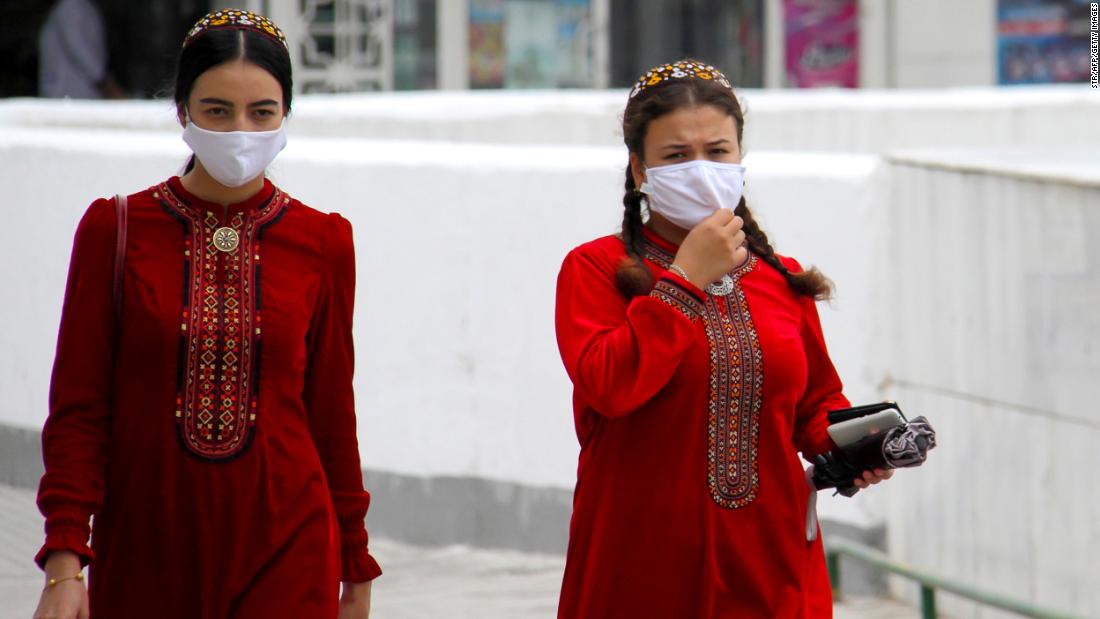 Or at least, that's what the central Asian country's secretive, authoritarian government claims.
But independent organizations and journalists and activists outside Turkmenistan say there's evidence the country is battling a third wave which is overwhelming hospitals and killing dozens of people — and warn the President is playing down the threat of the deadly virus in a bid to maintain his public image.
Ruslan Myatiev, an exile from Turkmenistan and editor of the Netherlands-based independent news organization Turkmen News, said he has personally assembled the names of more than 60 people who he claimed have died of Covid-19 inside the country, including teachers, artists and doctors.
Myatiev said he has verified all the recorded deaths with health records and X-rays, revealing severe lung damage and medical treatment consistent with coronavirus victims.
"Instead of accepting it and cooperating with the international community, Turkmenistan decided to stick its head in the sand," said Myatiev.
The Turkmenistan government did not respond to CNN's requests for comment.
How it unfolded
As Covid-19 spread around the world at the start of 2020, Turkmenistan insisted it had no cases, even as bordering countries reported skyrocketing outbreaks.
Iran, with which Turkmenistan shares a long land border, has reported one of the world's largest Covid-19 outbreaks with nearly 5.5 million total cases, according to the World Health Organization (WHO).
"You look at what's happening at other countries in the region and how different could Turkmenistan possibly be?" said Rachel Denber, deputy Europe and Central Asia director at Human Rights Watch.
According to the websites of the British and Australian foreign ministries, all flights into Turkmenistan are currently suspended and only Turkmen citizens are allowed to enter the country.
Myatiev said his sources in Turkmenistan began contacting him about cases in around May 2020 — about the same time Covid-19 was spreading around the world. He said the first messages he received talked about a "weird lung disease, flu-like" which was affecting many people.
"It was at least 40 degrees Celsius outside (104 degrees Fahrenheit) — not a usual flu season," he said.
In June 2020, the US embassy in the capital, Ashgabat, issued a heath alert warning of "reports of local citizens with symptoms consistent with Covid-19 undergoing Covid-19 testing," and being placed in quarantine for up to 14 days.
The Turkmenistan government immediately called the statement "fake news."
A WHO mission to Turkmenistan in July 2020 did not confirm any coronavirus infections inside the country but did say it was concerned about "increased numbers of cases of acute respiratory infection and pneumonia."
One WHO official said Turkmenistan should act "as if Covid-19 was circulating."
By then, the situation was out of control, according to Myatiev. The government advised citizens to take bizarre public health measures, such as eating a particular type of spicy soup.
In January this year, Turkmenistan announced it had approved Russia's Sputnik V coronavirus vaccine for use in the country. Then in June, the World Bank agreed to lend $20 million to the Turkmenistan government, mostly for health facilities and construction, as part of a program to "prevent, detect and respond to the threat posed by Covid-19."
As recently as Tuesday, President Berdymukhamedov said the efforts of the global community in addressing the Covid-19 pandemic were "insufficient," although he did not mention the situation inside his own country.
"The pandemic has exposed serious systemic failings in the international response to this challenge," he said.
'Turkmenistan is burning'
Despite Berdymukhamedov's claims that his country his Covid-free, the reality inside Turkmenistan is starkly different, according to independent journalists and activists.
Diana Serebryannik, director of Europe-based exiles group Rights and Freedoms of Turkmenistan Citizens, said her organization had heard from contacts in the country that hospitals there are currently struggling to deal with the influx of cases.
Serebryannik said Turkmen doctors from her organization who were now living overseas were in touch with their former colleagues in the country, allowing them to find out the real situation and provide advice.
She said doctors inside Turkmenistan had told her both oxygen and ventilators were hard to come by in the country, treatment was expensive and deaths from the virus could be in the thousands.
"Turkmenistan is burning, it's burning with Covid … Sometimes they do not even accept patients to the hospital, they just send them home," she said.
According to Serebryannik, the official cause of death in these cases is not listed as Covid-19 or even pneumonia — instead medical certificates record a separate condition, such as a heart attack, she said.
When health workers have tried to speak up about the reality on the ground, they have been pressured into silence, according to non-profit Human Rights Watch.
Inside the country, freedom of the press and independent scrutiny is not allowed — Turkmenistan was ranked 178 out of 180 countries and territories on Reporters Without Borders 2021 World Press Freedom Index, just above North Korea and Eritrea.
Turkmen citizens who peacefully criticize the government have faced severe punishments, according to Human Rights Watch, including reports of torture and disappearances.
Foreign residents have also been affected by the Turkmenistan government's coronavirus denials. In July 2020, Turkish diplomat Kemal Uchkun was admitted to hospital in Ashgabat with Covid-like symptoms but was refused permission to evacuate to his home country, according to the journal of Asian Affairs.
According to the BBC, X-rays sent to Turkish hospitals by Uchkun's wife were confirmed to show evidence of Covid-19.
The journal of Asian Affairs said Uchkun died on July 7. His official cause of death was heart failure.
Most recently, Myatiev said he had confirmed the death of a 61-year-old Russian language and literature teacher, who had been in hospital since August, according to Turkmen News.
Undermining the rosy picture
Multiple authoritarian governments around the world have announced their Covid-19 outbreaks and received international assistance, including China, the earliest country affected.
So why is Turkmenistan so insistent that it has still not seen a single case?
Both Myatiev and Serebryannik said it was down to President Berdymukhamedov who, as a dentist by profession and former health minister, had placed great emphasis on effectively governing the well-being of his people — at least in principle.
Serebryannik said Berdymukhamedov, 64, wanted to appear like a savior to the country, and an impressive world leader, by keeping Covid-19 out.
"Turkmenistan is a country where everything in the garden looks rosy … you have those marble, state of the art (health facilities) equipped with German, French, Japanese, whatever, equipment," journalist Myatiev said.
Admitting the presence of a deadly virus would undermine the idealized image the President has created and leave Berdymukhamedov open to criticism — and potentially to being held to account.
"It would be someone's failure, someone would have to bear responsibility for that and who has the ultimate word for that? The President," Myatiev said.
There has been no indication yet that Turkmenistan is preparing to reverse its position and admit to having Covid-19 cases inside the country, but Serebryannik said she believed the government would have to eventually.
She said there had just been "too much death."
Human Rights Watch's Denber said international organizations interacting with Turkmenistan, including WHO, had a duty to be honest with the world about the situation inside the country.
"At a certain point you have to say at what cost are you protecting that presence (in the country)? Are the measures you're taking to protect your relationship … undermining your core mission?" she said.
Denber said in a global pandemic, with many outbreaks linked across international borders, nations had an obligation to provide accurate testing and correct public information.
"We're all interconnected," she said. "When one of us fails, we all fail."

Disclaimer: This post has been auto-published from an agency/news feed without any modifications to the text and has not been reviewed by an editor.

Source link
Xi calls for global sci-tech innovation cooperation at opening of 2021 Zhongguancun (ZGC) Forum
BEIJING, Sept. 26, 2021 /PRNewswire/ — Chinese President Xi Jinping called for global cooperation in scientific and technological innovation at the Zhongguancun Forum in Beijing on Friday.
Addressing the forum's opening ceremony via video link, Xi said countries in the world should ramp up sci-tech opening-up and cooperation, and explore approaches and means to tackle pivotal global issues through concerted efforts in sci-tech innovation.
"It is more imperative than ever for all countries to ramp up sci-tech opening-up and cooperation, and explore approaches and means to tackle pivotal global issues through concerted efforts in sci-tech innovation. All countries should stand in solidarity to confront the common challenges of the times and jointly push forward the lofty cause of human peace and development," he said.
"China attaches great importance to sci-tech innovation and has been committed to global cooperation in this regard. Looking ahead, we will strengthen international sci-tech exchanges with a more open attitude, actively engage in the global innovation network, and join hands with other countries to promote basic research. We will promote the commercialization of research results, cultivate new impetus for economic development, enhance the protection of intellectual property rights, create a first-class innovation ecosystem, and foster the concept of 'science and technology for good' so as to serve the ultimate purposes of improving global sci-tech governance and bettering the wellbeing of mankind," said Xi.
"Zhongguancun is China's first national pilot zone for independent innovation. The Zhongguancun Forum is a national-level platform for international sci-tech exchanges and cooperation. China supports Zhongguancun to start a new round of reforms, accelerate the building of a world-class sci-tech park, and make new contributions to global sci-tech innovation and cooperation. I hope the forum participants will have in-depth exchanges and pool wisdoms to offer insights on how to advance global sci-tech innovation and cooperation and how to build a community of shared future for mankind," said Xi.
This year's forum is scheduled to be held from Sept 24 to 28. Themed "intelligence, health and carbon neutrality", it aims to demonstrate China's resolve in promoting development through science and technology, building ecological civilization and enhancing international cooperation in climate change.
Link: https://www.youtube.com/watch?v=ftSujLjG0sc
SOURCE CCTV+

Disclaimer: This post has been auto-published from an agency/news feed without any modifications to the text and has not been reviewed by an editor.

Source link