Know when are 5 big films postponed due to Corona going to be released?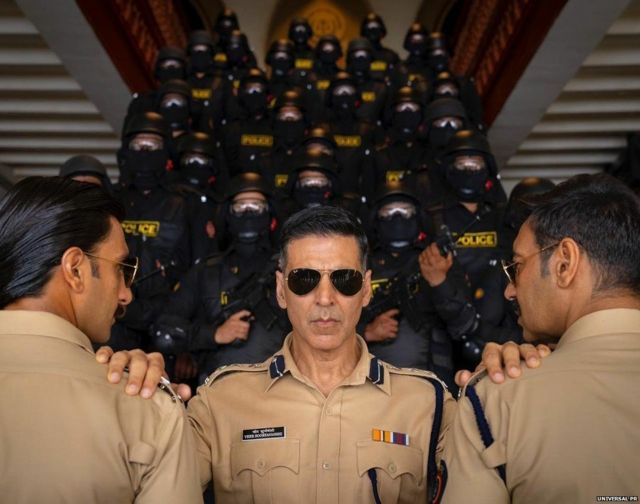 Supriya Sogle
for Press24 News
For almost two years, due to the Corona epidemic, not only India but the entertainment industry of the whole world has been badly affected.
India is currently trying to recover from the second wave of the corona epidemic. The economy is also slowly picking up its pace.
Talking about the Hindi film industry, it is facing heavy losses due to the closure of cinema halls. However, now theaters have started opening in different states of India.
Recently, filmmaker Rohit Shetty, head of Pen Film Jayantilal Gada and representatives of cinema hall organizations met Maharashtra Chief Minister Uddhav Thackeray.
After this meeting, it was announced that theaters in Maharashtra will be opened from October 22, 2021. It was also told that the standard operating procedure for cinemas would also be announced soon.
It is known that 30 percent of the revenue of the film industry comes from the region of Maharashtra.
It is the largest sector in terms of film trade of the country. The scale of the success and earnings of a film is measured by the success achieved in Maharashtra.
For a long time, the release of many big films of the Hindi film industry has been postponed due to the complete non-opening of theaters.
They have now got the release date. Next we will talk about some such films, whose release has been affected due to the pandemic.
sooryavanshi
The film 'Suryavanshi', made with Hindi film industry's blockbuster director Rohit Shetty and superstar Akshay Kumar, was waiting for almost a year for its release.
This is the third film in Rohit Shetty's police action drama series. Earlier, his Ajay Devgan starrer 'Singham' and Ranveer Singh starrer 'Simmba' were very successful.
With the announcement of 'Sooryavanshi', it was being considered as a blockbuster hit. Akshay Kumar, Ajay Devgan and Ranveer Singh are going to be seen together for the first time in this. Katrina Kaif will also be seen in an important role in the film.
The release of Sooryavanshi, which was to be released on March 24, 2020 last year, was stalled due to the lockdown. In early 2021, when the outbreak of the epidemic appeared to be decreasing in India, theaters opened. The release of many big films was announced. And then it was announced that Sooryavanshi will be released on April 30, 2021.
But the second wave of Corona forced the state government to ban cinema halls. The film's release was once again postponed indefinitely. After the announcement of the date of opening of theaters by the Maharashtra government, Rohit Shetty announced the release date of 'Sooryavanshi' and said that his film will now be released in theaters on this Diwali.
83
Ranveer Singh will be seen in the role of Kapil Dev in the film '83', based on the historic victory of India's first Cricket World Cup.
In '83' directed by Kabir Khan, Deepika Padukone plays the role of Kapil Dev's wife as well as the producer. Pankaj Tripathi, Raj Bhasin, Saqib Saleem, Sahil Khattar, Ammy Virk and Hardy Sandhu are also playing the characters of the team that won the '83' World Cup in this film made on cricket.
The film was scheduled to release on April 10, 2020 last year, but due to the Corona epidemic, its release date was shifted to December 25, 2020. In November, the film's release date was once again changed to June 4, 2021. But the release date of the film was postponed indefinitely due to the number of victims of the epidemic in India.
Now that the opening of theaters in Maharashtra has been announced, the makers of '83' have also decided to release the film on Christmas at the end of the year. Now the film will be released in the last week of the year in Hindi, Tamil, Telugu, Kannada and Malayalam.
Satyamev Jayate 2
In the year 2018 made 'Satyamev Jayate', John Abraham was seen giving competition to actor Manoj Bajpayee. The film became a profitable deal for the producers by earning Rs 100 crore at the box office.
Seeing the success of action film 'Satyamev Jayate', the makers announced 'Satyamev Jayate 2' with John Abraham. In this, John Abraham will be seen in a double role. The film also sees Divya Khosla Kumar returning to acting after a hiatus.
Directed by director Milap Jhaveri, the film was scheduled to release in April 2021. But due to the Corona epidemic, the film's release was postponed indefinitely.
Bunty Aur Babli 2
Yash Raj Films is counted among the biggest film studios of the Hindi film industry. Rani Mukerji, Abhishek Bachchan and Amitabh Bachchan's film Bunty Aur Babli, made in 2005, wooed people a lot. The song "Kajrare Kajrare" from the film became very famous.
After 15 years, Saif Ali Khan will be seen again with Rani Mukherjee in Part Two of the film. Siddhant Chaturvedi, who became famous from the same Gully Boy, is going to be seen as a hero in the film Bunty Aur Babli 2 and Sharvari Wagh is going to make her acting debut with this film.
The film, which was released on June 26, 2020 last year, could not finish the shooting of the film on time due to the corona epidemic and lockdown. Shooting resumed after the lockdown and was completed in September 2020. Now this film is ready, but due to the second wave of Corona, its release date could not be decided.
At present, many big films of Yash Raj Studio are ready for release, including Akshay Kumar's historical film Prithviraj, Ranbir Kapoor's Shamsher, Ranveer Singh's Jayesh Bhai Jordar. Yash Raj Studios has assured that their films are made for theatres, so they will release it only when the theaters open.
Yash Raj Studios has also announced the release of its big films after the Maharashtra government announced the opening of cinema halls. Now 'Bunty Aur Babli 2' will be released on November 19, 2021. His other big films are Akshay Kumar's Prithviraj, Ranveer Singh's Jayeshbhai Jordar and Ranbir Kapoor's Shamsher will be released next year in 2022.
Gangubai Kathiawadi
Every actress in the film industry aspires to become a heroine in the films of director Sanjay Leela Bhansali. After working with Manisha Koirala, Aishwarya Rai Bachchan, Madhuri Dixit Nene, Rani Mukerji, Priyanka Chopra and Deepika Padukone, Sanjay Leela Bhansali is now making Gangubai Kathiawadi with Alia Bhatt.
Although Alia Bhatt was not his first choice for this character. He went to Rani Mukherjee and Priyanka Chopra for this film, but they refused. After that Alia Bhatt joined this film.
The film is based on the life of a real tawaif of Kamathipura, Mumbai's redlight area. Ajay Devgan will be seen in a guest role in this film.
Last year, due to the lockdown, the shooting of the film was halted for some time in the month of March. During that time, the film was 70 percent complete. The shooting of the rest of the film resumed in October last year and was completed in June 2021.
After this, its release date was fixed on July 30, 2021, but due to the second wave, the release date of the film had to be extended.
In between, there was speculation that this film would be released on 'OTT'. But producer Penn Studio issued a statement making it clear that this film has been made for the big screen and it will be released in theaters only.
After the announcement of the Maharashtra government, the wave of hope has started running again among the producers. Many producers have announced the release date of their films, while other producers are busy fixing the release date for their films.
Disclaimer: This post has been auto-published from an agency/news feed without any modifications to the text and has not been reviewed by an editor.
ravindra jadeja helps csk to beat kkr: watch video how sir ravindra jadeja change the game for CSK against KKR in IPL 2021; Dhoni doesn't just call Ravindra Jadeja 'Sir', CSK's luck shone with stormy batting, KKR lost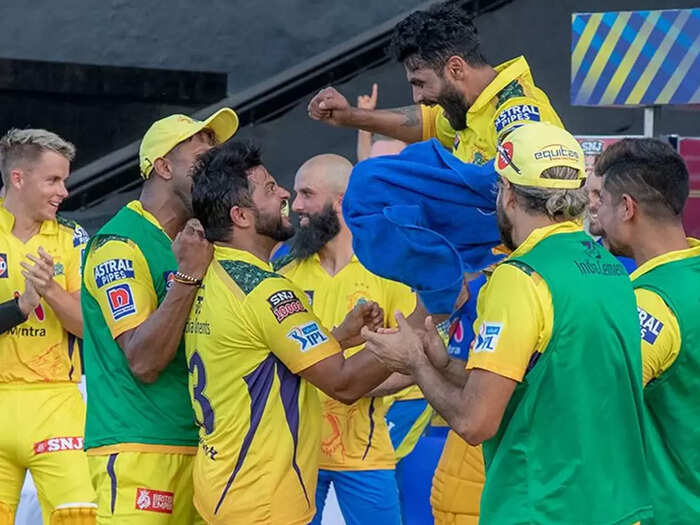 Curated by Nityanand Pathak | navbharattimes.com | Updated: Sep 26, 2021, 8:29 PM
Chennai Super Kings needed 26 runs to win in two overs against Kolkata Knight Riders. In the 19th over, Ravindra Jadeja turned the dice of the match by hitting the famous Krishna for 22 runs.
Dhoni doesn't just call Ravindra Jadeja 'Sir', CSK's luck shone with stormy batting, KKR lost
Abu Dhabi

Chennai Super Kings defeated Kolkata Knight Riders by 2 wickets in the 38th match of IPL-2021. In this thrilling match that lasted till the last ball, KKR had the upper hand for 18 overs. MS Dhoni was bowled by Varun Chakravarthy (1), shattering the hearts of the fans of CSK while bowling MS Dhoni (1). With two overs left and the entire hope of the Dhoni battalion rested on Ravindra Jadeja and Sam Curran. Something similar happened. Ravindra Jadeja changed the fate of CSK with his stormy batting in the 19th over.
CSK's luck turned like this
Ravindra Jadeja hit the famous Krishna for a total of 22 runs hitting two sixes and two fours. Before this over, KKR, which seemed to be winning the match, now started feeling the fear of defeat, because after the end of the over, Chennai needed only 4 runs in 6 balls to win. Let us tell you that before this over, CSK were a total of 26 runs away and KKR felt that this match would go smoothly.

Think of the 19th over like this: Bowler- Prashant Krishna, Batsman- Sam Curran, Ravindra Jadeja
1st ball: Ravindra Jadeja, takes a run at extra cover.
2nd ball: Sam Curran, takes a run after playing it at extra cover.
Third ball: Ravindra Jadeja, hits a lofty six at backward square.
Fourth ball: Ravindra Jadeja hits a six over CSK's dugout.
5th ball: Ravindra Jadeja, low full toss, hard shot, the ball crosses the boundary at the speed of the bullet. 4 runs.
Sixth ball: Ravindra Jadeja, another full toss, then a hard shot and the ball crosses the boundary line backwards over the fielder. 4 runs.
Even though Venkatesh Iyer took DRS, review was wasted
Sunil Narine could not stop from winning
Now Sunil Narine (3 for 41) came to the last over in which Chennai needed four runs. Narine bowled brilliantly and dismissed Sam Curran (four) and Jadeja (22 runs in 8 balls) but Deepak Chahar managed to take the winning run.
Ravindra Jadeja's amazing, Chennai won on the last ball, gracefully reached the top of the table
Such was the thrill of the match
Talking about the match, Chennai had a target of 172 runs. Faf du Plessis (44 off 30 balls) and Rituraj Gaikwad (40 off 28 balls) got them off to a good start by adding 74 runs for the first wicket. Moeen Ali made 32 off 28 balls but it was Jadeja who hit two fours and two sixes in difficult conditions as Chennai chased down the target for the loss of eight wickets. KKR had earlier lost wickets at regular intervals and scored 171 runs on the back of a cameo from Dinesh Karthik (26 off 11 balls).
What did Dhoni change in CSK to beat Kolkata Knight Riders?
Disclaimer: This post has been auto-published from an agency/news feed without any modifications to the text and has not been reviewed by an editor.
Pm Narendra Modi To Launch Ayushman Bharat Digital Mission On September 27 Here Is All You Need To Know In Hindi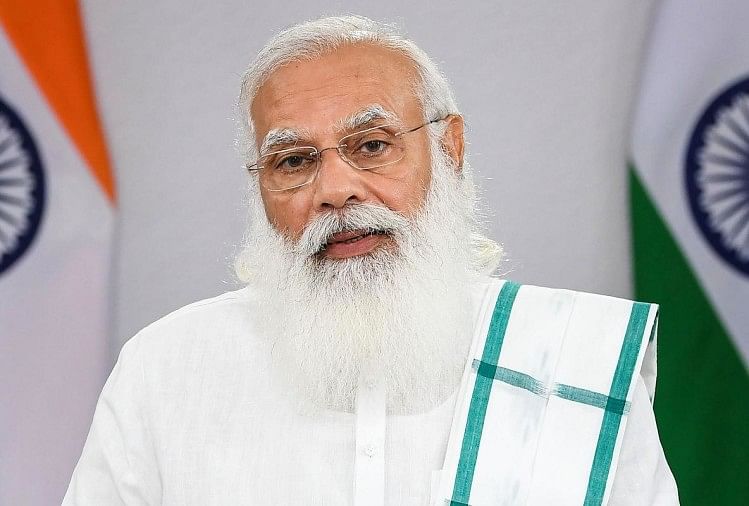 News Desk, Press24 News, New Delhi
Published by: Gaurav Pandey
Updated Sun, 26 Sep 2021 08:29 PM IST
Summary
Ayushman Bharat Digital Abhiyan or Pradhan Mantri Digital is currently implemented as a pilot project in six union territories. Under this, a seamless online platform will be created to systematically leverage the interoperable and standards-based digital system along with infrastructure services. The campaign plans to enable access and exchange of health records with the consent of citizens.
Prime Minister Narendra Modi
– Photo: PTI (File)
Expansion
Prime Minister Narendra Modi will inaugurate the Ayushman Bharat digital campaign on Monday. This program, which will be done through video conferencing, will start at 11 am. Prime Minister Modi will also deliver an address after the inauguration. Let us inform that the pilot project of Ayushman Bharat Digital Campaign was announced by the Prime Minister on 15 August 2020 from the Red Fort. Presently this digital campaign is in its initial phase in six Union Territories.
According to the central government, Ayushman Bharat Digital Abhiyan will create an online platform that will enable the interoperability of other health sector portals under the digital health ecosystem. The campaign is being launched at the national level to coincide with the third anniversary of the National Health Authority (NHA)'s Ayushman Bharat Pradhan Mantri Jan Arogya Yojana. The Union Minister will also be present at the inauguration of this campaign.
Citizens will get Health ID

Under this, citizens will be provided with a health identity (Health IT) which will also act as their health account. With this ID, a person will be able to view his health records through the mobile app. Business will be easier for doctors/hospitals and healthcare providers. The Ayushman Bharat Digital Mission sandbox created as part of the campaign will act as a framework for technology and product testing.
Sandbox will play an important role

In addition, this sandbox will also provide support to private organizations that wish to efficiently associate themselves with health information providers or health information users or blocks created under this campaign, becoming part of the national digital health ecosystem. . According to the central government, through this digital campaign, the access of the people of the country to health related services will be just a click away.
Disclaimer: This post has been auto-published from an agency/news feed without any modifications to the text and has not been reviewed by an editor.
How are companies in Israel and Europe now preparing insects like locusts and crickets to eat?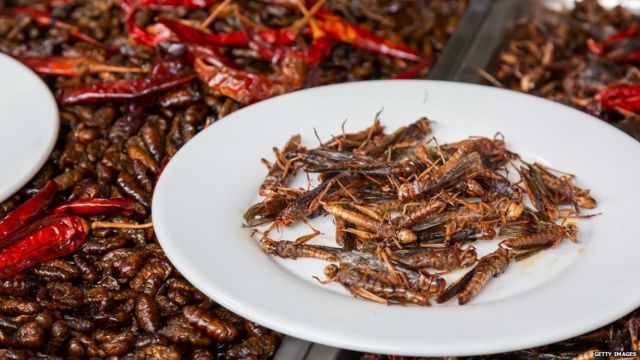 Natalie Lisbon
Tel Aviv, PRESS24 NEWS News
Many companies are now cultivating locusts and mealworms for human consumption.
It has been suggested for a long time that for the betterment of the environment, we should start eating insects. But many of us do not like this idea.
An Israeli company hopes that this dislike can be overcome by adding several spices to make it flavourful.
Dror Tamir, head of food-tech company Hargol, opens a pack of brown sweets and says, "Take a look."
Instead of packing gummi (a kind of jelly) with soybean chutney or gelatin, it is packed with protein. This protein is made from edible insects i.e. locusts.
Dror Tamir says, "Locusts taste like walnuts, mushrooms, coffee and chocolate. But we can offer it in many flavours. Gummi comes in orange and strawberry flavours."
Arabs have long eaten insects
Israeli entrepreneur Tamir says that after hearing stories from grandmother in the child, he used to be fascinated by locusts. His grandmother used to cook food at a collective farm (kibbutz).
He says, "I came to know about the 1950s. Then Israel faced both food and drink problems as well as crop destruction from locusts flying from Africa."
"Most of the kibbutz people ran to the fields to scare off the locusts, but the Jewish people of Yemen and Morocco collected tons of locusts to eat. And at the same time they learned that Arabs all over the world eat locusts. "
People in Africa, Asia, Central America and the Middle East have long been eating insects. However, for many people in Europe and North America, this is a waste of time.
Appearance can change in western countries too
Dror Tamir expects this to change. Now many products of his company are going to be introduced. In addition to sweets, energy bars will also be on offer.
If you still don't think insects will ever be eaten in Western countries, but many experts agree that environmental concerns and the growing world population may not be an option.
It is estimated that by 2050 the world population will increase from the current 7.7 billion to 9.8 billion.
Many believe that the yield from traditional farming will not be enough to feed another two billion people. Also, for the betterment of the environment, eating insects for protein would be far better than raising cows, sheep and other animals.
Chief Scientific Adviser to the UK's Food Standards Agency, Prof. Robin May says, "Protein is very important in our diet, but our diets with the highest protein sources are often associated with environmental or ethical concerns. Meat or dairy products, for example."
He says, "Some insects, such as crickets or freeze-dried mealyworms, are cheap, easy to breed, low in fat and have less environmental impact than meat. and by doing so they also provide useful 'recycling' service. In such a situation, the benefits to society from this are very important."
Along with this Prof. Robin says about the insects being prepared in the farm that some questions about it have not been answered yet.
He says, "We don't know much about the way insects are prepared in the form and used in the short time. Also, we don't know as much about the food prepared from insects as we do about beef etc. know."
He further said that an important question at this stage is whether certain insect proteins can cause allergies or have a specific effect on the human microbiome, that is, the bacteria and microbes that live in our body.
locust farming in israel
However, Tamir is confident that the environmental and health benefits are enough to make insects a part of the diet.
Tamir's company Hargol cultivates locusts at a solar-powered indoor center in northern Israel. The main species grown there is of the migratory locust. But in that center desert locusts and a variety of crickets named Nasen are also prepared.
He says, "We can prepare 400 million locusts in a year at our center. It takes only 29 days for this insect to grow completely."
They claim that locust farming reduces greenhouse gas emissions by 99 percent compared to beef. Water consumption is also reduced by 1,000 times and the use of arable land is reduced by 1,500 times.
Tamir also tells that he has both kosher and halal locusts. This means that they can be eaten by both Jews and Muslims.
Business, economy and work life everything is changing rapidly in the new type of economy.
Whether or not you can buy insects to eat depends on which country you live in.
In the UK, you can buy them online from companies like EatGrub and Horizon Insects. However, there is a demand from this sector that the UK government should remove the costly regulation.
In the European Union, migratory locusts and yellow mealyworms have been deemed fit for human consumption this year.
The French company 'Yansect' manufactures several types of protein powders made from mealworms. These protein powders are already found in many brands of energy bars, pasta and burgers.
Claims about the benefits of insects
The company's CEO, Antoine Hubert, says the protein is "completely natural" and a "less processed alternative" to many animal meats, sausages, hams and breaded chicken products.
Referring to a recent study from Maastricht University, which suggested that insect protein is as beneficial as milk protein, he says, "Both have similar ability to digest, absorb and strengthen muscles." Went."
Nevertheless, Bridget Benelm, communications manager at the British Nutrition Foundation, says more research is still needed on this.
Regarding possible allergies, Prof. Referring to May's concerns, he said that some people may be allergic to eating insects in the same way as someone is to eating shellfish.
She says that many unresolved questions still remain regarding the food of some insects. This can put humans at risk of passing toxic substances or pesticides. "If eating insects is to become a common habit, then these problems need to be addressed," he says.
Tamir, on the other hand, acknowledges that one of the industry's most pressing challenges is the habit of feeling disgusted with insects. But he says, "I am sure it will get wide acceptance soon."
Disclaimer: This post has been auto-published from an agency/news feed without any modifications to the text and has not been reviewed by an editor.