3 Feared Killed, Multiple Injured as Amtrak Train Between Seattle, Chicago Derails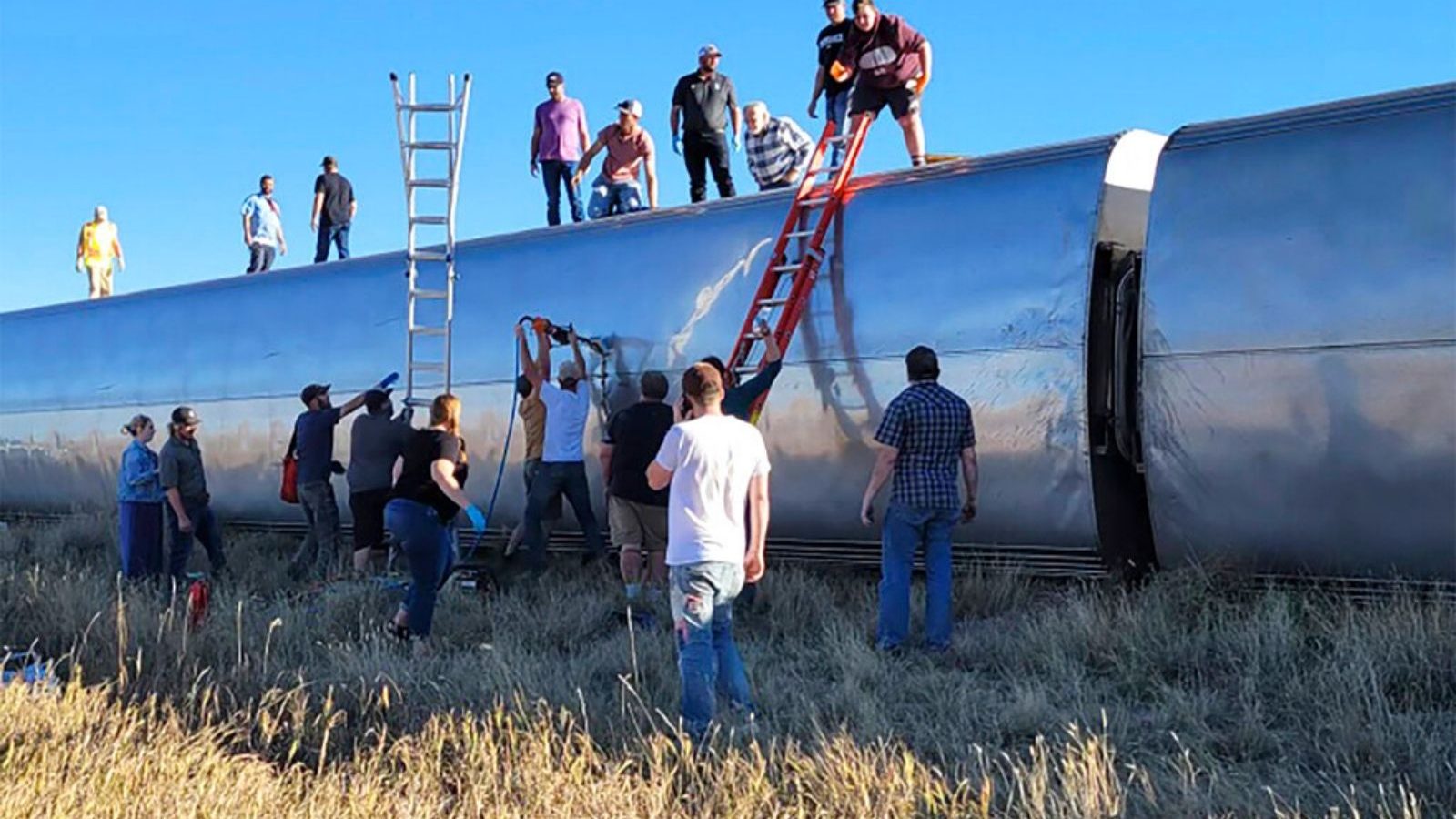 At least three people were killed Saturday afternoon when an Amtrak train that runs between Seattle and Chicago derailed in north-central Montana, an official with the Liberty County Sheriff's Office said.
Dispatcher Starr Tyler told The Associated Press that three people died in the derailment. She did not have more details. Amtrak said in a statement that there were multiple injuries.
The Empire Builder train derailed about 4 p.m. near Joplin, a town of about 200, Amtrak spokesman Jason Abrams said in a statement. The accident scene is about 150 miles (241 kilometers) north of Helena and about 30 miles (48 kilometers) from the border with Canada.
The train had about 146 passengers and 16 crew members onboard, Abrams said. The train consisted of two locomotives and 10 cars, with seven of those cars derailing, he said.
Megan Vandervest, a passenger on the train who was going to visit a friend in Seattle, told The New York Times that she was awakened by the derailment.
"My first thought was that we were derailing because, to be honest, I have anxiety and I had heard stories about trains derailing," said Vandervest, who is from Minneapolis. "My second thought was that's crazy. We wouldn't be derailing. Like, that doesn't happen."
She told the Times that the car behind hers was tilted over, the one behind that was entirely tipped over, and the three cars behind that "had completely fallen off the tracks and were detached from the train."
Speaking from the Liberty County Senior Center, where passengers were being taken, Vandervest said it felt like "extreme turbulence on a plane."
Amtrak was working with the local authorities to transport injured passengers and safely evacuate all other passengers, Abrams added.
The National Transportation Safety Board will send a 14-member team, including investigators and specialists in railroad signals and other disciplines, to investigate the crash, spokesman Eric Weiss said.
Five Amtrak cars derailed around 3:55 p.m. Mountain Daylight Time and no other trains or equipment were involved, Weiss said. The train was traveling on a BNSF Railroad main track at the time, he said.
Photos posted to social media showed several cars on their sides. Passengers were standing alongside the tracks, some carrying luggage.
The images showed sunny skies, and it appeared the accident occurred along a straight section of tracks.
Amtrak said that because of the derailment, the Sunday westbound Empire Builder will terminate in Minneapolis, and the Sunday eastbound Empire Builder train will originate in Minneapolis.
Read all the Latest News, Breaking News and Coronavirus News here

Disclaimer: This post has been auto-published from an agency/news feed without any modifications to the text and has not been reviewed by an editor.

Source link
Did you panic sell during the latest market dip? When to get back in
Panic selling often happens during stock market dips, and those who dump investments may later regret their decision. 
The bigger issue, however, is getting back into the market after a "freak out," according to research from the Massachusetts Institute of Technology.
"Panic selling is predictable," said co-author Chi Heem Wong, researcher at MIT, and there are trends among those who dump assets during volatile periods. 
Men who are over age 45, married with children and say they have "excellent investment experience or knowledge" are more likely to panic sell during stock market dips, research shows.
"It's pretty consistent over time that people with certain attributes tend to panic sell more often than others," Wong said.
While the research didn't examine why certain investors are more prone to impulsive sell-offs, they found another alarming trend: Many panic sellers don't reinvest after going to cash.
More than 30% of investors who panic-sold assets after previous downturns never got back into the stock market, as of Dec. 31, 2015, the paper found.
It's a problem because those who leave the stock market and don't re-enter miss out on the recovery. In fact, the best returns may follow some of the biggest dips, according to research from Bank of America.
Since 1930, missing the S&P 500's 10 best-performing days every decade led to a total return of 28%. However, someone who stayed invested through the ups and downs may have a 17,715% return, the company found.
"The worst thing that you can do is let the mistake of selling at the wrong time hold you back from participating in some of the gains in the future," said certified financial planner Jake Northrup, founder of Experience Your Wealth in Bristol, Rhode Island.
Why the panic sale happened
Before crafting a plan to re-enter the stock market, experts say it's essential to explore the reasons why the panic sale may have happened.
First, panic sellers may want to reflect on the event, their thought process, feelings and what they can learn from it, said Northrup.
"Diving a little bit deeper, was it the volatility that really impacted you?" he asked. "If so, maybe take a harder look at your risk tolerance." 
For example, if someone can't stomach market swings, they may want to reconsider their asset allocation, perhaps pivoting to less stock exposure, depending on their situation, he said. 
But they need to ask themselves if there's been a change in their core values, goals and reasons for investing. If the answer is no, they may not need to shift their investing strategy, Northrup said.
Someone who panic sells may also have a near-term need, which may have amplified their fear, said Teresa Bailey, CFP and wealth strategist at Waddell & Associates in Nashville, Tennessee.
How to re-enter the stock market
While getting back into the market may pay off long-term, experts say panic sellers often feel anxious about when to reinvest.
"You have to be right twice," said Bailey, as it's difficult to know when to sell and re-enter the market.
"Typically, emotion is amplified around getting back in because you don't want to make a second mistake," she said.
Typically, emotion is amplified around getting back in because you don't want to make a second mistake.

Teresa Bailey

Wealth strategist at Waddell & Associates
Some panic sellers wait for assets to decline again before re-entering, which may only extend their time out of the market, Bailey said. However, if they cashed out based on a short-term news event, it's important to jump back in. 
The most common strategy is dollar-cost averaging, where someone puts their money back to work by investing at set intervals over time.
While research shows investing a lump sum sooner may offer higher returns, dollar-cost averaging may help prevent emotional re-investment decisions.
"If someone has panic sold, they might have a tendency to be very emotional with investing," Northrup said.
"It can be really challenging if someone is scarred from some of the volatility and then missing out on some of the gains that they could have had," he said.
Trying a combination approach
iNueng | iStock | Getty Images
Investors may also combine dollar-cost averaging with a lump-sum approach, Bailey said, which may need professional guidance.
For example, they may reinvest every week for eight to 10 weeks, and deploy a larger amount if the market dips during that period, she said.
The tactic may allow someone to speed up their timeline to reinvest and get back in at a lower point.
But regardless of the strategy, it's important to try and learn from previous mistakes and stick with the long-term investing plan.
"Over time, data shows if you stay invested your pot of money will grow," Bailey said.

Disclaimer: This post has been auto-published from an agency/news feed without any modifications to the text and has not been reviewed by an editor.

Source link
Russia says it's in sync with US, China, Pakistan on Taliban

Russia's foreign minister says the United States, China, Russia and Pakistan are working together to ensure that Afghanistan's new Taliban rulers keep their promises


Disclaimer: This post has been auto-published from an agency/news feed without any modifications to the text and has not been reviewed by an editor.

Source link
Vanuatu to seek international court opinion on climate change rights | Vanuatu
Vanuatu will ask the International court of justice for an advisory opinion on the rights of present and future generations to be protected from climate change.
With a population of about 280,000 people spread across roughly 80 islands, Vanuatu is among more than a dozen Pacific island nations facing rising sea levels and more regular storms that can wipe out much of their economies.
In a statement on Saturday, Vanuatu's government said it "recognises that current levels of action and support for vulnerable developing countries within multilateral mechanisms are insufficient".
It comes ahead of the UN Cop26 climate summit in November.
Ahead of the summit, Vanuatu will expand "its diplomacy and advocacy" by forming a coalition with fellow Pacific Islands and other vulnerable nations to push the initiative.
In a speech to the UN general assembly on Sunday, Vanuatu prime minister Bob Loughman repeated the call for comprehensive global action on climate change.
"The dire consequences of climate change can no longer be ignored, and the science linking climate change to past and present emissions of greenhouse gases is now beyond question. Climate change is driving sea level rise, desertification, disease redistribution, floods, unprecedented 'heat domes', cyclones, hurricanes, and other extreme weather events."
Last year, a Category 5 cyclone devastated the northern part of Vanuatu, an area already struggling with the impact of Covid-19.
Loughman said the issues are increasingly beyond the control of individual national governments and international cooperation is therefore essential for Vanuatu and other small island developing states to combat the threat of climate change.
International court of justice advisory opinions are not binding, but it is hoped an opinion would assist with climate litigation cases around the world.
Vishal Prasad, a campaigner at Pacific Islands Students Fighting Climate Change, told the Guardian that Vanuatu's move to obtain an advisory opinion form the court is a "catalyst' to bolster and advance progress in the climate fight.
"The youth is strongly pushing for an advisory opinion that looks at … what the obligations of states are in protecting the right of current and future generations from the adverse effects of climate change," he said.
"This is a first milestone achievement for [our] campaign going ahead. What this means is that it now gives extra strength to the youth campaign, that there is now a state that is willing to take this forward … we have now backing and support from a state," Prasad added.
With Reuters

Disclaimer: This post has been auto-published from an agency/news feed without any modifications to the text and has not been reviewed by an editor.

Source link