UK fuel crisis: Government expected to make U-turn on foreign worker visas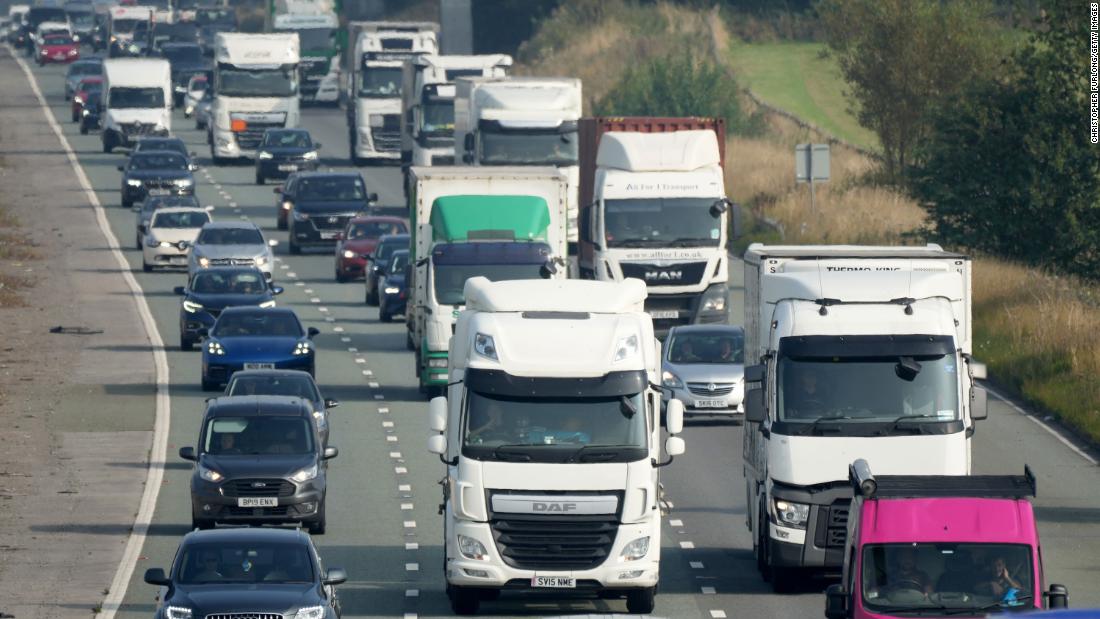 As queues started forming outside filling stations early on Saturday, Prime Minister Boris Johnson's office said it was looking at temporary measures to address the shortage of heavy goods vehicle (HGV) drivers.
Newspapers reported that the government would allow up to 5,000 foreign drivers into Britain on short-term visas, a measure that logistics companies and retailers have demanded for months but which the government had previously ruled out.
The UK's Road Haulage Association (RHA) says Britain needs 100,000 more drivers if it is to meet demand. The driver shortage has been caused partly by Brexit and Covid-19, and the loss of about a year of driver training and testing.
"We're looking at temporary measures to avoid any immediate problems, but any measures we introduce will be very strictly time limited," a spokeswoman for Johnson's Downing Street office said in a statement.
Downing Street declined to give further details.
Ministers have cautioned against panic buying, and oil companies say there is no shortage of supplies, merely problems delivering the fuel to the gas stations.
However, long lines of vehicles have begun gathering at petrol stations to fill up after BP said it had to close some of its outlets due to the driver shortages.
Some Shell stations have also reported pumps running dry while ExxonMobil's Esso has also said a small number of its 200 Tesco Alliance retail sites had also been impacted in some way.
EG Group, which runs hundreds of forecourts across Britain, said on Friday it would impose a purchase limit of £30 ($41) per customer for fuel due to the "unprecedented customer demand."
"We have ample fuel stocks in this country and the public should be reassured there are no shortages," the Downing Street spokeswoman said.
"But like countries around the world we are suffering from a temporary Covid-related shortage of drivers needed to move supplies around the country."
The fuel issue comes as Britain, the world's fifth-largest economy, also grapples with a spike in European natural gas prices causing soaring energy prices and a potential food supply crunch.
Other countries such as the United States and Germany are also dealing with truck driver shortages.
Britain says the long-term solution is for more British drivers to be hired, with the RHA saying better pay and conditions are needed to attract people into the industry.
But the retail industry has warned that unless the government acts to address the shortage in the next 10 days, then significant disruption is inevitable in the run-up to Christmas.

Disclaimer: This post has been auto-published from an agency/news feed without any modifications to the text and has not been reviewed by an editor.

Source link
Teesside airport runway closed after three hurt in light aircraft incident | UK news
Teesside airport's runway is closed after an incident involving a light aircraft left three people in hospital.
The airport said in a statement on Twitter that the incident occurred at 9.39am on Saturday and the pilot and two passengers on board needed emergency care.
It said its runway would remain closed "until further notice" while an investigation was carried out.
The airport said: "We can confirm an incident occurred today involving a light aircraft at 9.39am. A pilot and two passengers were onboard and have been taken to hospital.
"Our runway will remain closed until further notice while a thorough investigation is carried out.
"We would like to thank the emergency services (and) on-site staff for their quick response."
In a message to passengers due to travel on outbound Ryanair flights, it said: "Arrangements have been made for all passengers to be coached to Newcastle airport, where the flight will depart.
"Please note, you must check-in for your flight at Teesside. We'd like to thank you for your patience and cooperation."
A spokesperson for County Durham and Darlington fire and rescue service said two fire engines had attended the scene but the incident was now closed.
She said the airport's own fire and rescue unit had been part of the response, and confirmed there had been three casualties.
The North Eastern ambulance service (NEAS) said one of the three casualties had suffered serious injuries. NEAS said: "We were called at 9.35am to reports of a light aircraft crashing at Durham Tees Valley airport. We sent two ambulances, a specialist paramedic, an officer and requested support from the Great North air ambulance.
"In total, three patients were taken to James Cook hospital, one with serious injuries. One patient was taken by air and the two other patients were transported by road."
The Tees Valley mayor, Ben Houchen, tweeted: "Thoughts and prayers are with the three people onboard at the time of the incident and their families.
"At this time I want to thank the incredible response by the airport fire service and the immediate response of local emergency services to the incident."

Disclaimer: This post has been auto-published from an agency/news feed without any modifications to the text and has not been reviewed by an editor.

Source link
Seven killed in suicide attack near presidential palace
A suicide car bomb which exploded near the presidential palace in the Somali capital Mogadishu on Saturday has killed at least seven people.
District police chief Mucawiye Ahmed Mudey told reporters that at least eight others had been injured.
In a short statement, the Islamist militant group Al-Shabab claimed responsibility for the attack.
The attack targeted a convoy heading towards the presidential palace as it waited at a busy checkpoint.
A witness told AFP that the bomb was detonated when police stopped the driver to carry out a security check.
"They normally stop to check and clear vehicles before they can pass by the checkpoint. This car was stopped by the security guards and it went off while there were several other cars and people passing by the nearby road. I saw wounded and dead people being carried," Mohamed Hassan told the news agency.
Eyewitnesses told the BBC that seven cars and three rickshaws were destroyed.
The blast comes just hours after a suicide bomber detonated an explosive near Somali military headquarters in the capital, leaving no casualties.
Many in the country have criticised Somali politicians for the country's deteriorating security situation, claiming that they are distracted by a much-delayed election process and a mounting dispute between the president and the prime minister.
Al-Shabab, which means The Youth in Arabic, is an extreme Islamist group which has been battling UN-backed government troops for more than a decade.
The jihadists controlled the capital Mogadishu until 2011 when it was pushed out by African Union troops, but it still holds territory in the countryside and launches frequent attacks against government and civilian targets in Mogadishu and elsewhere.
It advocates the strict Saudi-inspired Wahhabi version of Islam, while most Somalis are Sufis. It has imposed a harsh version of Sharia in areas under its control, including stoning to death women accused of adultery and amputating the hands of thieves.
Government officials have blamed the group for some of Somalia's deadliest terror attacks. Last year analysts at the Armed Conflict Location and Event Data Project estimated that Al-Shabab had been responsible for the deaths of over 4,000 people since 2010.

Disclaimer: This post has been auto-published from an agency/news feed without any modifications to the text and has not been reviewed by an editor.

Source link
Germany set to vote in most unpredictable elections in years | Angela Merkel News
For the first time in well over a decade, German voters will enter polling booths for federal elections on Sunday with no clear idea which party will win, who will be the next chancellor, or what governing coalition will be formed.
Only a razor's edge separates the centre-left Social Democratic Party (SPD) from the conservative Christian Democratic Union (CDU) and its Bavarian sister party, the Christian Social Union (CSU), according to the latest poll by the Allensbach Institute, which puts the archrivals at 26 percent and 25 percent, respectively.
Other polls released in recent days put the SPD's lead at two to four points, with a margin of error of about 3 percent.
Experts have urged caution when interpreting polling data due to the uncertain influence of an historically high number of undecided voters, as well as an expected surge in postal voting.
Exit polls will be released when voting ends at 6pm local time (16:00 GMT) on Sunday, and results will emerge throughout the night.
Unpredictable campaign
Angela Merkel's decision to depart as chancellor after 16 years has upended German politics and led to the most unpredictable race in years. At various points in the campaign, the SPD, CDU/CSU and the Greens have each been leading the polls.
Climate change has dominated party programmes and televised debates more than any other issue.
On Friday, more than 100,000 protesters joined a Fridays for Future demonstration outside the German parliament building in Berlin, where activist Greta Thunberg told crowds that "no political party is doing even close to enough" to avoid climate disaster.
Other points of debate included social welfare spending and raising the minimum wage, overhauling Germany's rickety digital infrastructure, and the country's role in the NATO alliance.
Success and failure in the campaign have largely been determined by party leaders' ability to frame themselves as a natural heir to Merkel, who remains Germany's most popular politician.
Gaffes by CDU leader Armin Laschet saw his approval rates tank, while allegations of CV-padding and plagiarism knocked Green candidate Annalena Baerbock's race off course.
Finance Minister and SPD candidate Olaf Scholz has played up his reputation as a boring, pragmatic centrist to great effect.
A recent poll found that 47 percent of voters favoured him for chancellor, compared with 20 percent for Laschet and 16 percent for Baerbock.
"The issue of succession became perhaps the most important campaign issue," Kai Arzheimer, a professor of politics at the University of Mainz, told Al Jazeera.
"Voters are more worried or more interested in who would be most competent, and who would be best able to manage Germany and Germany's future. So personalities have become a major focus in this campaign."
How the election works
A total of 60.4 million voters aged above 18 are eligible to cast a ballot on Sunday. Voting booths will open at 8am (06:00 GMT) on Sunday and close at 6pm (16:00 GMT).
Under Germany's electoral system, voters cast two ballots for the Bundestag, the federal parliament, which has a base number of 598 seats.
The first is for a candidate to represent one of Germany's 299 districts, which is determined in a United Kingdom-style first-past-the-post system.
The second is for a party. These votes are distributed according to proportional representation to each party that passes a 5 percent threshold, who chose 299 more candidates from internal lists to represent them.
A number of "overhang" seats are created if there is an imbalance between a party's directly elected seats and its share of voters, a feature that has caused the Bundestag to balloon in size.
In 2017, the total number of seats rose to 709, and the number is expected to rise again this year.
The states of Berlin and Mecklenburg-Vorpommern will also hold simultaneous state elections. Berliners will receive a further ballot for a referendum to expropriate the capital's largest landlords and take nearly a quarter-million homes into state ownership.
Germany's federal returning officer told local media that the number of votes submitted by post would be at least 40 percent, potentially even doubling the 28.6 percent in 2017.
The COVID-19 pandemic is not expected to reduce turnout, he added, noting that regional elections earlier this year did not see any significant decline.
Forming a coalition
In the coming weeks and months, German parties will negotiate with each other to form a coalition capable of governing with a majority in the new Bundestag.
There is little appetite to renew Merkel's favoured "grand coalition" of SPD and CDU/CSU, so polling suggests three parties will be required.
There are no formal rules that govern coalition talks, which will last until MPs vote in a new government and elect a new chancellor.
The CDU and the SPD have indicated that they will seek to lead a coalition even if they do not come out in the first place.
The most likely options, taking their names from the party colours, are a so-called "traffic light" combination of SPD, Green and Free Democratic Party (FDP); or a "Jamaica" coalition of CDU/CSU, Green and FDP.
The pro-business FDP wants tight fiscal control over finances, which complicates a marriage with the SPD and the Greens, who have staked their campaigns on increasing spending for social welfare and climate protection.
"This might be a very big issue, whether we will have more taxes or higher taxes, or not," said Ursula Munch, director of the Academy for Political Education in Tutzing.
"The Free Democrats, they promised their voters to have a tax reduction."
A left-wing coalition of SPD, the Green and the Left Party may be mathematically possible if the latter clears the 5 percent hurdle to enter parliament. The Left's programme has more in common than the FDP, but its opposition to NATO is a major barrier to the larger parties.
"It will take quite a long time," said Munch. "It's impossible to form a coalition before November and we'll be happy if we have one in February."
If Merkel does stay on as interim chancellor until December 17, she will make history by overtaking her mentor, former CDU leader Helmut Kohl, as Germany's longest-serving post-war leader.

Disclaimer: This post has been auto-published from an agency/news feed without any modifications to the text and has not been reviewed by an editor.

Source link