Angela Merkel & Birds Now A Funny Meme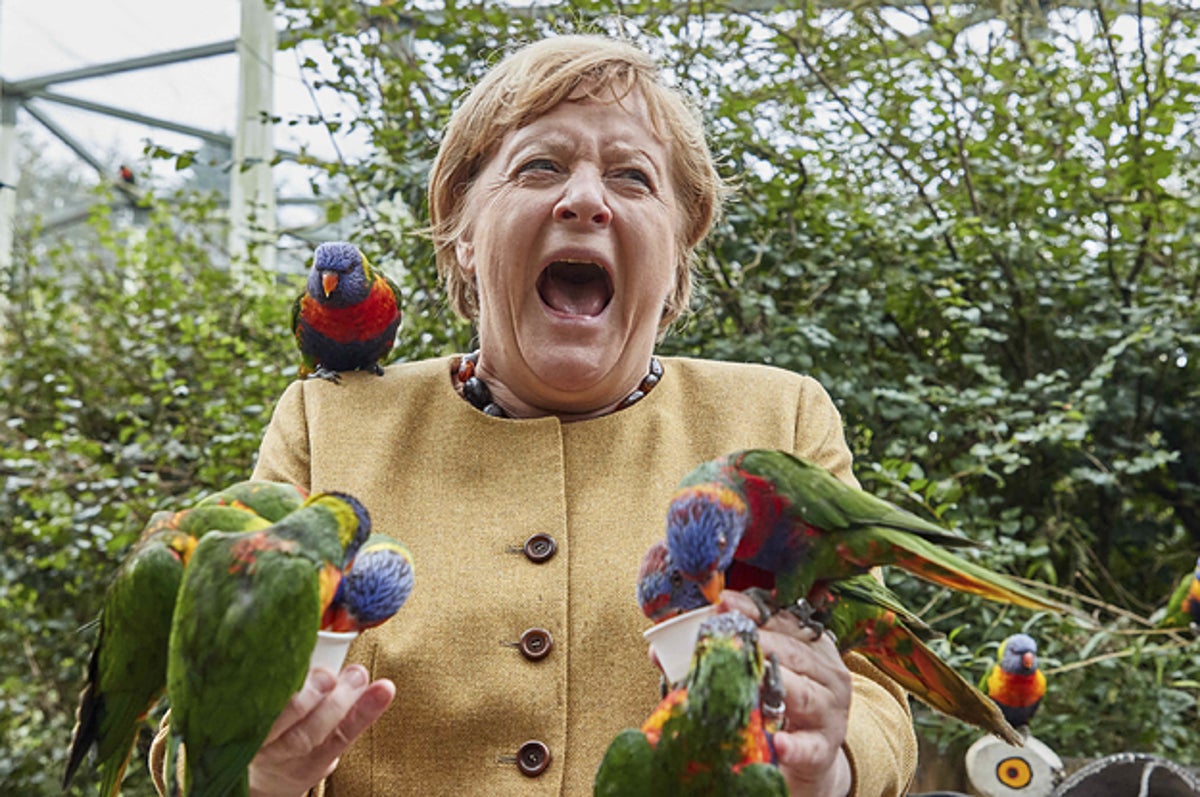 Angela Merkel was on the campaign trail on Friday, two days before Germans head to the polls to elect a new parliament and thus her replacement.
The 67-year-old is retiring after almost 16 years as German chancellor, but she is still out campaigning for her center-right Christian Democratic Union party.
On Friday, she made a surprise visit to the northern state of Mecklenburg-Western Pomerania, where she visited a bird park in the town of Marlow.
There, while holding some bird feed, she posed with some colorful Australian rainbow lorikeets.
Things… quickly went south.
When the overzealous birds nipped at her hands, Merkel let out a screech that was captured by Georg Wendt, a photographer with the DPA news agency.
The incredible pictures soon went viral.
People found the photos to be instantly meme-worthy.
And many comparisons were made…
Enjoy retirement, chancellor, and thanks for this final gift on the way out.

Disclaimer: This post has been auto-published from an agency/news feed without any modifications to the text and has not been reviewed by an editor.

Source link
Haitians heading to US change plans, ready to wait in Mexico

As U.S. authorities moved out the last of the more than 14,000 migrants who gathered beside a border bridge in Del Rio, thousands of other Haitians en route between the border and South America are coming to the realization that a window of time has closed


Disclaimer: This post has been auto-published from an agency/news feed without any modifications to the text and has not been reviewed by an editor.

Source link
Teesside airport runway closed after three hurt in light aircraft incident | UK news
Teesside airport's runway is closed after an incident involving a light aircraft left three people in hospital.
The airport said in a statement on Twitter that the incident occurred at 9.39am on Saturday and the pilot and two passengers on board needed emergency care.
It said its runway would remain closed "until further notice" while an investigation was carried out.
The airport said: "We can confirm an incident occurred today involving a light aircraft at 9.39am. A pilot and two passengers were onboard and have been taken to hospital.
"Our runway will remain closed until further notice while a thorough investigation is carried out.
"We would like to thank the emergency services (and) on-site staff for their quick response."
In a message to passengers due to travel on outbound Ryanair flights, it said: "Arrangements have been made for all passengers to be coached to Newcastle airport, where the flight will depart.
"Please note, you must check-in for your flight at Teesside. We'd like to thank you for your patience and cooperation."
A spokesperson for County Durham and Darlington fire and rescue service said two fire engines had attended the scene but the incident was now closed.
She said the airport's own fire and rescue unit had been part of the response, and confirmed there had been three casualties.
The North Eastern ambulance service (NEAS) said one of the three casualties had suffered serious injuries. NEAS said: "We were called at 9.35am to reports of a light aircraft crashing at Durham Tees Valley airport. We sent two ambulances, a specialist paramedic, an officer and requested support from the Great North air ambulance.
"In total, three patients were taken to James Cook hospital, one with serious injuries. One patient was taken by air and the two other patients were transported by road."
The Tees Valley mayor, Ben Houchen, tweeted: "Thoughts and prayers are with the three people onboard at the time of the incident and their families.
"At this time I want to thank the incredible response by the airport fire service and the immediate response of local emergency services to the incident."

Disclaimer: This post has been auto-published from an agency/news feed without any modifications to the text and has not been reviewed by an editor.

Source link
UK fuel crisis: Government expected to make U-turn on foreign worker visas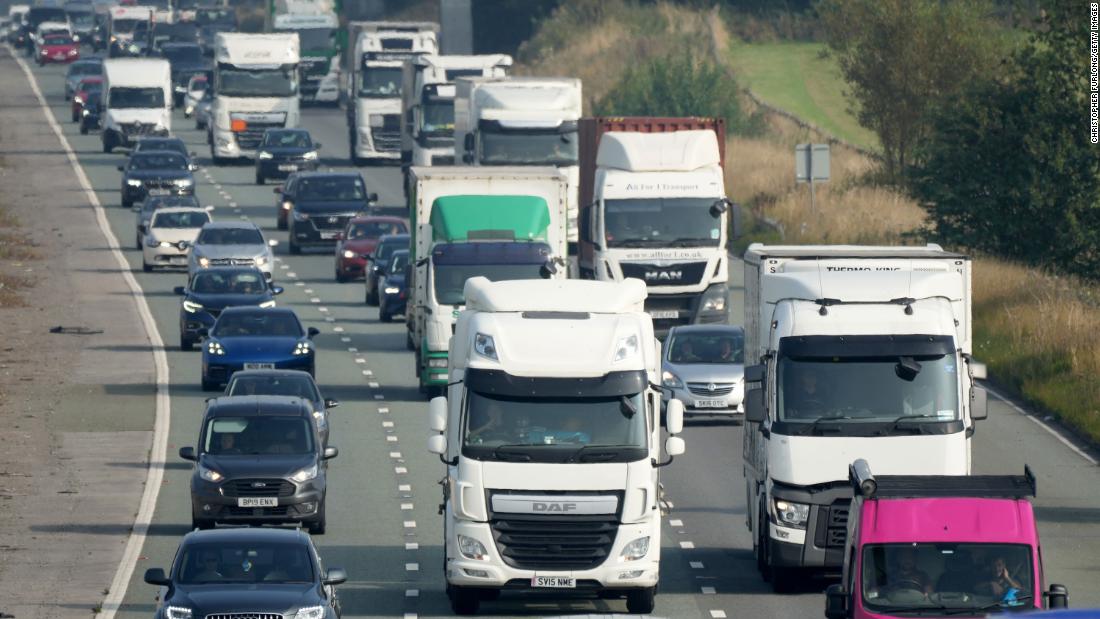 As queues started forming outside filling stations early on Saturday, Prime Minister Boris Johnson's office said it was looking at temporary measures to address the shortage of heavy goods vehicle (HGV) drivers.
Newspapers reported that the government would allow up to 5,000 foreign drivers into Britain on short-term visas, a measure that logistics companies and retailers have demanded for months but which the government had previously ruled out.
The UK's Road Haulage Association (RHA) says Britain needs 100,000 more drivers if it is to meet demand. The driver shortage has been caused partly by Brexit and Covid-19, and the loss of about a year of driver training and testing.
"We're looking at temporary measures to avoid any immediate problems, but any measures we introduce will be very strictly time limited," a spokeswoman for Johnson's Downing Street office said in a statement.
Downing Street declined to give further details.
Ministers have cautioned against panic buying, and oil companies say there is no shortage of supplies, merely problems delivering the fuel to the gas stations.
However, long lines of vehicles have begun gathering at petrol stations to fill up after BP said it had to close some of its outlets due to the driver shortages.
Some Shell stations have also reported pumps running dry while ExxonMobil's Esso has also said a small number of its 200 Tesco Alliance retail sites had also been impacted in some way.
EG Group, which runs hundreds of forecourts across Britain, said on Friday it would impose a purchase limit of £30 ($41) per customer for fuel due to the "unprecedented customer demand."
"We have ample fuel stocks in this country and the public should be reassured there are no shortages," the Downing Street spokeswoman said.
"But like countries around the world we are suffering from a temporary Covid-related shortage of drivers needed to move supplies around the country."
The fuel issue comes as Britain, the world's fifth-largest economy, also grapples with a spike in European natural gas prices causing soaring energy prices and a potential food supply crunch.
Other countries such as the United States and Germany are also dealing with truck driver shortages.
Britain says the long-term solution is for more British drivers to be hired, with the RHA saying better pay and conditions are needed to attract people into the industry.
But the retail industry has warned that unless the government acts to address the shortage in the next 10 days, then significant disruption is inevitable in the run-up to Christmas.

Disclaimer: This post has been auto-published from an agency/news feed without any modifications to the text and has not been reviewed by an editor.

Source link