Highlights
Ruckus erupts over Pegasus spying scandal
Names of Ranhul Gandhi, Union Minister Ashwini Vaishnav surfaced
Congress demands resignation from Home Minister Amit Shah
The party also demanded an inquiry against the PM
New Delhi
Congress is attacking the Modi government and BJP after reports of spying of many opposition leaders, union ministers, journalists etc. Congress has dubbed BJP as 'Indian spy party'. The main opposition party demanded an inquiry against PM Modi in this matter and the resignation of Home Minister Amit Shah. On the other hand, the BJP expressed suspicion of conspiracy behind the report coming just before the monsoon session.
Congress's allegation
Leader of Opposition in Rajya Sabha Mallikarjun Kharge told reporters, "Amit Shah should resign and Modi ji should be investigated before this matter is investigated." He said that the Congress would vigorously raise the issue of Pegasus in the monsoon session of Parliament that began on July 19.
Congress chief spokesperson Randeep Surjewala said, 'Rahul Gandhi and his ministers have been spied on. The heads of our security agencies have also been spied on. Former Election Commissioner Ashok Lavasa and several media groups were also spied on. Would any government have done such a mischief? BJP has now become 'Indian spy party'.
Rahul, Prashant Kishor, Abhishek Banerjee… these names were the target of hackers, big claim in Pegasus phone hacking case
Who are fighting terrorism by spying on Rahul?
Surjewala asked, 'Modi ji, which terrorism were you fighting against by spying on Rahul Gandhi ji's phone? Which terrorist were you fighting by spying on media groups and Election Commissioner? Who were fighting terrorism by spying on their own cabinet ministers?' The Congress leader also claimed that many people in Rahul Gandhi's office were also spied on.
Surjewala also alleged that the statement made by Information Technology Minister Ashwini Vaishnav in the Lok Sabha on Monday was a lie. He said, 'Minister, you would not have lied so much if you had read the reply of old IT Minister Ravi Shankar Prasad on Congress' calling attention motion in Rajya Sabha. The minister at that time had said that in November 2019, a notice was served to Israeli company NSO.
Ashwini Vaishnav gave a reply to the opposition, said- the report of spying a day before the monsoon session is not a coincidence
Congress question, if this is not sedition then what is?
"Is spying on Indian security agencies, judiciary, election commissioner and opposition if not treason and playing with national security then what is? Was Narendra Modi and his government spying before the Lok Sabha elections? When was this Israeli spyware Pegasus bought and how much money did it cost? Surjewala asked, 'Does Amit Shah have the right to continue in his post even for a minute? Why shouldn't he be sacked? Shouldn't the role of the Prime Minister be probed?'
BJP said – the matter was deliberately raised
On the other hand, BJP rejected the allegations of Congress saying that the matter was deliberately raised before the monsoon session of Parliament. Former Union Minister Ravi Shankar Prasad said, 'Was some people engaged in a planned manner that this matter has to be started before the monsoon session, so that a new atmosphere is created in the country.'
Prasad further said that the Congress has not produced any evidence to substantiate the allegations. He wrote, "The Congress party has leveled allegations against the BJP which are beyond political etiquette. BJP denies all allegations leveled by Congress in Pegasus case. The Congress has not presented any evidence in the Pegasus case so far.
Information Technology and Communications Minister Ashwini Vaishnav on Monday rubbished reports that Pegasus software was spying on Indians, saying the allegations leveled just before the monsoon session of Parliament were a tarnishing of the image of Indian democracy. There are efforts. In his statement given in the Lok Sabha on the basis of suo motu cognizance, Vaishnav said that when there is already a system of control and surveillance in the country, then illegal surveillance by unauthorized person is not possible.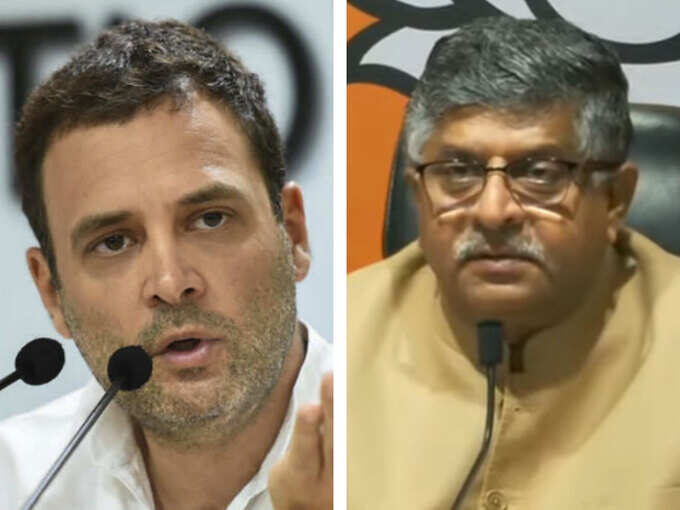 Rahul Gandhi and Ravi Shankar Prasad (file photo)
Disclaimer: This post has been auto-published from an agency/news feed without any modifications to the text and has not been reviewed by an editor.