Highlights
Debate on citizenship of minister Nishith Pramanik in Modi government
Congress Rajya Sabha MP Ripun Bora raised questions on citizenship
Birth claim in Bangladesh citing a channel report
Authentic came into the limelight by becoming the youngest minister in the Modi government
Kolkata
Congress Rajya Sabha MP Ripun Bora has questioned the citizenship of Minister of State for Home Nishith Pramanik, who was included in the Narendra Modi cabinet. This question has stirred a heated debate in the politics of West Bengal. Recently, he was made Minister of State for Home in the expansion of the Modi Council of Ministers.
This claim of MP Ripun Bora
In a letter to Prime Minister Narendra Modi on Friday, Bora said, 'I am writing this letter to bring to your notice a very serious and sensitive matter regarding the citizenship and place of birth of the recently appointed Union Minister of State Nishith Pramanik. .' The MP wrote, 'According to the report published in a news channel, Nishith Pramanik is a Bangladeshi citizen. His place of birth is Harinathpur, which comes under Gaibandha of Palasbari PS District (Bangladesh). He had come to West Bengal for computer studies and joined the Trinamool Congress for the first time after completing his degree. After which he joined Congress (TMC) and later BJP and was elected MP from Cooch Behar.
Alleged tampering of address in electoral documents
Bora quoted reports from various channels and newspapers to say that he had manipulated his address in the election papers as Cooch Behar. The MP produced several more papers, including statements from his elder brother and some villagers of his native village in Bangladesh, expressing dissatisfaction over the appointment of Nishith Pramanik as the Union Minister of State for Home.
Nisith Pramanik News: 35-year-old Nishith Pramanik became the youngest minister of Modi cabinet, took entry in BJP from TMC 2 years ago
Demand for transparent investigation
The Congress MP said, 'If this is so, then it is a very serious matter for the country that a foreign national has been made a Union Minister. I urge you to investigate Nishith Pramanik's actual place of birth and nationality in the most transparent manner and clarify the entire issue as it creates confusion in the entire country. State Minister of State for Higher Education Bratya Basu also backed Bora's concerns.
Asked the Prime Minister- Is Nishith a citizen of Bangladesh?
Taking to his Twitter handle, Basu said that several news channels have reported that Nishith Pramanik is a citizen of Bangladesh. Was there no background check prior to his appointment? Another state minister Indranil Sen said, "Shocked to know that Union Minister Nishith Pramanik is a citizen of Bangladesh. It is a matter of alarming concern to the security of India if a current Union Minister is a foreign national. Prime Minister, how can this happen, how can the government make such a security lapse?

Modi Cabinet Expansion: Babul Supriyo's pain after resigning from Modi cabinet – 'I was told, I gave'
BJP's clarification – how would you get the documents if you were not a citizen
A senior BJP leader said, "Why is the Trinamool Congress so worried about his nationality? From where did he get the documents if he is not an Indian citizen. At the age of 35, BJP MP Nishith Pramanik is the youngest politician to be appointed as a Minister of State in the Central Government. He is also the first Rajbongshi to be appointed to the Council of Ministers.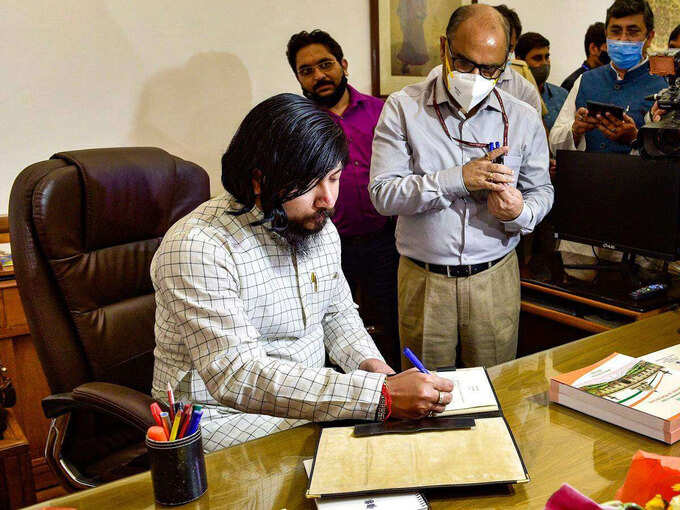 Nishith Pramanik takes charge
Disclaimer: This post has been auto-published from an agency/news feed without any modifications to the text and has not been reviewed by an editor.