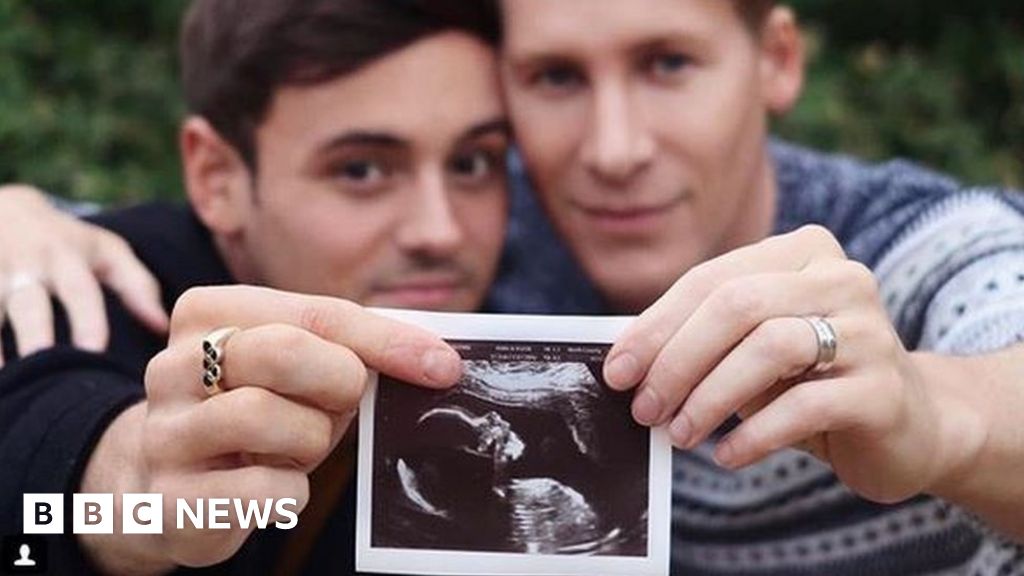 Tom Daley announces baby news with husband
British Olympic diver Tom Daley has announced that he is expecting a baby with his husband, US film director Dustin Lance Black.
They both shared the news on their social media accounts.
The couple had married in a service at Bovey Castle Hotel on Dartmoor, Devon, in May last year.
A spokesman for the couple told the Press Association: "Tom and Dustin are thrilled to share that they are expecting their first child in 2018."
The couple posted an Instagram and Twitter, with the caption "Happy Valentines Day!".
They have not revealed any more details about the pregnancy.
Daley's mother Debbie Daley said she was "happy" at the news.
Daley , 23, revealed that he had a boyfriend in a YouTube video in 2013, and the pair announced his engagement two years later.
He won bronze medals at the Olympic Games in London and Rio de Janeiro.
He claimed his first individual World Championship gold for eight years with a victory in the 10m platform final in Budapest last year.
Black, 43, won the best original screenplay, Oscar for the 2008 movie Milk, which was based on the life of gay rights activist and politician, Harvey Milk.
The couple had a belated honeymoon in August last year, sharing pictures from Barcelona.
You Like this ! Download our Mobile News app from Play Stores(Download Now) (All the News Posts have been published directly from Syndicate Feeds; they have not been edited by the Press 24 News team; For more information, go to source link.)

Source link