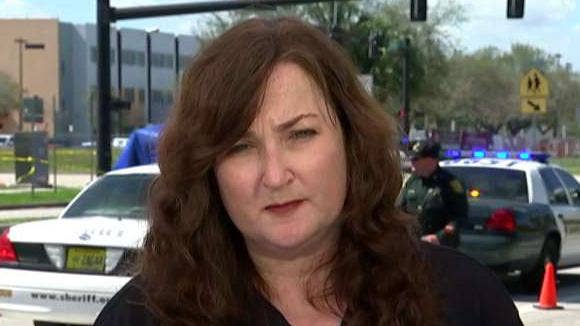 Parkland shooting victims include young students, coach who saved others in Florida high school
The names began to emerge Thursday of the 17 people gunned down in a shocking school shooting a day earlier, revealing that two victims were students who helped children with special needs and one was a football coach who died shielding terrified teens from a hail of bullets.
The accused shooter, 19-year-old former student Nikolas Cruz, set off a fire alarm to draw students out of classrooms shortly before the day ended at Marjory Stoneman Douglas High School – one of the largest schools in Broward County. The suspect was taken into custody without incident about a mile away from the school. He was charged with 17 counts of premeditated murder Thursday.
Read on for a look at the lives lost in the deadliest school shooting in the United States since the Newtown massacre.
Alyssa Alhadeff
Soccer player Alyssa Alhadeff, 15, was one of the victims in the high school massacre, her mother told WSVN-TV.
Alhadeff was a "well respected member of our club and community," Parkland Travel Soccer said in a Facebook post, also sharing a comment from her family.
"To Alyssa's Friends honor Alyssa by doing something fabulous in your life. Don't ever give up and inspire for greatness. Live for Alyssa! Be her voice and breathe for her. Alyssa loved you all forever!" the message read.
Nicholas Dworet
High school senior Nicholas Dworet recently earned himself a scholarship to join the University of Indianapolis swim team in the fall, according to the Indianapolis Star. He was one of several students killed in Wednesday's shooting.
"I'm telling you from the bottom of my heart, he just took his life in his hands and he chiseled and molded his life," Andre Bailey, coach of TS Aquatics in Broward County, told the newspaper.
Bailey added that Dworet was affectionately nicknamed "swim daddy" because he would help his teammates practice.
Aaron Feis
An assistant football coach and security guard, Aaron Feis used his own body to shield students as gunfire rang out in the school, the Marjory Stoneman Douglas High School football team said on social media, confirming Feis' death early Thursday morning.
At least one female student recalled Feis pushing her through a doorway and away from the spray of bullets, football coach Willis May told the Sun Sentinel.
"He died a hero and he will forever be in our hearts and memories," the team tweeted.
When the initial calls about the shooting came through the school's walkie-talkie, Feis responded to his duties as a security guard, according to the newspaper.
May described Feis as a "big ol' teddy bear" and someone who had "loyalty" and "pride" with the football team.
Feis graduated from Douglas High in 1999. He leaves behind a wife, Melissa, and daughter, according to his football biography.
Jaime Guttenberg
Student Jaime Guttenberg died in the shooting, her father confirmed on Facebook.
Fred Guttenberg said his son, Jesse, was safe, but his daughter had died.
"I am broken as I write this trying to figure out how my family gets through this," he said.
Jaime volunteered with The Friendship Initiative, an organization that "brings kids with special needs together with their peers who are all student volunteers," founder Jeb Niewood told Fox News.
"She had a tremendous compassion to her," Niewood said. "She was mature and compassionate beyond her years and was always very eager to share herself with people who were less fortunate than she."
Chris Hixon
Marjory Stoneman Douglas athletic director Chris Hixon was among those fatally shot, according to the Sun Sentinel.
Hixon, 49, was deployed to Iraq as a Naval Reservist in 2007, the newspaper reported.
"Chris is probably the nicest guy I have ever met. He would give you the shirt off his back. He does so much," Coral Springs High School athletic director Dan Jacob said.
Hixon leaves behind a wife and a son with special needs.
Meadow Pollack
Meadow Pollack, an 18-year-old senior, died in the shooting, her father, Andrew, told the Palm Beach Post.
Andrew said his daughter planned to attend Lynn University after graduation.
Gina Montalto
Only 14 years old, Gina Montalto was a freshman on Douglas High's winter guard team.
"My heart is broken into pieces. I will forever remember you my sweet angel," Manuel Miranda, one of her former color guard instructors, told the Miami Herald. "She was the sweetest soul ever. She was kind, caring always smiling and wanting to help."
Like Jaime Guttenberg, Montalto volunteered with The Friendship Initiative, an organization with programs for children with special needs, according to founder Jeb Niewood. 
"Gina was also young when she started [to volunteer] with us, but she immediately took to the program and bonded very quickly with the children she worked with," he told Fox News. "She just had an openness about her and such warmth and exuberance for life." 
Fox News' Madeline Farber and The Associated Press contributed to this report.


You Like this ! Download our Mobile News app from Play Stores(Download Now) (All the News Posts have been published directly from Syndicate Feeds; they have not been edited by the Press 24 News team; For more information, go to source link.)

Source link