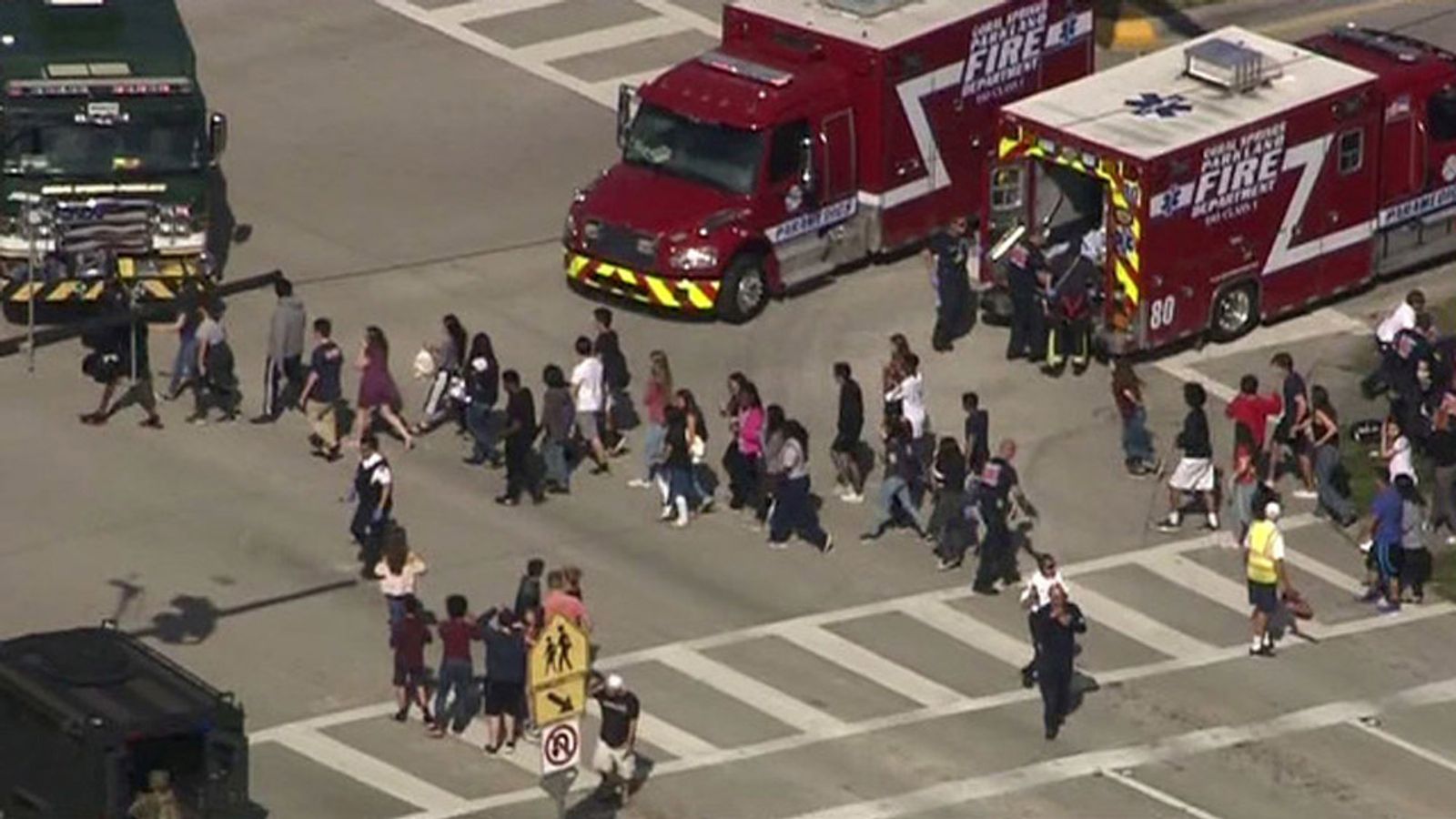 'Numerous fatalities' in Florida school shooting
There have been "numerous fatalities" and at least 14 people injured in a shooting at a Florida high school.
The attack began at Marjory Stoneman Douglas High School in Parkland, northwest of Fort Lauderdale, just before 3pm on Wednesday afternoon, local time.
The school, which has around 3,000 students, was placed on a "code red" lockdown and television footage later showed dozens of people running and walking away from the school.
Broward Country Schools Superintendent Robert Runcie confirmed: "There are numerous fatalities.
"It's a horrific situation."
The sheriff's office said: "So far we have at least 14 victims.
"Victims have been and continue to be transported to Broward Health Medical Center and Broward Health North hospital."
Florida senator Bill Nelson said there was a "number of fatalities", citing a conversation with the superintendent of schools.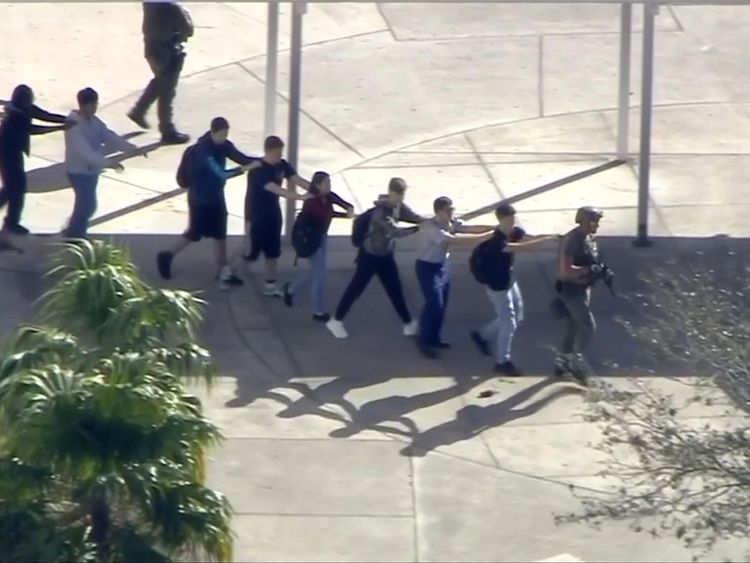 Sky's US Correspondent Cordelia Lynch said many of those leaving the school were in a "state of great distress".
She said: "In the last few moments, we've seen images of a man being arrested by police, he was wearing a maroon shirt with dark hair, seen being searched by police."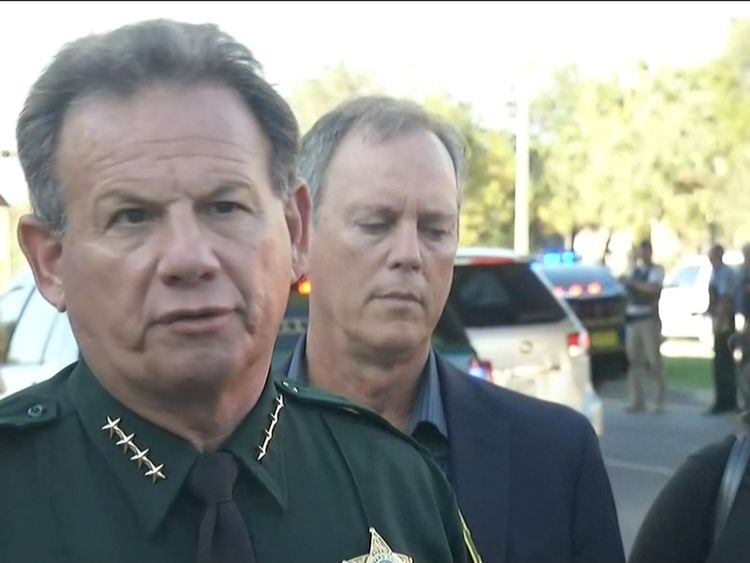 Broward County Sheriff Scott Israel later confirmed that the suspected shooter was arrested off campus "without incident", adding that he was a former student aged about 18.
"There was a time when he did attend the school," Mr Israel said. "I don't know why he left."
SWAT teams were searching the school's buildings to be sure there were no more shooters in what he described as a "horrific" scene.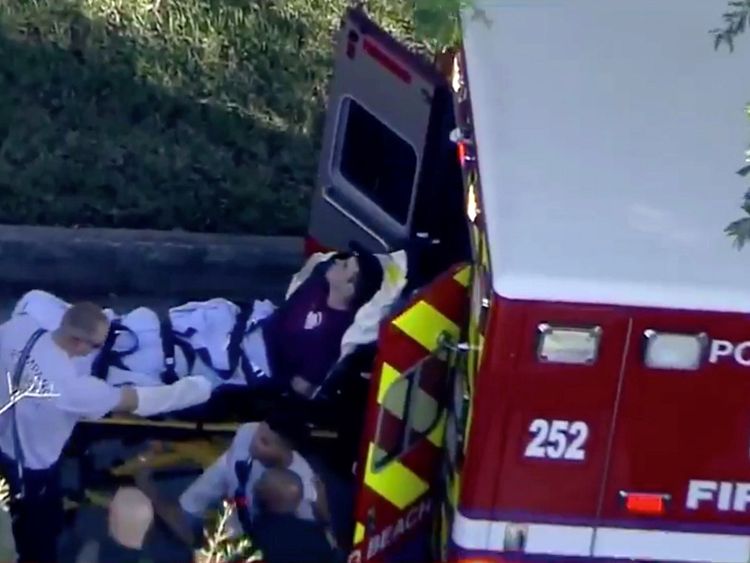 A report by 7 News WSVN quoted an unidentified student saying the shooter had been a "troubled kid" with a "certain amount of issues going on".
Lynch added: "Just yesterday this city, Parkland, was named as the safest in Florida and now this terrible incident.
"Since 2013, there have been 300 school shootings.
"That gives you a sense of just how stark and tragically common these shootings can be."
Florida congressman Ted Deutch echoed those thoughts, writing on Twitter: "Parkland is an idyllic community.
"Tragedies like this occur everywhere.
"School shootings occur everywhere.
"This is horrific."
Today, close to Marjory Stoneman Douglas High School's dismissal, students and staff heard what sounded like gunfire. The school immediately went on lockdown but is now dismissing students. We are receiving reports of possible multiple injuries. Law enforcement is on site.

— Broward Schools (@browardschools) February 14, 2018
McKenzie Hartley, 19, said her sister was inside the school at the time and she told Press24 News: "She heard him shooting through the windows of classrooms and two students were shot."
Meanwhile, parents began to gather near the school waiting for news of their children.
Among them was Len Murray, whose 17-year-old son is a junior.
At 2.30pm, he had sent his parents a text saying: "Mom and Dad, there have been shots fired on campus at school.
"There are police sirens outside.
"I'm in the auditorium and the doors are locked."
A few minutes later, he texted again: "I'm fine."
Mr Murray said: "I'm scared for the other parents here.
"You can see the concern in everybody's faces.
"Everybody is asking: 'Have you hard from your child yet?'"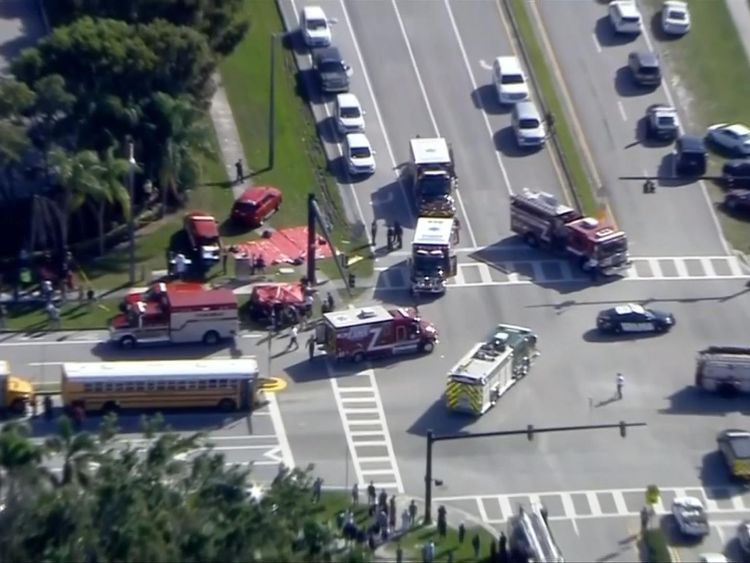 Florida Governor Rick Scott said on Twitter: "Just spoke with (US President Donald Trump) about shooting at Marjory Stoneman Douglas High School.
"My thoughts and prayers are with the students, their families and the entire community.
"We will continue to receive briefings from law enforcement and issue updates."
White House deputy press secretary Lindsay Walters said: "Our thoughts and prayers are with those affected."
My prayers and condolences to the families of the victims of the terrible Florida shooting. No child, teacher or anyone else should ever feel unsafe in an American school.

— Donald J. Trump (@realDonaldTrump) February 14, 2018
Donald Trump said on Twitter: "My prayers and condolences to the families of the victims of the terrible Florida shooting.
"No child, teacher or anyone else should ever feel unsafe in an American school."
More follows…


You Like this ! Download our Mobile News app from Play Stores

Source link